Having cut his teeth on two period pieces, English director Joe Wright gives something much faster-paced a go in modern fairy tale-type revenge flick, writes Peter Calder.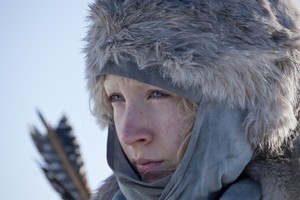 On the face of it, Joe Wright seems an unlikely choice to helm the most fast-and-furious action movie since the last of the Jason Bourne films.
The personable 49-year-old Englishman made his big-screen debut with a vivid and memorable Pride and Prejudice in 2005 and - the battlefield set-piece notwithstanding - most of the action was internal in his follow-up, an adaptation of Ian McEwan's Atonement.
So tick off 1815 and 1915, but Wright says he does not feel particularly drawn to period pieces.
"It just so happened that my first two films were both period films, but I generally just respond to the material that challenges me in terms of craft."
The craft challenge of Wright's new film, Hanna, are obvious. The script has been around for five years (as Danny Boyle and Alfonso Cuaron signed on and off) and Wright was suggested by the title-role star Saoirse Ronan, whose performance was the best thing about Atonement.
Her Hanna is a pint-sized angel of vengeance, raised in Arctic isolation and trained as a perfect killing machine by her father Erik (Eric Bana), a rogue CIA agent who sends her into action against the forces who have betrayed him.
It's a Bourne-style premise but the highly polished thriller is very different in feel. It moves so fast that, on frequent occasions narrative plausibility gets tossed out the window, but you can't pause to notice.
It is such a step up into the genre that it is worth asking Wright what attracted him.
"Well, action is very pure cinema," he says. "Other than on the sports field, I guess, it cannot be done in any other medium. So I wanted to take on the challenges and see what I could do with the medium."
And, he says, he enjoyed the experience.
"One can sometimes get tired of just doing over-shoulder shots of people talking. Working out how you are going to shoot, say, Eric Bana taking on four CIA agents, with the time and budget limitations that we had, was a great challenge."
Presumably part of the challenge for a neophyte director of action is to ensure he is surrounded with hardened veterans of the genre.
"In part, I suppose.
"Certainly I had a great fight choreographer [Jeff Imada starting plotted mayhem in television's The A-Team in the 80s and has done just about every fight in Hollywood since, including the Bourne films] but my director of photography had never done an action movie.
"I think the challenge was how to give the film an original kind of signature. I'm a huge fan of what Paul Greengrass did with the [second two] Bourne films but they have been copied a lot since. I won't name names - but there seem to be a lot of hand-held, very cutty action movies about and I wanted to try to do something a bit different."
That difference, such as it is, consists of a tone that suits the female main character. Ronan, assisted by some pretty good CGI, foots it with the boys when need be: she reportedly trained four hours a day for two months to get in shape for the action sequences.
But for a long central slab of the movie, there is a hiatus in the action which (not to give anything away) reminds us that we are dealing with a young girl who would, if she'd ever seen a movie, probably like ones with Justin Bieber in them.
It seems apt, since a strong fairy tale thread runs through Hanna: a child must risk danger to solve a riddle and Marissa Wiegler (an icy Cate Blanchett) is a perfect wicked witch.
"Yes, an action fairy tale is what I've called it," says Wright. "There are certain inherent aspects of fairy tale about it: a young person growing up in a secluded environment, having to leave the security of the family home and go out into the world and encounter evil and overcome it. It's an elemental human narrative - the story of growing up, really.
"But I also really like the character of Hanna as a sort of Holy Fool, a bit like Chance the gardener in Being There or even Kaspar Hauser or Tarzan: these stories of a fully formed consciousness coming into contact with a society and giving us a perspective from a definite outsider's point of view. There's something quite anarchic about that that I appreciate."
Wright's comment elsewhere that Pride and Prejudice is his only film with a happy ending prompts a question as to whether this one's ending - which has more than a hint of "to be continued ..." about it, is happy or not.
"I see it as not necessarily happy - it's certainly not happy in the sense that everyone rides off into the sunset and lives happily every after - but it is the correct ending because the world has been faced.
"I think fairy tales in their original form before they got Disney-fied and Americanised didn't have fairytale endings, in the sense that we think of that phrase now. Brothers Grimm and the folk tales that they come from often had really dark endings. I think modern horror films have a lot in common with fairy tales."
LOWDOWN
What: Hanna, spy thriller with The Lovely Bones star Saoirse Ronan as a teen assassin. Directed by Joe Wright
When: Opens at cinemas on Thursday
- TimeOut