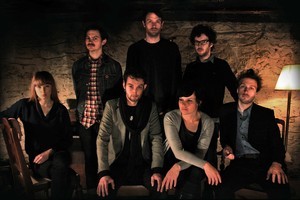 MUSIC
He may have been busted for drugs recently but it won't stop Big Boi (one half of hip-hop mad men Outkast) making it to New Zealand tonight for a one-off show at the Powerstation - and, judging by past setlists, expect songs like So Fresh, So Clean and Ms Jackson, as well as the likes of Shutterbug off excellent solo album Sir Lucious Left Foot: The Son of Chico Dusty from last year.
Also worth checking out this week are Wellington's grand folk darlings Family Cactus at Tabac, Mills Lane, on Friday and at Leigh Sawmill on Saturday; and for those in for the long haul, check out B-Street on Saturday at various venues along and near K Rd with bands such as the Checks and the mighty Beastwars performing. Rather fittingly Beastwars are on stage at Galatos just after midnight.
TV
Instead of going out this Friday night for some karaoke action yourself, stay in and watch the best in the country do the business on the grand final of Homai Te Pakipaki, Maori TV's live karaoke show. And it just got bigger, with the top 10 singers performing live at 8.30pm from Auckland's Logan Campbell Centre for the $10,000 first prize.
Elsewhere on TV, Sunday Theatre this week is Bliss (Sunday, 8.30pm, TV One) about the life and often naughty times of writer Katherine Mansfield, and Discovery Channel's documentary special Norway Massacre: The Killer's Mind (Sunday, 7.30pm) investigates Anders Breivik's killing spree in Norway last month.
MOVIES
On at the movies this week is The Guard , about an oddball Irish policeman and a by-the-book FBI agent who join forces to take on an international drug-smuggling ring; film festival favourite Tree of Life starring Brad Pitt and Sean Penn gets a general release; and Crazy Stupid Love mines the tried and true formula of a 40-something (in this case Steve Carrell as Cal Weaver) who is cheated on by his wife and whose best mate opens his eyes to all the things he's been missing.
OR...
run away to the circus because the grand and elegant topsy-turvy world of Cirque Du Soleil is in town with Vector Arena doubling as the big top. This version of the Montreal circus is Saltimbanco, which was first performed in 1992 and was the start of the themed Cirque shows, which tell a specific story. Saltimbanco focuses on the colourful inhabitants of a sprawling metropolis. And as well as the daring grace of the acrobats, also watch out for the buff little nuggets in lederhosen.
- TimeOut