Two Kiwi blokes in the 70s looking for a good time, that's how it all started. Scott Kara talks to the makers of the based-on-a-true story of our drug underbelly.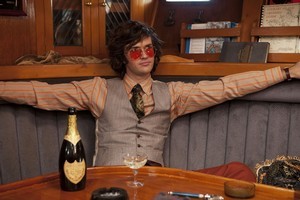 For two cocky lads who worked in a menswear store on Queen St, Marty Johnstone and Andy Maher sure lived the high life. It helped that they moonlighted as burglars, but it was when Johnstone - because he was the brains and cunning in this partnership - started dealing drugs in the early 70s that the Dom Perignon really started flowing.
Although, it's safe to say, when Johnstone first started bringing potent "buddha sticks" of Thai marijuana into New Zealand, even he couldn't forsee the international enterprise his drug empire would become.
"I liked Marty," says actor Dan Musgrove, who plays the drug dealing ladies' man in new six-part TV series Underbelly NZ: Land of the Long Green Cloud. During his research for the role he got to know the character pretty well.
"Even though he was doing bad things and causing chaos, in a way he had his heart in the right place," he smiles, with the cheeky yet slightly unhinged grin that you can just picture Johnstone having.
He's right. Johnstone is a likeable - even lovable - chap in Underbelly. The thing is, though the story is a good-time one, it's also tragic. He would be dead by the age of 28. His mutilated and handless body was dumped in a British quarry in November 1979.
That's not spoiling the story being told in Underbelly NZ, because the trail-blazing tale of Johnstone - the real Mr Asia (a name coined by Auckland Star reporter Pat Booth in 1978) - is a well-known one in New Zealand. The drug trafficking cartel known as the Syndicate that Johnstone, sidekick Maher, and his many other cronies including Terry Clark, set up is the stuff of legend.
"I think of Marty as a rock star in a way. And he's got this vision that he believes can come true; to back yourself, and grab the opportunities when they arise," says Musgrove.
Where Johnstone was likeable and cool under pressure, Maher was hot-headed, temperamental and feisty. But they complemented each other because Johnstone was the brains and charisma and Maher had the mongrel and brawn.
"They had some balls," says British born, New Zealand-based actor Thijs Morris, who plays Maher.
"But they were remarkably unimpressive," adds Musgrove. "The idea of a drug lord is an Al Pacino type guy, this hard-arse, but they were working in a men's suit shop," he laughs.
"They were just ordinary people in extraordinary circumstances - and where they went with the situation they found themselves in was remarkable," continues Morris. "But it was new turf for everybody. There were people in New Zealand growing marijuana locally but the stuff they were pushing was 10 times stronger."
Also key to the story are Detective Constable Ben Brierson (Jamie Irvine), who is the narrator in Underbelly NZ, and Detective Constable Carole Derwent (Holly Shanahan), who led the charge in the police fight against the escalating drug trade of the 70s. Then there are underworld heavies like Gary Majors, played with furrowed-brow brutality by Joel Tobeck, fellow drug dealer Big Ari (Stelios Yiakmis), and most ruthless of all, Clark (Erroll Shand), who is, to use Musgrove's words, "a piece of work".
It's often thought Clark was Mr Asia, and the second Australian Underbelly depicts him that way, but Underbelly NZ makes it clear early on that Johnstone was the "real Mr Asia".
"Well, you know, we had to make a point," says executive producer Philly De Lacey of production company Screentime. "They told the Australian Mr Asia story, and when we were looking to do Underbelly we felt there was a whole other part of that story to be told. The real Mr Asia prequel story.
"Marty set this whole thing in motion and it grew massively. And the difference between him and Terry Clark as people is extraordinary ... Terry Clark was someone who was out to win from the get-go. He ran a gang when he was a kid in Gisborne, and he was a crim from the outset. But he also had a far more sinister character, whereas Marty Johnstone was a good-time boy and he saw an opportunity and ran with it. And he was good looking, sexy, had the gift of the gab, and the midas touch. For a while, at least."
Musgrove says there was a big responsibility to portray Johnstone respectfully and accurately. "You give it 100 per cent, but at the same time you can't get too hung up on it," he says, because it is a TV show after all. "So giving Marty a heart and making him human was the biggest thing."
The life and times of the Mr Asia gang in the 70s has never been told quite like it is in Underbelly NZ. Borrowing the style and tone of the three Australian Underbellys - which documented the Melbourne gangland wars, the impact of the Mr Asia drug ring across the Tasman, and the underworld of Kings Cross during the 90s - the local series adds more of a sense of humour, with dashes of Outrageous Fortune-style moments. So it's a mix of romping good times and grim nastiness.
"We wanted to capture the essence of Underbelly," says de Lacey. "The things we loved were the pace and the sense of blackness, but what we wanted to do was make sure it felt like a New Zealand story. So it was just about getting the real sense of our characters, that this was a Kiwi story and about Kiwi ingenuity and capturing that essence of us. And one of the approaches is that a lot of evil things happen, but there is a lot more humour, and that is quintessentially Kiwi."
It conjures up the 70s with eveything from the little Morris 1100 that Johnstone drives to the drab but dapper clothes and stylishly scruffy hair. "We ended up transforming into our fathers," laughs Morris.
Writer John Banas, whose office looked like a police station during the writing of the series apparently, came up with a funny - "while police were up-rooting crops, Marty was up rooting in Northland" - and often cutting script. And with clever use of flash forwards, to show the fate of some of the characters, there is a constant reminder that this story is not going to end well.
Which goes a long way to not glorifying what went on during this time while still making entertaining, provocative television.
"Ultimately, you see in this, that people pay the price - and, in fact, New Zealand pays the price," says de Lacey.
"I think the drug problems we've got here now largely stems from what those guys got up to. And I think you do see that the cops paid the price for it, and the crims all paid the price for it, and yes they had that high life, but it was very short-lived."
The series was set in motion in early 2010 when de Lacey went to TV3 with the idea of making the New Zealand Underbelly. Screentime did The Real Mr Asia documentary a few years ago and a Beyond the Darklands episode on Terry Clark - and from that had gathered a large amount of research and contacts with people involved in the case, including police and some of Johnstone's associates.
One of the biggest challenges with the latest series was dealing with the sensitivities around bringing real people and real crimes to life in a television drama - not to mention condensing what took place over eight years into six hour-long episodes.
"You are telling stories about crimes so you've got to be very careful about defamation issues, about truth and fact and putting people in situations where they weren't," says de Lacey.
"You can't show every event [but] you want to make sure the truth of the story and the impact of that event comes through so when people who were there watch it, they feel like you are telling it fairly.
"But you also have to consider that it's a drama, and create dramatic moments, and that the story flows and is easy to understand. That's difficult because it's a big story."
It sure was, because what Johnstone and his crew were getting up to with weed, heroin, acid, and cocaine changed the shape of the criminal underworld - and signalled a time of dramatic change for New Zealand society. The big time crooks went from being bank robbers to drug dealers and it was also a coming of age for the police who got new legislative powers to fight crime as a result of the Mr Asia case.
"The inability that the police had to do anything because of the laws of the time meant that they were constantly one step behind and chasing something that was getting bigger than they had anticipated," says de Lacey. "And the police that we spoke to, and one in particular, the emotional impact that it had on these guys, and the frustration that he still feels having chased these guys for years is so apparent, even when you speak to him today."
But while Johnstone, Maher, Clark and co may have been bad boys, and the actions of the Mr Asia syndicate would be tragic and far reaching, more than 30 years on their story still makes a ripping good yarn.
The key players
Marty Johnstone (Dan Musgrove)
A confident, fearless, playboy. The real Mr Asia got the big time drug trade rolling from humble beginnings in menswear sales and burglary. His reign at the top would be flashy and often brutal, but also brief.
Andy Maher (Thijs Morris)
Born in Wales, but raised in Glasgow, where he most likely developed his hot temper and love of fighting, Andy was Marty's faithful side-kick - who would ultimately betray him.
Terry Clark (Erroll Shand)
As enterprising and clever as he was devious and ruthless, Gisborne-born Clark teams up with Johnstone in what is a temperamental partnership that develops into a drug empire spanning seven countries.
Detective Ben Charlton (Jamie Irvine)
Like Marty he also started from humble beginnings working his way up from beat cop to detective and, along with fellow detective Carole Derwent (see below), he was quick to cotton on to the shifting landscape of crime in Auckland.
Detective Carole Derwent (Holly Shanahan)
This crime-busting mum was on a mission with Charlton to tackle the drug war head on. "She is a woman operating in a man's world at a time when women were just starting to get recognition for being more than mothers and wives," says Shanahan.
- TimeOut