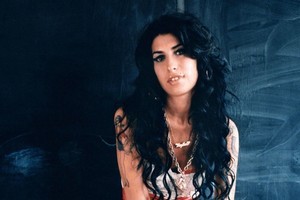 I have to say, I was initially quite underwhelmed by news of the death of Amy Winehouse.
She never looked like the sort of person who would grow old gracefully. She'd been seemingly running on empty ever since I learned of her existence seven or eight years ago.
When Winehouse waggled her finger at rehab, and Blake Fielder-Civil divorced her and then last month her European tour was cancelled after she stumbled and slurred on stage at Belgrade, Serbia, I guess it just seemed inevitable that her body was not far off saying, "that's it Winehouse", and giving up the ghost.
Yes, Winehouse now joins a list of musical greats in the exclusive "27 club", but the idea of musical geniuses suffering for the sake of their art is sort of a thing of the past.
Winehouse was much more than that. Though tiny, she managed to shift Britain's musical landscape post-Spice Girls. Emerging from the synthetic beats and even more synthetic emotion of the synthetic-wearing likes of Sugarbabes and Evanesence, came her thick, rich, smoky jazz voice pelting poignant lyrics over the groove of vintage Motown.
In his tribute, Russell Brand describes his first encounter with a young Winehouse when she was an indie kid, sifting around Camden with drink-swilling, smoking youngsters. Finding out she was a struggling jazz singer was, in his words, "bizarrely anomalous in that crowd".
Within just three years and two albums, she turned the tables. Rockabilly, Motown, soul jazz, and pained female singer-songwriters started packing out venues and smashing the charts. It's lasted nearly a decade, both Frank and Back to Black charted on the New Zealand top 40 this week, the latter sitting below Adele but above Lady Gaga and Beyonce, and an unfinished, third record is tipped to earn her name a fortune posthumously. Would a fourth, fifth, 27th album have made her more of a legend, or a loser? We can only imagine.
What we do know is that moving like a tiny, tormented tornado, Winehouse tore a hole through the modern pop market, picking up record sales, Grammy nominations then tabloid headlines, and allowing a swag of other vintage souls around the world to follow in her wake. There was Duffy, Paloma Faith, Kitty, Daisy and Lewis, Pixie Lott, Florence Welch, Rumer and then the current chart-topper, the one who really nailed it, Adele.
The latter summarised her predecessor's legacy with this tribute: "Amy paved the way for artists like me and made people excited about British music again while being fearlessly hilarious and blase about the whole thing.
"If she wanted to do something she would and if she didn't she'd say f**k off," she added.
That influence wasn't confined to London. Would Gin Wigmore have existed had it not been for Rehab? Our own husky, tattooed, skimpily dressed, crass, party girl undoubtedly rode on Winehouse's skimpy coat-tails.
And it wasn't just the up-and-comers who benefited from the Winehouse movement, but the greats who collaborated with her too. Would Mark Ronson have enjoyed half as much of his recent success if he didn't have the production credits on the five-time Grammy winning Back to Black?
The 1950s rockabilly icon Wanda Jackson was somewhat languishing in retirement before Winehouse's commercial success encouraged her to dig out a black bouffant and release a new album complete with a cover of the young upstart's You Know I'm No Good.
Jackson, now in her 70s, went on to pack out venues around the world, including Auckland's Powerstation, where she made a point of thanking her young protege, Winehouse, for spurring her revival.
Party drugs were not as much of a temptation in Jackson's day but she did go on to ditch the rockabilly rebellion and all those nips of alcohol that came with it, for God. She tried, and seemingly failed, to convert her Auckland audience and no doubt tried to encourage Winehouse to do the same. But no evangelical voice, other than her own, could have saved Winehouse from her white powdery demons.
-TimeOut