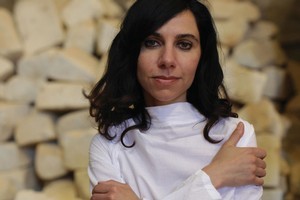 Adele and P J Harvey lead a strong roll call of female artists on this year's Mercury Prize shortlist, which aims to recognise originality and individuality in contemporary British music.
A win for Adele would cap a triumphant year which has so far seen the singer-songwriter's album 21 spend 11 weeks at No 1 in Britain and sell more than any other record in the US.
The chairman of the Mercury's judging panel, Simon Frith, said that Adele would "probably be glad still to be thought of as a Mercury artist" - meaning she is still a critical favourite as well as a commercial record-breaker.
Adele's soulful, powerful vocals and "gimmick-free" presentation have made her popular with fans, while Harvey, who with Adele is joint favourite to win, has arguably made her best album with Let England Shake, a poetry-inspired mixture of echoing guitars and eclectic cultural influences.
"Women work across all genres, from singing to dance to pop," said Mr Frith. "Trends towards urban music are also reflected across the board."
It is the second time Adele is up for the award. Her debut 19 missed the prize in 2008, when it was won by Elbow, who are also nominated this year for Build a Rocket Boys!
Harvey won the award in 2001, but could not attend the ceremony because of the 9/11 terrorist attacks, which occurred on the same day. She had been in New York on the morning of the attacks and had to give her acceptance speech over the phone.
The other female artists on the 12-strong shortlist are Anna Calvi and Katy B. The singer-songwriter Calvi, a 28-year-old classically-trained violinist, has won praise for a self-titled album released earlier this year which was recorded in her parents' basement.
Katy B, who was trained at the prestigious Brit School, has been recognised for On a Mission which blends R&B vocals and dub-step arrangements.
The south London "pop rapper" Tinie Tempah is following up his two wins at the Brits with a nomination for Disc-Overy, which won over critics with its wry, self-deprecating wit. Other acts recognised include Everything Everything, James Blake and Metronomy.
Mr Frith added that some of the nominees could suffer from being over-familiar, though he said Adele's 21 was "an astonishing album for many reasons".
He also praised Disc-Overy. "I've never played that record to anyone who didn't say 'I want to listen to that again'," added the judge.
The winner will be announced on 6 September.
-The Independent