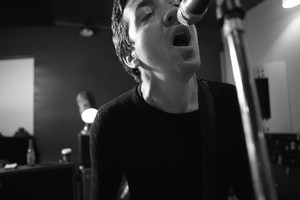 Jon Toogood couldn't be more grateful for his sold-out crowd braving the bitter elements to put their faith in a brand new band.
He, Julia Deans and Shayne Carter are still trying to find their footing, he insists. They forget their set lists and Carter picks up the wrong instrument.
It may be just weeks since The Adults released their first album, but this audience did not scramble for tickets just to show their support - they can't get enough.
Toogood's new baby was born fully formed; mature, wise and discerning, but with boundless fresh energy. As Deans says, "we're The Adults, not the retirees", and with that she shakes her fiery red tresses, Toogood gesticulates wildly and Carter's hand blurs with his guitar strings.
It's a big sound, like a tempestuous, sometimes ghostly and sometimes light, shimmery cloud released when the energy of Shihad, Dimmer and Fur Patrol collided. Emerging from the dust, are three local personalities whose musical histories are interwoven on a bed of throbbing drum machines and blanketed by the thick murmur of guitars.
They run through all the tracks in their very diverse repertoire; from the Samba number A New Beginning the peaceful, whispery pain of Most Important co-penned by Toogood and Carter, the three-part harmonies of big kids' lullaby Please Wake Up and even the slippery leathery track Short Change, a B side. It's unanimous: this is meant to be played live.
Gary Sullivan who is behind the feverish drums on the album is in the crowd. At first it seems a little strange that he does not jump on stage to fling his drumsticks around but that might upset the symmetry of the beautifully melded trio, who switch seamlessly between keyboard, guitar, bass and balance each other's vocals.
The album may read like a supergroup with cameos from greats like Anika Moa, Tiki Taane and Ladi 6 but in the intimate setting of the underground bunker-like Bacco Room, performing with any more than three artists would be a crowd.
They attempt to end on the tormented, sinister bass of another B-side Middle of the Universe, but the crowd demand more, and the trio oblige with dreamy sadness of Anniversary Day topped with the rabble-rousing Reunite. Fans are still singing the lyrics as they pull their coats around them and leave the venue to get home before pumpkin hour. Good, grown up fun.
Who: The Adults; Jon Toogood, Shayne Carter, Julia Deans
When and Where: Bacco Room, last night
Reviewer: Jacqueline Smith