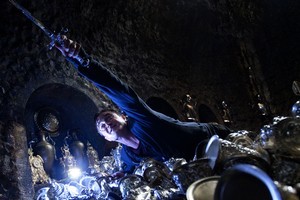 It's over, finally - and thank goodness. Exhilarating, moving and visually impressive, watching boy-wizard Harry Potter face his fate in the battle between good and evil in the climatic finale to J.K. Rowling's epic fantasy saga is exhausting stuff.
Harry Potter and the Deathly Hallows is the final book in Rowling's series, and has been split into two parts, the first of which was released in November last year. Part 1 was a great lead-in to this final showdown between Harry Potter (Radcliffe) and the Dark Lord Voldemort (Fiennes). Part 2 picks up the story pretty much directly where Part 1 ended and it wouldn't hurt to revisit Part 1 for a refresher.
Initially, Part 2 struggles to regain momentum, but it's not long before director David Yates draws us back into that grim, dark place where we were left eight months ago. Yates even manages to increase the sense of impending doom and nervous intensity, and though that's partly to do with the addition of slick 3D visuals, it's mostly the result of a strong, dramatic performance by Radcliffe.
Part 1 focused on the relationship between Harry, Ron and Hermione. In Part 2 the three continue to work together to weaken Lord Voldemort, but as we draw to the conclusion of the series everyone knows this is ultimately Harry's fight, and his film.
Plenty of familiar faces appear throughout, but the focus is on Harry, his journey of self-discovery and the revelation of the truth behind his personal conflict with Lord Voldemort. Both Harry and Voldemort mean business in this film; both are determined to do whatever may be required to end the wizard-world war one way or another.
As circumstances are a bit grim, there's not a lot of humour, just a few quips here and there to briefly lighten the mood. As well as not being terribly amusing, it's not particularly appropriate viewing for young kids who might have just stumbled on the books - this is the stuff nightmares are made of. No, this is a finale for those who watched Harry Potter and the Philosopher's Stone - back when it was released in 2001.
The Harry Potter franchise is a remarkable collection of at least good and, at times, great films, and Harry Potter and the Deathly Hallows Part 2 is just what you would hope it to be: a breathtaking, thrilling and satisfying conclusion to this much-loved series.
Only thing left to do now is read the books.
Stars: 4.5/5
Cast: Daniel Radcliffe, Emma Watson, Ralph Fiennes, Rupert Grint
Director: David Yates
Running Time: 130 mins
Rating: M (supernatural themes & violence)
Verdict: A worthy finale to this epic series.
- TimeOut