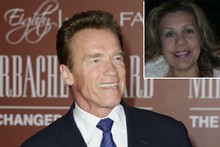 Mildred Baena, the mother of Arnold Schwarzenegger's love child, has finally broken her silence about the baby-mama scandal.
The gossip mills went into overdrive last month when it was revealed that Schwarzenegger had a 13-year-old child with his former housekeeper, Baeana.
She's been in hiding and kept a low profile since the news broke, but she's had her fill of keeping it zipped - Baena's revved up and ready to dish the dirt.
In an exclusive interview with celebrity glossy Hello! magazine, Guatelaman-born Baeana, 50, is speaking out about how she told Maria Shriver about her husband's love child.
Baena, who was photographed for the magazine with her son for the first time, says it was her intention to finally "tell the truth" about the scandal.
She also describes the moment Joseph Baena first learned from his mother that his father was Arnold Schwarzenegger.
Apparently he was as cool as a cucumber. His reaction was simple. "Cool!" he said.
Beana also sets the record straight, telling Hello! magazine that she and Arnie had only a handful of encounters - not a lengthy affair as was widely reported.
And in another shocking twist, she claims she only recently revealed to Arnie that Joseph was his son.
Baena, who worked in the Schwarzenegger household for 20 years, says she became sure Arnie was the father of her son as the boy grew up and the resemblance became obvious.
"It was as [my son] grew and I started to see the resemblance that I wondered - but it became more apparent as time went on," says Baena.
"Last summer, I brought Joseph over to the house. Until then, he hadn't been around very much," says Baena. "After that, people in the house started whispering about how much they looked like each other."
Shriver put two and two together...
Shriver included. She says Shriver's suspicions were raised after hearing "whispers" in the house about the resemblance of the boy to her husband. She finally put two and two together.
"She would say things like, 'I'm here if you need to talk.' I sensed something was up. I have so much love and respect for Maria," Baena says.
"Finally, she asked point blank."
In reaction to the news, Baena claims Shriver was surprisingly compassionate.
"She was so strong. She cried with me and told me to get off my knees. We held each other and I told her it wasn't Arnie's fault, that it takes two," Baena adds.
"Since I was retiring soon, I said I would pack and leave right away," claims Baena, "but she said to stay until after the holidays."
As for Arnie, who is widely believed to be in the throes of terminating his 25-year marriage, Baena says: "He's a good man and I know he's suffering too. He loves Maria. I hope with time they work things out."
Schwarzenegger and Shriver have both reportedly hired divorce lawyers.
Baena says Joseph is now looking forward to building a relationship with his father.
Schwarzenegger and Shriver announced their separation in May after 25 years of marriage.
"We are continuing to parent our four children together," they said in a statement.
"They are the light and the center of both of our lives. We consider this a private matter and neither we nor any of our friends or family will have further comment. We ask for compassion and respect from the media and the public."
A week later, the Los Angeles Times broke the news about Arnie's love child.
"There are no excuses and I take full responsibility for the hurt I have caused. I have apologized to Maria, my children and my family," the actor said in a statement. "I am truly sorry."
The full interview appears in Hello! magazine's June 20 issue. Which, rather curiously, doesn't devote its cover to Arnie's baby mama tell-all. Front cover honours go to 'Dazzling Duchess' Kate Middleton's headwear and sartorial choices. And lovely they are too.
Update: Baena's lawyer has issued a statement regarding the Hello! mag interview.
"My client did give an interview that was published in Hello! Magazine. She gave the interview in order to set the record straight once and for all. Mildred was tired of people selling their lies to the media or claiming to speak for her when they do not. As for the interview, we did not personally pre-approve the questions or place limitations on the topics to be covered; Mildred talked about those areas that she was willing to discuss, and kept private those that she was not. All she wanted to do was put the lies and rumors to rest. And we believe that she has done that through this interview."
And in news that will undoubtedly have you crying into your coffee mugs...
Hold on to your pacemakers, folks...THE wedding is off!
Hugh Hefner and Crystal Harris' wedding is no more.
The playmate, 25, called off the nuptials - just five days before she was due to trot down the aisle and make an honest man out of the Playboy founder.
"The wedding is off," Hef tweeted today. "Crystal has had a change of heart."
The couple, who got engaged in December, were set to tie the knot on Saturday at the Playboy Mansion. This would have been the third marriage for Hefner.
Multiple sources tell TMZ the model left the Playboy Mansion over the weekend after a raging argument with Heff over the phone. Hours later, she'd packed her bags and moved out.
Harris has also released a statement on her official website, explaining her decision to bail on the wedding.
"After much deep reflection and thought I have decided to end my engagement with Hef," she wrote. "I have the utmost respect for Hef and wish him the best going forward. I hope the media will give each of us the privacy we deserve during this time."
"I heard the sad news today this morning," Harris's manager Michael Blakey tells People.com. "The split was a mutual decision and the two remain good friends."
But things can change. And they might well do once Heff cops a load of this gossip morsel. RadarOnline claims Hef's ex-fiancée is dating Dr. Phil's son Jordan McGraw.
Sizzling sausages!
"The wedding is off and everything has been canceled," says a 'source'. "Hef is in shock. Crystal bailed and left the mansion at 11pm Sunday night.
"She has a boyfriend. She is seeing Dr. Phil's son, Jordan. She thinks she is going to be living with all of Dr. Phil's millions."
All in all, it's a bit of a surprise that Harris opted to nix the nuptials.
Mind you, one of Hef's former flames, Holly Madison, saw this coming. Waving a red flag early on in the engagement, Madison said: "I think it's possible Crystal could break Hef's heart. They could end up divorcing, and she could take half his money."
And in showbiz, timing is everything. Harris just tweeted a link to a Funny or Die video she appears in, poking fun at the 60-year age gap between her and her ex-fiancé.
Watch Harris plug 'The Playboy App' below:
Oh, the scandal!
Blogger Bites Back
* Read more celebrity news and gossip from Myrddin Gwynedd (MG) here.
A favour...
Colour me happy and please vote for this blog again in the Net Guide Awards' Best Blog category. Voting closes August 16.
Diolch yn fawr!
By Myrddin Gwynedd @ohthatwelshguy

Email

Myrddin