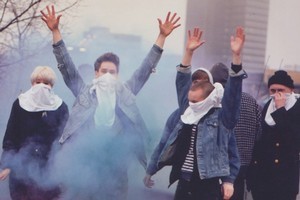 It seems that the internet is to blame for everyone's problems these days. Not only does it have the publishing world, travel agents and the Post Office up in arms, the music industry would also like a few choice words with Sir Tim Berners-Lee.
Reports of illegal file-sharing, the decline in sales and the death of the record store are all familiar stories.
But now there is a growing issue around the way in which the internet, with its myriad social-networking sites and blogs, is fond of plucking the next big thing from obscurity, making them the online toast for a few precious months, before dropping them and declaring them old news.
And while traditional media are certainly guilty of this fickle behaviour too, it is online where bands tend to rise and fall at such a swift rate.
Now new artists are turning to ever more enterprising methods to try to combat our short attention spans.
By maintaining some control over how much is known about them and refusing to divulge every fact, song and thought (initially, at least), acts are keeping us curious and, as a result, increasing their shelf life.
"It's come about because a lot of people have been quite desperate to prove themselves as A&Rs by being the first to discover the next big thing. That's fine, but it has been harmful to some artists who have been hyped very early on and have perhaps not been ready," says David Adcock, product manager at Columbia Records.
"The other thing is that artists become dated really quickly. If a band has received a lot of attention at the demo stage, then by the time they've had a chance to record their album properly and tour enough, when the finished record finally arrives, the mindset of a lot of people is 'Oh, you were last year's band. We've got new ones now'."
Things are changing and these days new bands are instructed to be careful with what they share, and to restrict the number of songs available online. Others are taking more drastic measures, hiding their identity and obfuscating the public to retain an air of mystery.
Until recently WU LYF refused to participate in interviews and had only released one press shot of a gang of nine people with white masks covering their faces. Nobody even knew if any of those featured in the picture were in the band, let alone the names of its members.
They went as far as performing some of their live shows in complete darkness. After uploading three tracks last year, they were quickly lauded online and deluged with offers from labels, but decided to forge ahead on their own and self-release their work. Their hotly anticipated debut album, Go Tell Fire to the Mountain, comes out next week.
Just as some were beginning to dismiss their relentless obstacle-throwing as a marketing ploy (they are managed by Warren Bramley, founder of the creative agency four23) they came out and revealed themselves to be four young guys from Manchester.
It wasn't just a tantalising tale of intrigue that the quartet was trying to spin (though it no doubt contributed to interest in them); there was a more practical reason behind their subterfuge: they didn't feel that they were ready.
Last week their lead singer, Ellery Roberts, 20, told NME, "When we got that initial blob of hype about a year ago we could quite easily have monopolised it. But we hadn't finished the songs. So we went to ground."
It's a position many young bands find themselves in after being thrust into the public consciousness on blogs. Cults, the New York-based duo who released their debut album last week to rave reviews, uploaded three tracks on to the internet last year just one week after finishing them.
"We recorded these songs and we thought that nobody was going to listen to them, so we put everything up on our Bandcamp [a website that enables bands to post and sell music direct to their fans]. And then very quickly people started emailing us and asking who we were," Cults' Madeline Follin says.
"And we didn't really know how to respond to that question."
Although it wasn't initially a conscious decision, the band embraced their anonymity and ran with it, refusing to release any proper pictures, say who was in the band or respond to the growing pile of interview requests.
While the more cynical would dismiss it as a marketing gimmick (and perhaps it was a well-executed one), Follin insists that the band just weren't ready to have the spotlight on them yet.
"It gave us the freedom to figure out exactly where we wanted to go with the band," she says.
While one of their tracks, Go Outside, was being championed by just about every music website and blog online, Cults had never so much as played a gig. The interest to see them live grew and they ended up performing some early shows under pseudonyms, including The Cults UK and the rather more obscure Lady MJ and the Highwater Bong Boys, to prevent being prematurely judged.
Performing early shows under different monikers is a growing trend these days. Summer Camp and YAAKS are just a couple of acts who chose to take the pressure off by revealing very little when they went public.
Summer Camp only released old Polaroid pictures of random people (which actually complemented their nostalgic, lo-fi sound perfectly), while it took months for the industry to work out who made up the dance-punk act YAAKS, who arrived on the scene with the prerequisite blurry press shots.
This idea of being enigmatic is in contrast to how bands operated until quite recently.
"Three years ago you'd put all your songs online, but now it's going the other way and people are really limiting it," says Mairead Nash, founder of LuvLuvLuv, a record label and management company which represents Florence and the Machine.
"It's too much, too quickly now. Bands don't have time to form their identity or develop; it's all so public these days. And the web is over-saturated - a lot of what is written isn't even about the music; there are pictures everywhere. Bands can't go to the bathroom these days without someone blogging about it. Does anyone care that much about a new band? I don't think they do, so you have to be selective with what's out there.
"Everyone's sick of the band before the album has even come out," she adds. "You get written about after two singles, but then it takes six to eight months to make the record and everyone is like 'Oh that was so eight months ago'. People get really bored and don't appreciate what it takes to make a record or how long it takes. That's the danger."
While WU LYF or Cults may be extreme cases, we can expect to see plenty of new artists keeping a little in the shadows in the future and not revealing everything too early on.
Whether it's because they want to keep people intrigued, save something of themselves for later, shy away from the hype or perhaps just because they're not ready for the attention, in the accelerated times we live in, sometimes a little bit of mystery is one of the most powerful assets a band can have at their disposal.
-The Independent