Music Producer 'Bassy' Bob Brockman's big week.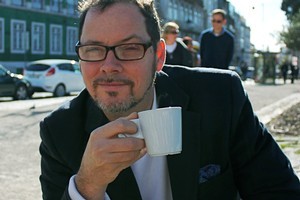 Friday night drinks? Meet me at: Ponsonby Social Club, Ponsonby Rd.
Where I'll be wearing my new: Armani jacket, Converse kicks and new sunglasses.
And this weekend I'm planning on: Going sailing, out in the bay.
But first I'll need to refuel at my favourite cafe: Bliss, great organic vegetarian cafe in Williamsburgh, Brooklyn.
Saturday evening. If my dreams came true there would be a gig by: The Checks.
But if there's nothing else doing I'll probably just: Watch Netflix in the crib.
On my stereo/headphones right now is: Dark, Dark, Dark and Ruby Frost.
The books I can't put down are: The 48 Laws of Power, The Silmarillion.
The TV shows I take the phone off the hook for: Treme, Mad Men, Arrested Development.
The movie I've been dying to see: I'm Still Here, Joaquin Phoenix.
A non-cooking Monday night means takeaways from: Burger Wisconsin in Mt Eden.
Or a splash-out Wednesday night restaurant would be: Pure Food and Wine on Irving Place in Manhattan, my fave raw food restaurant at the moment.
* NYC's Bassy Bob, a Grammy Award winning mixer/producer, is in Auckland this week as part of the British Council's People In Your Neighbourhood project. He'll be based at Red Bull Studios, working with local artists Pikachunes and The Rackets as they create an EP with British musicians based at London's Roundhouse Studios - via Soundcloud and Skype. www.piyn.net
- TimeOut