The work of Oscar-winning writer Julian Fellowes is now on screens both big and small. He talks to Peter Calder about the revived appetite for period drama.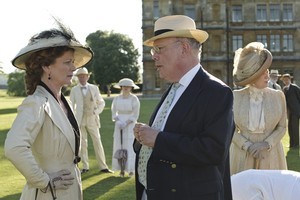 If we're going to be correct about it - and in Julian Fellowes' world, it's important to be correct about it - he's not Julian Fellowes at all. Since the New Year, the creator and writer of the hit television show Downton Abbey has been Baron Fellowes of West Stafford in the County of Dorset - though you may address him simply as Lord Fellowes.
When he married Emma Joy Kitchener (the great-grandniece of that Kitchener) in 1990, he changed his surname to Kitchener-Fellowes. As you do.
If you detect a whiff of the snob about this, you are not alone. When The Spectator's hilarious High Life columnist Taki found himself seated next to Fellowes at a dinner, the writer opened conversation by announcing that his wife is a lady-in-waiting to Princess Michael of Kent.
"Snobbishness is simply an assumption of false superiority," the flabbergasted Taki wrote. "The Fellowes couple seem to practise it with the limitless appetite of the true parvenu."
More kindly, the BBC, with what seemed like affection, referred to Fellowes as "everybody's favourite toff". Did he take that as a compliment?
"I don't think it was meant as a compliment," he chuckles down the phone line from his 400-year-old manor house near Dorchester, in the heart of Thomas Hardy country. "But I think the news media, the BBC included, have given me a far grander upbringing than I had."
As the Cairo-born son of a diplomat father, he enjoyed a solid upper-middle class childhood, he says, "but I was a very junior member of that society. I was very much a fly on the wall, which I think for a writer was a better place to be."
From that vantage point he plainly learned a thing or two about how big houses worked. That's why Robert Altman approached him to write his 2001 film Gosford Park. It was Fellowes' first big-screen script after the one-time actor had penned a couple of television series - and it earned him an Oscar.
Since, he's helped adapt Thackeray's Vanity Fair, was the pen behind Young Victoria and the Johnny Depp-Angelina Jolie misfire The Tourist.
Having directed the little-seen Separate Lies in 2005, he's stepped back behind the camera again on From Time to Time, an old-fashioned kidult ghost story based on Lucy M. Boston's The Children of Green Knowe novel and set in a manor house presided over by Dame Maggie Smith. She also stars in Fellowes' television epic Downton Abbey, as does Hugh Bonneville.
The seven-part period drama (which started on Prime this week), set in the title's fictional home of the Earl and Countess of Grantham, follows the lives of the aristocratic family and their servants in the second decade of last century.
It was inspired by the same fascination for the goings-on above and below stairs which was behind Gosford Park. It proved a huge hit in Britain (a second series is being filmed now), even though the genre has not enjoyed much viewer favour since the heady days of Brideshead Revisited a generation ago. And it may be catching: Upstairs, Downstairs, a 70s hit, was revived for a new, sixth season last Christmas.
"Well, it obviously has to do with [Downton's] fantastic cast," Fellowes says graciously when asked the reason for the renewed appeal. "But also, this is a very tough time for a lot of people, and when you're going through tough times there is something cosy about a secure, safe, ordered society. You can enjoy the cosiness, but you don't have to get up at five in the morning to rake out the coal stove."
But he cautions against confusing content with form.
"Downton Abbey looks like a traditional period drama, but it is essentially quite modern in style. Period dramas in the 70s used to be single-event episodes, in which one narrative was served by all the different characters. Our construct is much closer to, say, West Wing or NYPD Blue. The fact that they are all wearing corsets and getting the orders for dinner doesn't really alter that. You've got all these different stories going on at the same time."
The big houses of Downton Abbey and Upstairs, Downstairs are great settings for drama, says Fellowes.
"Effective narrative - and this is particularly true of television - requires the bringing together of very different people with different views and different social origins. And there are only a limited number of constructs that deliver that to you in an unforced way: hospitals, police stations, lawyers' offices. These are hierarchies and hierarchies generate conflict and that is what drama is made of."
Fellowes is speaking on the very day that his next project, a six-part television series called Titanic, begins shooting in Budapest. The catastrophic sinking of the "unsinkable" White Star liner is the dramatic starting point of Downton as well, and it seems worth wondering why a man would be moved to make a series about the subject of the second-biggest film of all time.
"I've always been intrigued by [the sinking]," he says, "There is something iconic about this group of powerful and rich people being rendered powerless by nature. The ship itself also rather represented the sleek and pompous and self-confident Edwardian world, headed for its own iceberg in the shape of World War I."
It is that self-confidence that is under assault in every episode of Downton, of course.
"We quite deliberately started it in 1912 because it was a time of turmoil. It sat amid the old securities of a stable society in which everybody - to use the old phrase - knew their place. But it's a modern world, too, in which they have telephones and trains and telegrams and cars. It's quite deliberate that nobody in the series is in a horse-drawn carriage. It was a time when people had both a lot of modern equipment and technology and the beginning of modern luxuries, but progress still hadn't shaken the fabric of society."
The British public's affection for Downton was reflected in the public fascination with visible anachronisms - modern road markings or television aerials - in some shots. Newspapers gleefully pointed them out, although similar gaffes in other series went unremarked, Fellowes says. "I was irritated at first, but I gradually came to see that we had become part of a national sport that people got involved with. It was part of the nation embracing the show."
It also reflected the extent to which people pined for the certainties that modern life lacks, Fellowes suggests. "We are living in a troubled era. The moment you start talking about this you sound intolerant or like a Bible-bashing preacher from the Midwest. But there are several issues - the sexualisation of children is a particular concern - in which we are constantly wrong-footed by our popular culture. We don't want to appear illiberal, but neither do we want to appear to collaborate in the undermining of the morality of our own time. And we are caught between those two."
These sound like the fulminations of a dyed-in-the-wool Tory peer, but Fellowes says the modern Tory Party is as liberal as "the other lot". And he does not see the role of the dramatist as preaching.
"I see myself as an entertainer," he says, "but I do, I suppose, feel that it is good to put forward positive and essentially moral views of characters. I do feel that we are not sufficiently moral as a society.
"We've lost a sense of decency which I would like to think that my work extols at least."
LOWDOWN
Who: Julian Fellowes, celebrated writer of British period drama
What and when: Downton Abbey screens Tuesday evenings on Prime; From Time to Time at cinemas now.
- TimeOut