It's taken a little while but American audiences are now joining in Dr Who mania, reports Gemma Gracewood.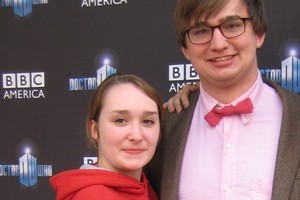 Oddly dressed people are not an unusual sight in Manhattan's East Village. But the long queue of fez-wearing, bow tie-sporting kids that stretches around a block on this spring day? Definitely out of the ordinary.
"We're waiting for the Doctor!" explains the excited young woman at the front of the queue.
"Doctor who?" is what most passers-by are clearly thinking. And they'd be right. After a 27-hour vigil at the front of the line, Emma Cameron and her best friends Graham Hegman and Tristan Shippan - who trekked here from Massachusetts - have their patience rewarded when the current "Doctor" Matt Smith arrives at this exclusive new season premiere bearing doughnuts for the fans.
In tow are Smith's Doctor Who co-stars Karen Gillan (Amy), Arthur Darvill (Rory) and Alex Kingston (Dr River Song) along with lead writer Steven Moffat, director Toby Haynes and the series' producers. It's an extraordinary New York turnout for this very British show.
Doctor Who has aired to modest audiences on various US channels over the decades. But enthusiasm has been growing steadily on this side of the Atlantic ever since BBC America - a branch of the BBC's commercial offshoot - picked up the regenerated series two years ago and put some marketing heft behind it.
Now, the series regularly breaks ratings records for the cable channel, as American followers become better acquainted with the Doctor. The fans at this preview certainly know their Time Lord trivia. Footpaths, walls, dumpsters and even nearby trees are marked with ominous chalk messages: "Bad Wolf", "Vote Saxon", "Duck, Sally Sparrow".
"It's gotten really popular. Especially this last year, it's just gone nuts," says Cameron, who first became a "Whovian" when Christopher Eccleston took the title role as the ninth Doctor. Hegman and Shippen "started on David" (Tennant, the tenth Doctor), and all three consider him their favourite, though they "love Matt Smith".
The American love affair with the Doctor has intensified to the point that, for the first time, the new season aired simultaneously in Britain and the United States. Further fuelling American fandom, the season opener was shot in Utah in a co-production with BBC America. Although many episodes (such as "Daleks in Manhattan") have been set here, filming took place in a Cardiff studio. This is the first time the Doctor has physically set foot on American soil.
Within minutes of the season's opening credits, the Doctor and his human companions are swept up in a conspiracy involving a mysterious astronaut, the first moon-landing in 1969, and President Richard Nixon.
"It seems odd, when our show can go anywhere in time and space, to make a big fuss about travel you can actually do in a plane," lead writer Steven Moffat told hyperventilating fans at the packed post-premiere Q&A. "But it does change the look and the feel of it. You get to see our insane, daffy, brilliant characters stumbling around the Oval Office and canyons and stuff."
As well as spectacular helicopter shots above Utah's Monument Valley, the opening episodes feature in-jokes about Nixon's presidency and America's trigger-happy culture (the Doctor is famously not a gun fan).
And Moffat introduces his newest breed of enemy, "The Silence", creepy, suit-wearing, memory-wiping aliens that were ominously hinted at in the last series.
As for the rest of the season, expect the return of the doctor's flatmate Craig (played by Gavin & Stacey's James Corden), the return of the Cybermen, and an episode written by sci-fi author and long-time Doctor Who fan Neil Gaiman (The Sandman, Coraline, Mr Amanda Palmer). Though there is no sign of the Daleks, it's unlikely a season will go by without them.
While the new series has amped up the fun and the flirting, it is also more hectic and epic, demanding more of its cast and crew, who have worked six-day-weeks to create the playful yet frightening Doctor Who-niverse.
"I think this job for us really is probably the most challenging thing we've ever done, purely on a practical level," says Smith. "But it's also the most thrilling and rewarding, and the maddest. I think the Doctor is the greatest part I've ever played."
Likewise, Kingston loves playing the enigmatic, gun-toting Dr River Song, "because I get the chance to, you know, kick some ass. Hang from wires, which I love. I love all the running around."
With so many story threads to tie together (including some still dangling from last season), Moffat says writing Doctor Who is "a bit like dealing with The Silence. I can never remember a blind thing. You are making it up as you go along; it sort of unfolds."
However, there is a formula.
"Generally speaking, if it's Doctor Who I'm thinking of great big fun things. A big question at the beginning, a big surprise in the middle and a big bang at the end."
Speaking of which, this season has been split in half, which means audiences will have to wait several months for the resolution of the massive cliffhanger that's coming in episode six. "Literally, your jaws are going to be on the floor," said Smith.
Moffat confesses he doesn't feel at all guilty about leaving fans hanging. "Do I look like I've got feelings? No! It's brilliant. I love it."
And if the reaction of the American preview audience is anything to go by - bombastic applause, ear-splitting cheers, and a perplexing, but heartfelt "Who-S-A! Who-S-A!" - the feeling is mutual.
- TimeOut