As the new season of Sons of Anarchy roars into view, English actor Charlie Hunnam talks to Scott Kara about playing the hit crime saga's conflicted lead.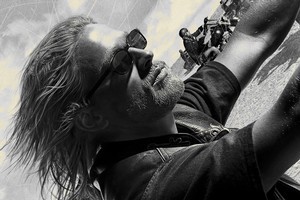 What's a nice Geordie boy from Newcastle doing playing a heavy in a TV show about a ruthless bikie gang from Northern California?
"I have no idea why I got the role," laughs British actor Charlie Hunnam about playing Jax Teller, the resident heartthrob in Sons of Anarchy about the Sons of Anarchy Motorcycle Club Redwood Original Chapter (Samcro).
"I guess they thought I had a lot of the right qualities that were essential for Jax. You know, I think I have enough toughness that I could really be from this world, but enough sweetness and vulnerability that you feel like I probably shouldn't."
Too right, because on first impressions Jax comes across as a right softie compared to his tougher and far uglier mates in Samcro. He's also likeable, but more than happy to kill or maim anyone who gets in the club's way, like his execution of white supremacist A.J. Weston in a toilet cubicle in the season two finale which screened on TV3 last week. The third, and by all accounts best series yet, starts next week.
"I think Jax is a really righteous guy, but he's a product of his environment in that he can be very violent and it doesn't seem to worry him. To begin with though I played it as if it really bothered him, but there is so much violence in his life that I realised it's just human nature that he would become desensitised to it."
The role is 31-year-old Hunnam's biggest part following a number of TV and film roles, including a part in gay drama series Queer As Folk in 1999, after which he moved to Los Angeles to further his acting career. Around the time he got the part as Jax he was looking to do more film work but "the scope of this world" pulled him in and it was the most exciting script he'd read in years.
The show, created and written by Kurt Sutter, revolves around the lives and often seedy goings-on of Samcro. There's Jax, whose father John Teller was a founding member of the club until he died in 1993, Jax's mum, Gemma, is the staunch yet caring matriarch of the gang (played by Katey Sagal, probably best known as Peggy Bundy from Married With Children), and then there's Clay (Ron Perlman) who is Jax's stepfather and reigning club president.
While the first series was patchy, it hit its stride in season two as Samcro's rivalry with nasty businessman Ethan Zobelle and his League of American Nationalists (L.o.a.n.) ramped up. There were other key story lines, including Clay and Jax's ongoing rift, the abduction and rape of Gemma by Weston, and at the end of the last show Jax's infant son Abel was kidnapped by Cameron Hayes of the True IRA, an Irish group who sold guns to Samcro but who were now dealing with L.o.a.n..
"It's a very big and fun season three because we have to go and rescue Abel," says Hunnam.
And until now the series centered around the town of Charming - "our tiny little piece of the world" - but now the boys of Samcro are going global in search of one of their own.
"I think what's so fascinating about these motorcycle clubs is they are genuine international entities, so through our pursuit of Abel we get to explore the international nature of these clubs. And it brings a new energy to the season. And through opening it up, and exploring a little bit of the grander scheme of the club, we start to understand a little more about how it evolved and we learn a lot more about John Teller."
As well as exploring the club's links to Ireland, which means the introduction of a whole new cast, the upcoming episodes are particularly intense for Jax.
Hunnam says as he finds out more about his father he starts to question the club's status and his place in it.
"It knocks John off his pedestal for Jax," he says.
And the kidnapping also changes him: not only does he become more insular, having second thoughts about his relationship with girlfriend Tara, but he becomes angry and unhinged.
"He's been toiling a little bit with the reality of being a family man and being part of this club and [the kidnapping] really puts everything in very clear perspective for Jax.
"And I think the interesting thing with Jax is he was born into it. He didn't make the choice for this to be his life like everybody else. I feel like the more it becomes impossible for him to change the world into his ideal, and the more the world puts his family at peril, then it's going to create a very big and difficult decision for Jax to have to make."
The reason Sons of Anarchy is so riveting is because it's ruthless, tough, and while the characters have plenty of passion, it is profoundly unsentimental. It's gritty stuff.
Hunnam likens it to the larger than life sensibility of a graphic novel.
"The thing for me that makes it so good, and [other] shows like The Sopranos, we can all relate to them on a certain level, because there are not many people who haven't felt the urge to punch their boss in the face any given week at work.
"The thing is, it's all about freedom to these guys. It's just about living a very free life.
"Of course you can't go round punching people or breaking the law at will, but that's the key to a lot of these shows, the ability to check out and have that fantasy for an hour.
"I think what it really comes down to at the heart of it is we love watching bad guys who do what we wish we could do."
LOWDOWN
Who: Actor Charlie Hunnam plays Jax Teller, vice-president of Sons of Anarchy motorcycle club (aka Samcro)
What: Sons of Anarchy, Wednesday, 9.30pm, TV3
-TimeOut