A new movie of the Graham Green crime story, Brighton Rock, marks the feature directing debut of Rowan Joffe, a film-maker following in his father's footsteps. He talks to Helen Barlow.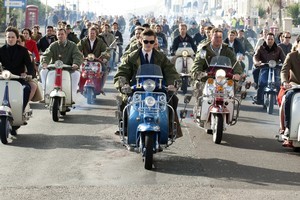 The offspring of famous folk generally don't like to refer to their famous parents in interviews. So when I sit down to speak with Brighton Rock director Rowan Joffe, his father Roland Joffe looms large. Perhaps what makes it delicate is that Joffe snr, who received a best director Oscar nomination for The Killing Fields and The Mission, is in the same profession. I leave mentioning him until towards the end.
"I just thought you were being really respectful," replies Joffe jnr, displaying a lively London sense of humour. "I think, to be honest 10 years ago, I might have felt differently when I was carving my own territory, but now I feel really proud of my dad.
"I remember going to the royal premiere of The Mission and sitting on a row of seats with Prince Charles and Lady Diana next to me and seeing the words, 'A Roland Joffe Film' come up on the screen to a score by Ennio Morricone and thinking 'my dad is the coolest f***ing man on Earth!' You never quite get over that. So I'm still a little bit in the shadow but it's a great shadow to be in."
An accomplished screenwriter, Joffe, 38, had written 28 Days Later and The American before deciding he needed to be at the helm and in control of his material. A fan of the films of French auteurs Jacques Audiard and Jean-Pierre Melville, he had initially fallen into directing for television when he made 2007's Secret Life, a searing drama about paedophiles. For his cinematic directing debut he wanted to make a new movie of Graham Greene's 1938 novel Brighton Rock, which he had studied in high school because it was "the most amazing dark, dark story" he'd ever read.
"It's a huge literary work and making another version is completely valid, even if people are saying it's a remake," he says defensively.
Joffe's film differs from the 1947 Boulting brothers' noir classic (which starred Richard Attenborough and was written by Greene and Terence Rattigan) on two major fronts. He sets the action in the 1960s when the Mods and Rockers were a threat to social order, and he reinstates the original ending.
"Who actually wrote the ending is still unsure because both Greene and Rattigan laid claim to it," he notes. "So if one of Britain's greatest writers and one of Britain's greatest playwrights want to take credit for this ending, then it was unlikely I'd come up with anything as clever or as ambiguous - and still provide a cinematic coup in the final moments."
Brighton Rock follows Pinkie (Sam Riley) a small-time crook, who takes control of a Brighton protection mob after its leader is killed. When he retaliates by killing the rival gang leader responsible for the murder, his act is witnessed by the teenage waitress Rose (Andrea Riseborough), who he must ultimately kill, though he initially seduces her. Rose falls for Pinkie like a tonne of bricks, and despite the protestations of her worldly boss Ida (Helen Mirren), she continues with the romance.
While drawing inspiration for the look of the film from 1971's Get Carter, Joffe admits that the success of his film rests largely on the performances. Originally he had seen Riley in Control, the first film by Anton Corbijn, who went on to direct The American.
"We had the same casting director as Control and Sam was first on board. He's charming and boyish but there's something rather ancient about him. That mix of charm plus menace was always going to give us an interesting Pinkie."
The scene stealer though, he says, is rising star Riseborough, who will soon be seen as Wallis Simpson in Madonna's W.E.. Originally, for financing purposes, Rose was to be played by Carey Mulligan, who went off to make Wall Street. Joffe was much happier casting Riseborough.
"Andrea is unique in her generation because she is unrecognisable from film to film. I think she's going to have a long career. In the book Rose was abused by her father, but we cut the scene. One of the reasons she falls in love with a man like Pinkie is she's used to being abused by men and I think Andrea delivers that authentically."
Although Joffe felt confident directing the young actors, he admits to being initially intimidated by experienced veterans like Mirren and seasoned cinematographer John Mathieson. Mathieson, who had shot Robin Hood, Kingdom of Heaven, Gladiator, Matchstick Men and Burke and Hare, provided expertise with original 60s lenses, which afforded the film a striking authenticity. It was shot in heritage-preserved Eastbourne and 276 CGI shots were used.
"I mean, what do you say to Ridley Scott's DOP? 'Oh I'm not happy with the camera angle?' He'd just look at you in a way that you'd wither into a smoking heap of poo! So with all the people I spoke to them as the screenwriter. I soon became relaxed with Helen because she's a very generous actress. She made it clear she was doing the movie because she believed in me."
These days Mirren has little left to prove and largely chooses movies that provide her with a new challenge. Here it was playing a redhead and impersonating her own screen goddesses, Anna Magnani and Sophia Loren.
"The oufits, that was entirely Helen," Joffe explains, "whereas the original Ida was supposedly inspired by Mae West as a kind of tits-and-arse blonde barmaid. In the book Ida was a hooker, so we wanted to keep a sensual, slightly racy edge to her and also to give her a strong maternal dynamic with Rose."
Given the glimmer in her eyes, there's no doubting Mirren had fun with the glamorous role.
"I was at Helen's house and she was parading around pretending to be Magnani and Loren, when her husband [director Taylor Hackford] came back from a meeting. He said, 'Don't tell me she's a redhead in this movie, because she's been wanting to be a redhead for 20 years!' What the red hair gave the character was a sexuality and power, because ultimately Ida is a spirit of vengeance. She's like a Greek fury and I think that's what Helen created."
LOWDOWN
Who: Rowan Joffe, director
What: Brighton Rock, a movie of Graham Green's novel updated to the 1960s
When: Opens at cinemas May 19
- TimeOut