As singer-songwriters Julia Deans and Anna Coddington head out on an extensive national tour this NZ Music Month, Deans writes for TimeOut about their first days on the road together.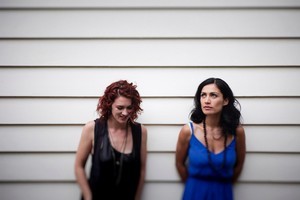 Thursday, Te Awamutu
I have just performed the most incredible feat of minimised packing for this tour. We are heading out for three weeks on the road and space is at a premium in our luxurious touring vehicle. Anna and I have been consoling each over the dreaded shoe decision ... we've both managed to whittle our selections down to two pairs of Converse and a pair of heels - just in case we feel fancy (pffft, chicks!). After a morning of mad last-minute-ing and then some serious 3D hi-res Tetris getting all our gear into the car, we finally hit the highway.
We roll into Te Awamutu just as it's getting dark and a cool wind is settling in. However, the Pioneer is all cosy open fires with a faux-rustic hunting lodge vibe, which quickly fends off any chills. We hurry about loading in and setting up - the most time-consuming part of which is trying to work out how to get the four LED stage lights to stop flashing like some kind of bad 80s disco nightmare. After a speedy feed and a rapid spruce-up, we head back to the venue to get settled in for our show.
Anna kicks off the night's proceedings with a gorgeous set. The audience is spellbound, and so am I. I thoroughly enjoy my set, and then Anna joins me to round the night off with a few hastily rehearsed songs together. The Te Awamutu crowd are amazing - so warm and attentive. I get the feeling I'm going to enjoy this tour.
Friday, Whakatane
Life at home has been so chaotic over the last few weeks that being on tour this morning almost feels like a holiday. We rise at the leisurely hour of 9am (ish), re-pack the car and head out to find breakfast before our drive to Whakatane. Well aware that we'll be battling the Windsors for an audience this evening, we spend half the journey trying to think of ways to draw the royalists to our show.
Setting up at the Chartered Club is relatively quick and painless, though the handful of locals drinking are less than impressed by having their peaceful evening bevvies disturbed by our noisy but necessary soundcheck. Anna plays an even better set than last night ... I'm really gonna have to step my game into high gear this tour! I'm feeling a bit flat today, and really struggle with my between-song banter this evening. Sometimes I just feel like I can't say what I want to to connect with an audience - it's like a little battle in my head that goes on through the entire set. When I'm singing and playing, however, I feel great. It feels natural, like that's the conversation I want to be having. Anna joins me again for our songs together. We've added another of Anna's songs to our duet set, and I manage to bluff my way through the chords and harmonies and our efforts are met with deafening cheers and many smiling faces. We definitely lost a few seats to the royals, but the enthusiasm of those who have come more than makes up for the dip in numbers. Thank you Whakatane, for another gorgeous night.
Saturday, Havelock North
Today we're headed for Havelock North, to the Black Barn Winery's Underground Cellar. Having both played there before a couple of years ago - Anna with Fly My Pretties and myself with Anika Moa - we're excited. For some reason it takes the four of us an absurd amount of time to actually point ourselves on the right road out of town. Sometimes it doesn't matter how many maps you look at, your brain just wants to be directionally challenged. Besides, it's part of the touring code that you have to get lost at least once on every tour, so we may as well get it out of the way early.
It's a beautiful drive from Whakatane to Havelock North, with the exception of the vast expanses of recently felled pine forest, the fields of shorn stumps looking like a 5 o'clock shadow on the jaw of some green-skinned giant. We also pass large sections of trees that have been snapped in the brutal winds earlier in the week, and are quietly grateful the weather is considerably calmer today.
My good friends Dino (who played drums on my album) and Emily pop in while we're setting up, so this ramps my excitement levels up further. We have a beautiful, rustic meal at Pipi's (if you're ever in Havelock North, eat there!) and then check in to our motel to freshen up before going back to Black Barn.
The crowd gathered in the Underground Cellar are positively bristling - I think the delicious Black Barn wine and the fruity Cointreau cocktails are aiding and abetting the electric air. I love tonight's show, and the songs Anna and I do together just get better and better. She's amazing to perform with (blush now, Anna) and we finish with a cover of Voom's song Isn't That Good? that gives me goosebumps, especially at the end when David (our soundman) sends our vocals off into swirling waves of delay. After we pack up, Bronwyn and Kim (our wonderful hosts) invite us up to their beautiful home to enjoy some more wine and delightfully wine-fuelled conversation, well into the small hours of the morning. Nights like these make me feel like a very lucky little human ...
Sunday, Wellington
... and mornings like these remind me that lucky little humans need not imbibe quite so much wine. Still, up and at 'em! As we left their house last night, Bronwyn gave us nine beautiful fresh eggs from her hens. I chuck my bleary-eyed, slightly hurty-headed self through the shower and zip up the road to find some fresh Turkish bread and organic bacon to serve alongside the eggs. There's something about motel-cooked breakfasts that makes them extra satisfying. Everyone's a little more subdued this morning, but the trip passes quickly - even with a stop-off in Woodville to fossick through the treasures at the antiques and junk shop in the old cinema.
We arrive at the Paramount Cinema in time to help Rich and Andy from Western Audio wheel the PA into the venue. I love old cinemas and I've always wanted to do a show here, so I'm very excited about tonight. Anna and I have been using two white paper lanterns with our profiles on them as stage props, but they look a bit lonely on this much bigger stage. We decide to go hunting for a couple of extras while David gets the sound system running. We return, stuffing falafel into our faces, and set about hanging lanterns and plugging in guitars. It sounds amazing in here.
A quick jaunt across the road to the hotel to shower away the residual hangover and then it's back to the Paramount. The lights are dimmed and a chorus of "woooo!" from the audience welcomes Anna to the stage. I love being able to do a long run of shows with another artist, being able to watch as their performance develops and changes over the length of the tour. Ms Coddington is magical now; she has the audience utterly spellbound. I thoroughly enjoy my set, despite my uninvited case of verbal diarrhoea. Anna joins me again and we end the night again with the Voom song, which is just getting better and better. The Welly crowd are so amazingly warm and we hang out in the foyer chatting with them and generally feeling very loved. Once everyone has left, we pack up and load out. Somehow I manage to break both heels off my boots (I felt fancy tonight) running down the stairs, but it's the end of a very good night - the last show of the first week of what is looking to be a very rewarding tour.
LOWDOWN
Who: Former Fur Patrol frontwoman Julia Deans and Anna Coddington
Playing: The Classic, Auckland, May 26; Leigh Sawmill Cafe, May 27; Butter Bank, Whangarei, May 28
- TimeOut