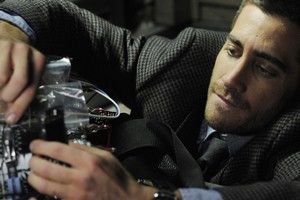 MOVIES
Calm down ladies, please, because Robert "I'm not just a vampire" Pattinson is coming out of his vampire shell and stars opposite Reese Witherspoon in Water For Elephants, a romance about forbidden love under the big top which has previews this weekend.
Also starting this week is the Jake Gyllenhaal sci-if thriller Source Code(pictured). And there's a wave of local films including Tracker, starring Temuera Morrison and Ray Winstone, and Desert, a digital feature by Korean-born, Auckland-based director Stephen Kang.
TV
Not quite the telly event the Royal Wedding was, but new Edwardian drama series Downton Abbey (Tuesday, 8.30pm, Prime) sure got the hearts and minds of the Brits jumping when it screened last year. By Oscar-winning writer Julian Fellowes of Gosford Park fame, the seven-part series that's been touted as a broad-appeal drama, packed with romance, deception and scandal, follows the lives of the aristocratic Crawley family. Oh, and the servants who work for them.
Also on the box this week is Mike Tyson in new series Taking on Tyson (Animal Planet, Tuesdays, 7.30pm), about his forays into pigeon racing (let's hope he hasn't nicknamed one of them Evander); British delinquent superhero series Misfits returns to Four tonight at 9.30pm; and it's the penultimate episode of MasterChef (TV One, Sunday, 8.30pm), with Jax, Nadia, and Stu fighting it out for a place in the final.
MUSIC
I interviewed Katy Perry once and in between her talking all cutesey-like about her new kitten and how she likes to play pranks on her man Russell Brand, she came across as a thoroughly likeable and lovely pop star. Ms Perry plays Vector Arena on Saturday and Sunday (with tickets still available for Sunday night).
Also playing this week are beat rebels Unkle (Powerstation, tonight), and tomorrow night Aussie guitar maestro John Butler is at the Powerstation and Karlmarx (made up of Issac Aesili and Mark McNeill) play Ponsonby Social Club in support of their glitchy and spacey new soundtrack-style album, The Karlmarx Project.
OR...
the comedy festival rolls on and this week catch leery Brit Carey Marx, droll former Conchord Arj Barker and local lad Jeremy Elwood before their shows end. Starting next week the ones to see should be The Boy With Tape On His Face (starts Tuesday, 7pm, the Chamber), 7 Days star Dai Henwood (starts Wednesday, 7pm, Sky City) and Steve Wrigley in Kevin: The Musical (starts Tuesday, 8.30pm, Herald Theatre).
-TimeOut