War Wounds: Medicine and the Trauma of Conflict edited by Ashley Ekins and Elizabeth Stewart
Exisle Publishing $54.99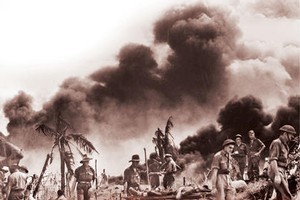 On May 27, 1942, two Czech parachutists ambushed and wounded SS Obergruppenfuhrer Reinhard Heydrich near Prague. Heydrich was not seriously wounded but a ricochet bullet had carried cloth, wire and wool into the wound. The wound became infected and Heydrich died a week after the ambush.
Most people know of the Nazis' ruthless revenge on the village of Lidice; the men of the village were shot, the women were sent to concentration camps, the children were adopted out and the village flattened. Most people will not know of the calculating, cruel and brutal medical experiments that were the direct result of Heydrich's assassination. Determined to improve their treatment of wound infection, staff at the SS medical station near Ravensbruck first maimed 74 women, then had their wounds deliberately infected before being exposed to a range of treatments for these infections.
This horrific story features in a chapter of this gem of a book. And what a range of topics is covered in War Wounds.
Individual chapters deal with shell shock, self inflicted wounds, rehabilitation from terrible war injuries, sexually transmitted diseases, Agent Orange in Vietnam, military nursing and surgery, and the difficulties of effectively treating the victims of Nazi concentration camps after their liberation.
The list of contributors to this volume is equally impressive. They include a Yale University history professor, military historians, practicing surgeons and nurses, and ex-soldiers.
The last poignant yet inspiring chapter was written by a badly wounded Australian Vietnam veteran who lost both legs to an anti-personnel land mine. It describes his long, painful road to rehabilitation; a journey that eventually takes him to Canberra as a serving Federal Member of Parliament.
This book emerged from a conference at the Australian War Memorial in September 2009 which, together with Exisle Publishing, is making a habit of producing quality works such as this. Although an Australian publication, New Zealand is mentioned on several occasions. The pioneering facial reconstruction of World War I soldiers could never ignore the work of New Zealanders Harold Gillies and Henry Pickerill. Both receive due attention in a chapter that looks at the treatment of terribly disfigured soldiers of WWI.
Similarly, in the chapter that examines sexually transmitted infections in Vietnam, where the rate of infection amongst Australians serving there once reached a staggering rate of 943 cases per 1000 soldiers, the work of New Zealand anti-venereal disease campaigner Ettie Rout during WWI is also acknowledged.
Hippocrates, the father of Western medicine, once said that war provided the best education for surgeons. As this book shows, the carnage and human misery that comes with any military conflict means the histories of warfare and medicine are intertwined.
Though not a book for the squeamish, this publication is impressive. Readable, revealing and scholarly, anyone with an interest in medical and/or war history should read it. My one complaint is that some chapters were too short. They left me wanting more.
Glyn Harper is Professor of War Studies at Massey University, Palmerston North.