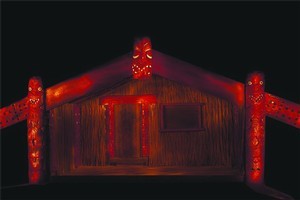 It's 5.30am on a crisp April morning and the powhiri opening this unusual exhibition is well-advanced. Outside, a faint but definite whiff of White Island is lingering.
Some 80 people (mostly Tuhoe) are tucked into an exhibition room while the formalities unfold.
Tuhoe are in song and I'm wondering if the spirit of Te Kooti, the guerilla leader from Gisborne who hid out in Tuhoe land, isn't among us.
From the corner of my eye, I see a handful of men chanting with a slightly raised hand. Perhaps they are Ringatu (upraised hand), the faith established by this prophet. My musical ear has sensed a rhythm that is more chant than melodic chorus.
I have heard many an iwi in song and chant, but not like this. But then, when you talk about Tuhoe to those who know Maoridom they will tell you - Tuhoe are different.
So when they undertake an exhibition that provides a unique cameo perspective of their origins and title it The People and the Land Are One, you don't have to take too much time out to think this through.
Perhaps a cleverly loaded double entendre carries a message that has resonated since 1840 and now painfully rings in the ears of Parliament. The land, of course, is Te Urewera and there isn't enough exhibition space to timeline the triumphs and tragedies of Tuhoe and their maternal land. They were never given the opportunity to sign the Treaty of Waitangi, and never relinquished their identity and sovereignty.
That, along with the beliefs of Rua Kenana and Te Kooti, has brought them 170 years of admiration, contempt and almost obliteration.
Although it is sheer coincidence, there is also the timing of the opening of the exhibition. In just a few short weeks, the "Urewera 18" face a questionable jury-less court as a result of the 2007 "terrorist training camp" raids. Brought forward to May from August, there was apprehension it could permeate the World Cup.
But there is none of this in the exhibition. It could well have been an embittered whakapohane (baring of the bum) aimed directly at the Crown A message from the heartland
They are patient, methodical, committed and have but one goal.
- but it's not. Instead, it's tempered, historical and matter-of-fact.
At this stage, no promotional literature exists, deliberately relying on traditional Tuhoe and their hapu "word of mouth".
Day one and the gallery is full by mid-morning. School children line up outside while others soak it up inside.
Tuhoe spokesman Tamati Kruger, with arts and cultural manager Wayne Marriott and the gallery's project co-ordinator Kay Boreham, are beaming at having nurtured this to fruition. Marriott refers to the two-inch syndrome, whereby youth walk out two inches taller and proud of their heritage. With the Tuhoe sport and cultural event, Ahurei, due in the area shortly, the syndrome will transcend all ages.
Three highly prized artefacts greet you as you enter. Unique to Tuhoe is the pumotomoto. This rare flute is played directly into the fontanelle (soft area of the cranium) of a new-born child, to embed tribal mythology.
Another is a small but distinctive cast-iron pot known as a "Go-ashore", said to be from Captain James Cook's 1769 landing in Poverty Bay. Another is a magnificent taha, or ornamented gourd, named Kurariki and gifted to missionary Sister Annie Henry by Rawiri Paraki. It's said to have been aboard the great waka Mataatua.
For me, it's the story spread around the walls. The blanket that Tuhoe activist Tame Iti presented to former Cabinet minister Doug Graham at a hui in Opotiki, now dry-cleaned with the distinctive odour of horse sweat removed, takes its place among these walls. "A blanket for my land back." As a cynical cartoonist, it gets a smile from me. Its more permanent home is the meeting room at the Office of Treaty Settlements.
In 1997, art collector Dame Jenny Gibbs negotiated with Iti and activist Te Kaha for the return of Colin McCahon's Urewera Mural, taken from the Aniwaniwa conservation centre at Lake Waikaremoana. She considered the theft a lesson in how it feels to have taonga stolen.
This morning, Iti glides around the museum wearing a heavy fawn-coloured coat, a dark-brimmed hat and spats. He is many things, artist and activist, with one wahine going so far as to say he's a "pussycat". Terrorist, I suspect, is not one of them.
Two of my cartoons appear on a far wall with one from Mark Winter, better known as Chicane.
Triumphantly standing alone like a pulled tooth is a prized survey peg. Tuhoe reefed these out by the hundreds as an act of defiance to impede the spread of Pakeha farmers to their lands. Early photographs of various leaders line the walls - the most striking of which is of Te Makarini Tamarau. You can't help but wonder what they would think of today's New Zealand.
The Tuhoe goal of a sovereign state within the Ureweras has ignited debate for years. Tamati Kruger is an extraordinary communicator who can allay primal fears and bring a highly commendable argument to the table. So much so, they were within inches of gaining a toehold resolution with the Government last year, until Prime Minister John Key backflipped at the 11th hour. Blue-rinsed National had nabbed his ear.
But the dream is always on the march. Last year, Tuhoe sent a delegation to Australia to study the 1985 return of Uluru (Ayers Rock) to the Pitjantjatjara. So, too, to the Inuit of Arctic Canada. Don't be surprised to hear they may visit sovereign states like Bhutan, Thailand and beyond to independent Ireland and Scotland.
They are patient, methodical, committed and have but one goal.
Make no mistake, Kruger will produce a model designed to survive the acrid test of bureaucratic scrutiny and wily heartland New Zealanders.
What then?
No doubt Maoridom will be watching this space very closely. After all, the people and the land are one. Truly worth a journey to Whakatane. Who knows, you may walk out two inches taller.
Exhibition
What: Ngai Tuhoe - Te Urewera: The People and the Land are One
Where: Whakatane Museum and Gallery until June
Online: whakatanemuseum.org.nz