The stars of girlpower action fantasy Sucker Punch talk to Jacqueline Smith about why this Zack Snyder film isn't sexist and is deeper than it looks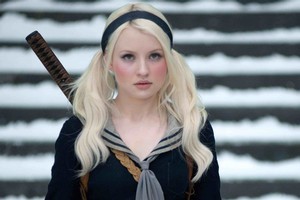 Emily Browning has a new tattoo: "A blessed unrest that keeps us marching".
It creeps down her pale arm in a subtle typewritten font, a reminder of everything she learned while working on Sucker Punch.
It's the latest film - and first original script - from director Zack Snyder who made his name in fantasy-action with hardcore comic book flicks 300 and Watchmen, and whose next film is a further Superman revival.
Browning's motto is taken from the letter that dancer Martha Graham wrote to Agnes de Mille, which Carla Gugino, who plays the movie's elegant mother-figure, Dr Vera Gorski, gave Browning when they were discussing how difficult it was to reach a point of contentment as an actor.
"It's a reminder for me, an affirmation to keep moving forward, but it's also a reminder of my girls that I fell in love with making this film," Browning says.
Having endured three months of bootcamp - burpees, weight training and gun-slinging five days a week, six to eight hours a day - the Sucker Punch girls were pretty tight when it came round to filming.
"They became my sisters. I cried with them and laughed with them and we gave each other advice. And now when I go to Los Angeles they are my family. I get all emotional when I think about it," Browning, 22, says.
This sisterhood includes fellow Aussie star Abbie Cornish, 28, who in Sucker Punch is a long way from the demure Fanny Brawne she played in in Jane Campion's Bright Star.
Also rounding out the cast are Jena Malone, Jamie Chung and Vanessa Hudgens, who made a name for herself on High School Musical, and who has faced some sensationalist press regarding certain leaked nude images, which Browning says she stroppily deflects whenever people confront her about it.
"I was so proud of her transformation [from High School Musical], she has acting chops. I love her and I fiercely defend her. I have been asked questions about her by paparazzi and it gets me really wired up," she says.
Having been through extensive weapons and martial arts training in order to do almost all her own stunts in Sucker Punch (including whizzing through the air on wires) Browning means it when she says she will fight for her girls.
"Watch out. Don't say anything about my girls, I'll get you," she laughs.
But as she pours a cup of tea and curls up on the couch of her Sydney hotel sporting a choppy brunette bob and demure knee-length dress, it is difficult to see the Australian actress as the pig-tailed blonde with the sky-high eyelashes who shoots zeppelins from the sky and slits the throats of dragons, while wearing midriff-barring Harajuku and bondage-style costumes.
It's her biggest big screen role since playing another tough wee orphan, Violet, in the star-studded Lemony Snicket's A Series of Unfortunate Events.
"I love the idea of transforming myself physically for a role, I love that nobody knows it's me on those billboards. I'm pretty terrified of public recognition so that's a good aspect of that."
Browning admits that just as her pale, blonde, pigtailed character is an unlikely hero, she is not the first actress you would pick for such a stoic, kick-ass role in a fantasy.
"But I wanted to show Zack that it could be like me. I said, I promise you I can be this person," she says.
That meant stepping into a gym for the first time in her life, and proving to herself that she could sing.
Browning plays a character known in her burlesque fantasy world as Babydoll, but who in reality was sent to an asylum for accidentally shooting her sister after her mother died.
Strapped to a chair in a grim 1960s asylum as a doctor leers over her with his lobotomy instruments, her character is thrust into a new, imagined world that holds the key to an even better imagined world.
The first is a bohemian brothel - all fake eyelashes, garter-belts and corsets - and she is introduced as Babydoll, the new virgin who will fetch the owner a big wad of cash from the high roller.
As she dances for her masters, Babydoll thrusts herself into another fantasy, where she and her gal-pals obliterate their demons with swords, round-house kicks and bazookas in computer game-like action sequences.
"Zack has this idea that if he creates his own world entirely he never has to play by anyone else's rules," Browning says.
She identifies, in some way, with the idea of escaping to a fantasy world.
"I am the biggest day-dreamer ever, I fall into fairyland all the time. But I don't know if it's quite as cool and hardcore as Babydoll's."
As for why her character would choose to imagine herself in a brothel of all places, Browning says: "It's pretty clear what the stepfather is about to do to her and her sister, so she has felt for her whole life that her sexuality has been taken away from her and used against her.
"That is transferred into this brothel world. I see her in that world as being so uncomfortable and restricted."
Some reviewers have accused Snyder of being sexist, and objectifying women in the film but Browning thinks those viewers just weren't paying attention.
She finds the film empowering. Snyder wrote a story about tough women because he loves and admires strong women, such as his wife, co-producer Debbie Snyder, she says.
"It hurts my feelings when people refer to Zack as being sexist because he is just so far from it."
Cornish, who plays Sweet Pea, the oldest, stroppiest and most conflicted of the institutionalised girls says the film is many things, but not sexist.
"This film is about escapism, the power of the mind, the idea of fate and destiny, and do we control our own destiny or do others. It's about finding one's own inner strength, sisterhood."
In her research for the role, Cornish read up on prisoners of war who had survived concentration camps by living a life in their imaginations.
"They have built their house, brick by brick, and have their whole lives, with all their families in their heads."
Sweet Pea's back-story is not explained in the film, but she supposedly took half the blame for something her younger sister Rocket had done and then accompanied her to an asylum.
Sweet Pea is tough and outspoken, but likes to play by the book. Unlike Babydoll, she is not one to conspire against the people who keep her.
"At the beginning I was thinking how tough do I make her? But then I thought you've got to go the whole nine yards, you've got to make her as tough as possible, because that world is a brutal, brutal world that she's in."
It wasn't hard to channel her tough side after a gruelling warm up that saw Cornish capable of dead-lifting 99kg and carving up the rowing machine.
She says she and Malone, who plays Rocket, transferred their on-screen sibling rivalry to the gym, where they pushed to one-up the other's personal best.
"A lot of the time we had this healthy competition going on. We would wrestle on set a lot of the time until it got a little rough. It was the most beautiful relationship to have," she says.
Cornish says she had been searching for the right action film for some time when Sucker Punch came along.
"It was the first time I felt it was right because it has so much depth to it as well. It kind of felt as though we were doing three or four films at a time."
Browning has since hung up her guns and cutesy costumes and taken on an even more adult role as a nihilistic girl who falls into prostitution in Sleeping Beauty, which she describes as the antithesis of Sucker Punch.
She's just seen the final cut, and is excited about the film's release, but like Babydoll, she's already sent her mind ahead of her to London, where she is hoping to land a new challenge.
"I'm happy but I can never feel content, I'll always need to move forward on to the next project. It's exactly what the tattoo is about."
LOWDOWN
Who: Emily Browning and Abbie Cornish in Zack Snyder's Sucker Punch
When and where: opens in all cinemas today
-TimeOut