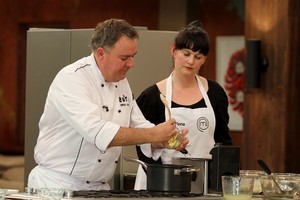 There are many things that confuse me.
I am confused by the sudden decline in the quality of the bus service along Dominion Rd. I am confused about why my local supermarket devotes three times as much space to booze and potato chips as it does to bread. I am confused by the climate change debate.
But right now I'm confused by the apparent popularity of TV One's MasterChef (8.30pm, Sundays) and its evil twin MasterChef MasterClass (7.30pm, Fridays).
A lot of people watch these evidently, which is just fine if, as I say, rather confounding. But it appears that MasterChef is more than just popular.
I have concluded, on the basis of the huge amount of media coverage (including reviews of every Sunday episode in this very paper and another on its website) the show gets, that this is a television event of profound cultural import.
It's not that I don't enjoy food television. At its best it can inspire or, at the very least, entertain. However MasterChef is not food television. It is a game show with food, and a rather dull, repetitive game show it is from what I've seen of it.
It doesn't even have the silly, over-the-top bunfights or meltdowns of something like Top Model to give it a pulse. It's people cooking food to win a prize. End of story.
Oh well, mustn't grumble. Besides there was food television worthy of the name on Prime this week. On Monday evening I found Rick Stein doing his best to justify gadding around Italy again.
Stein is rather less popular than he once was in my household. This may have something to do with him leaving his wife for another woman a few years back, or it could be that he doesn't have the cute dog any more.
Still Stein's food programmes are nearly always a pleasant way to waste an hour, particularly if he's gadding about somewhere as pretty as Italy.
Arguably Rick Stein's Taste of Italian Opera wasn't about food either. It was about opera. Indeed Stein, having apparently talked himself and others into doing the show, spent much of the programme trying to justify his whole thesis: that food and Italian opera - specifically 19th century Italian opera - have an awful lot in common.
I'm not entirely sure he pulled it off; most Italians, as he pointed out, are more than a little interested in food, so it stands to reason 19th century writers of opera would like their fodder. But what a lovely tour it was as he followed the ghosts of Rossini, Puccini and Verdi around Italy in a heartfelt (probably stomach-felt) attempt to prove his case.
There were pleasing views, amusing factoids (did you know Napoleon brought pinot noir grapes to Italy?) and the astounding news that Puccini's favourite meal was stewed coot on toast.
This was real food television and better than boring Brian (or whoever) from Putaruru attempting cheesey potato croquettes.
At the opposite end of the ponce scale from Stein-versus-opera was Hugh Fearnley-Whittingstall doing what must be series number nine million of his River Cottage.
This one's called River Cottage Everyday (Prime, 7.30pm, Tuesdays), which seems to mean he's doing, out of respect for these straitened times, budget meals like a fry-up of ox liver and three things to do with left-overs.
Hugh is a goofy sort of fellow, but he owns a simple, plain cottage and garden in Dorset from which he produces, without a lot of fuss food that you and I can cook if given half a chance and half an ounce of motivation.
Mostly I like him because he's not pretending to be a master chef. He's just someone who enjoys messing about in kitchens, someone who hopes, all things being equal, he'll turn out something lovely to eat and nice for us to watch.
His show is food television in a way that boring Brenda (or whoever) from Pongaroa doing pea soup just isn't.
-TimeOut