When is a dance work not a dance work? asks Bernadette Rae about an Arts Festival piece which mixes French intellectualism, untrained performers and Lionel Richie.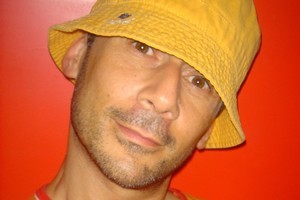 Jerome Bel's The Show Must Go On is definitely a dance work, says Kristian Larsen, one of the New Zealanders taking place in the French choreographer's work, brought to the Auckland Arts Festival by FranceDanse.
But some may find cause to wonder. The cast of 20 have been chosen via an application form and attached photographs. There have been no auditions and while a handful of experienced dance artists - Tai Royal, Becca Wood, Anita Hunziker, Geoff Gilson and Josh Rutter as well as Larsen - have been included, the majority have little or no dance experience.
Sapna Samant falls into the latter category. She practised medicine for nine years as a GP in Bombay, before coming to New Zealand in 2001. She has since completed an MA in film, television and media studies at the University of Auckland, is now a freelance producer for Radio NZ National and runs a small independent film and television production company.
But Samant has never been a dancer and has never even been to a contemporary dance performance.
The odd classical Indian dance recital is the extent of her experience outside the routines she sees in Indian movies.
"I am going in completely blank," she says, cheerfully. "I don't know anything about Jerome Bel, except what is in the festival programme."
"Bel's work," says Larsen, "comes from French intellectualism and French culture. I think the audience here will arrive at it with expectations that are not going to be met, with a performance they will not be prepared for ... yes, it is a dance show because people will dance in it, but it is not at all virtuosic."
For the first 12 minutes of The Show Must Go On nothing, in fact, happens on stage at all. The whole theatre sits in darkness while the first of 19 pop songs, the building blocks of the work, plays.
It is Tonight, from West Side Story which takes 5.43 minutes. Let the Sun Shine In from Hair follows, with a slow (6.06 minutes ) fade-up of lights, still to an empty stage.
The Beatles' Come Together is next, and over its 4.10-minute playtime the cast arrives, like casual commuters to their train. With David Bowie's Let's Dance the cast dance frenetically, in a pub night sort of way.
By now a smart audience will begin to realise that the lyrics of the pop songs determine the action, or its lack.
Contemporary dance can be divided, somewhat simplistically into "modern" and "post-modern" categories. The latter emphasises beauty, aesthetics and catharsis.
Post-modern works deconstruct, "can bring lots of arbitrary elements together, and [are] not devoted to heroic stories," says Larsen, whose own dance practice is aligned with post-modern principles, "although heroics can emerge from a work".
Bel's work, he says, is uncompromisingly pared back, to reveal not only its underlying design, but how the piece has been designed," he says. "My impression is that he is interested in stripping back all the pretensions of concert dance."
Bel himself has said that "my productions present a lot of problems for me. They contain so little dance that audiences are often extremely dissatisfied and want their money back, because they didn't see a real dance performance. My position on dance is a little ... offbeat if I can put it like that. Dance as dance doesn't interest me."
What does interest Bel is the "theatre of dance". "I try to step back and analyse what it is that forms the unique character of dance and what dance means to us, and I'd like to make audiences ask the same question. Most people don't want to think, they just want to have a nice evening and see dancers who are pretty and young lifting their legs."
What audiences will see in The Show Must Go On is a cast of individuals selected for their ability to be authentic and truthful on stage, reacting "non-pretentiously" to the remaining songs.
These vary from Reel2 Real's I Like to Move It (in one recorded version a young man drops his pants and manically jiggles his penis by jumping up and down - in another a voluptuous young woman puts her ample breasts through a similar manoeuvre), Lionel Richie's Ballerina Girl, (with some, in Bel's own words again, "terrible ballet" from his untrained performers) to La Vie en Rose, Yellow Submarine, Simon and Garfunkel's The Sound of Silence to Queen's The Show Must Go On.
While a knowledge of semiotics, the study of signs, signals, gestures, may enable the academically inclined to interpret the work in an academic way, members of the audience will all bring their own "stories" to the experience, says Larsen.
The pace of the performance provides plenty of opportunity for such reflection.
Bel was a dancer for 10 years before he started producing his own shows, suffered a crisis soon after, gave up and read philosophy for six years, and then began making work again - with The Show Must Go On.
Some are certain to find the process confrontational, others charming. Tears, extreme boredom and the arousal of an overwhelming love for humanity have all been reported by audiences around the globe over the work's decade-long history.
"I am looking forward to a rich experience," says Larsen. "One that builds a sense of community among the performers, who then communicate with another community - that of the audience."
LOWDOWN
What: The Show Must Go On at the Auckland Arts Festival
Where and when: Mercury Theatre, March 17-19
-TimeOut