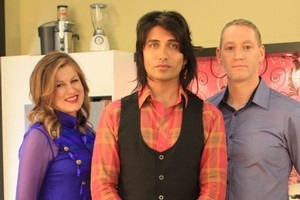 If it came to a bake-off between MasterChef NZ (Sundays, TV One) and NZ's Hottest Home Baker (Thursdays, TV3), which would win? Or, to borrow the meaningless catch-phrase of the latter: Which would have done their dough? That's what the host of the Home Baker - the usually exhaustingly ebullient but here as flat as a pancake Colin Mathura-Jeffree - gets to say about whichever home baker is deemed to be NZ's least hot home baker of the week. If you have done your dough on Home Baker, you've failed to impress two judges who between them have all the charisma of a sponge cloth.
Mathura-Jeffree, who on NZ's Next Top Model, prances about saying whatever comes into his carefully coiffed head, is here, some might say, and say so thankfully, under-employed on the very odd set: all lolly colours and frilly aprons meant, I suppose, to evoke the days when ladies spent their days filling the cake tins while wearing frilly aprons and make-up and heels. (There is a token bloke; he gets a stripey blokey apron.) This is supposed to give you something to look at while you are looking at nothing very much happening.
Home Baker, is as exciting as watching a Christmas cake bake. It takes a very long time to bake a Christmas cake but an episode of Home Baker seems to take as long as it would to stab yourself to death with an egg whisk and I know which activity I'd choose next time.
The only exciting thing about Home Baker is Mathura-Jeffree, and this makes for sporadic excitement akin, say, to putting a can of baked beans in a microwave oven and standing back and waiting for the resulting mess. I've never actually put a can of beans in a microwave oven, so I don't know how long it takes a can of beans to explode, but I imagine it's all about the anticipation and a bit ho hum thereafter. As entertainment it would rather pall. As does waiting for Mathura-Jeffree to think of something, anything to say. You don't know whether to hope that he will, or not. Not, I think on balance. He seems to have latched on to the idea that the lady baker from the farm shares his hair-do, which is fairly desperate stuff. I do live in hope that she'll eventually batter him over the head with an egg whisk. He said to the farm lady: "I love the way that we're rocking the same colours and the same hairdo. "No comment," she said and got on with her baking. This didn't stop him. How, he asked, did she think he'd get on down on the farm? Her father, she thought, wouldn't let him "through the gate wearing that shirt".
A thought occurred - watching him think of something to say is like putting that can of beans in the microwave oven, and standing well back. He said, "I've seen Brokeback Mountain. I know how it works." About which I can think of nothing to add except: "No comment".
MasterChef NZ returns with the addition of the suave Josh Emett, a Gordon Ramsay protege who has so far proved disappointingly nice. Even at their roughest, the judges are all nice. There was a hug and a song and an attempt at shaking his ample booty (never trust a thin chef) by Simon Gault. The all new singing, dancing MasterChef? Well, you have to be more than a talented cook to make the cut; you have to have some sort of personality to be on the telly (unless you are the two judges on Home Baker), apparently. You also have to have learned, somehow - by watching reality telly, quite possibly - to say silly things about passion and journeys and how you've "got what it takes". But, like all of these sorts of shows which purport to celebrate passion and journeys and having what it takes, both of these are really about that simple reality show ingredient: schadenfreude. Will that baker lady really put half a cup of red food colouring in her cake? Will the vegetarian, forced to eat lambs' brains, vomit? Will the farming lady baker batter Mathura-Jeffree about the head with her whisk? One lives in hope which is why one - although not this one - goes on watching.
-TimeOut