Local current affairs show 20/20 is back with a new host but the same old racy attitude, reports Bevan Hurley.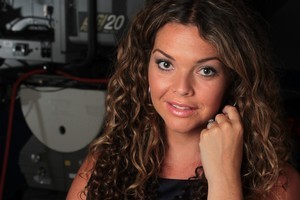 After making its name with boyband drug stings, clairvoyant crimefighters, and lifting the lingerie on Nicky Watson, what's next for 20/20?
The return of New Zealand's raciest current affairs show to TV2 this Thursday promises more tabloid-tastic exposés and tell-all interviews.
New host Sonya Wilson, who replaces channel-swapping Miriama Kamo, says the provocative approach will remain - to a point.
"It's proudly tabloid in some ways but in others it's not," she states.
"If we did a salacious story two weeks in a row, it wouldn't rate. It's about the mix," she claims. "You never know what you are going to get.
" A story that is successful one week may not be the next week, and that depends on a lot of factors."
Edgy editing and innovative camera shots have helped make 20/20 a ratings success in the YouTube generation, consistently attracting more than 30 per cent in its target 18-39 demographic.
"The treatment makes it feel a bit more tabloidy," Wilson says.
"It's more in the production, the field work, the camera work that keeps it kind of funky. We don't have a lot of constraints."
Freedom to pursue big stories has also led to some compelling TV moments since TVNZ pinched the rights to the show from TV3 in 2005.
These include covering stings on Grey Lynn drug dealers to tearing down a house on the whim of a pyschic while in pursuit of a killer.
And let's not forget a steady overseas quota of stories about sadistic stalkers and freaks of the week.
Probably most memorable among 20/20's episodes is the 2006 interview with former model Nicky Watson, in which she laid bare the pain behind her supposedly glamorous celebrity life.
Herald on Sunday TV reviewer Deborah Hill Cone says the programme's ability to make current affairs accessible to younger audiences should be applauded.
"Not everything has to be BBC World News," she argues.
"It's often much harder doing that kind of thing, particularly because everyone is sneering at you the whole time."
Hill Cone says 20/20 has made news sexy, which has come from TVNZ's desire to market current affairs to younger viewers.
"They do tend to have scoops that are the TV equivalent of a tabloid, and there is a place for that. But," she warns "you can't go too far down the freakish tabloid route."
This Thursday will see 20/20's first homegrown show of the year after two weeks of overseas content. And it's a return to form.
Shortland Street actor Kiel McNaughton (aka Scotty) takes his 7-year-old son to be initiated into a tribe in Papua New Guinea, where his wife's family are from.
Says Wilson: "Getting initiated into a tribe in PNG involves full-on cutting and whipping and beating and quite horrendous stuff. They went there not knowing what they were in for.
"It's an anthropologist's dream."
After four years reporting, taking up the show's hosting role has been a big step for Wilson, a reluctant TV star.
"I don't even like getting makeup on," she reveals. "I always think I look like a dick. Everyone goes, what did they do to your hair? Well, they've got to do something with it."
The 20/20 staff share an open plan office with TV One's Fair Go and Sunday, and Wilson says it is a healthy environment for sharing ideas.
There is often competition for stories between current affairs shows, but TVNZ news and current affairs boss Anthony Flannery has the ultimate say over who gets what.
Thirty-two-year-old Wilson is expecting her first child in June with husband Pete Ritchie, who works in film and television.
She had to break the news to TVNZ bosses when they offered her the host's role at the end of last year.
"I'm about 10 kgs heavier than I was a few months ago, which isn't great. I just have to keep a watch on the stress levels," she says.
She expects to be back on screen soon after the birth, but will be taking an extended break from reporting.
While her favourite pastimes of running and sampling wines are out, Wilson says she is comfortable with the added demands of hosting.
For her, it's all about getting the story, and the presenting is just "a small part of it". Fortunate that. She admits she didn't get a big pay increase to be the new face of the show.
Still, at a time when competitors such as TV3's 60 Minutes are trimming budgets and staff, 20/20 survives with three fulltime reporters, who are expected to come up with 15-minute mini-documentaries every three weeks.
Budgetary constraints mean that the jetsetting life of current affairs reporters isn't quite what it was.
"I'm 15 years too late for television. But I'm certainly not in it for the money," she says with a laugh.
Even though she's pregnant, Wilson hasn't shied from putting herself in some potentially compromising positions for her job.
"I stupidly put myself in a carboot at the start of my pregnancy to do some filming - in controlled conditions I might add. No one was aware that I was pregnant, except for me."
This week her work has involved 6am starts to follow a group of men in South Auckland - but she won't elaborate on the upcoming story.
In the past, she's been threatened with a baseball bat but she says her toughest assignment was spending three sleepless days in the 53C heat of Death Valley, California, on the trail of ultra marathon runner Lisa Tamati.
Her dream interview subject would be Elisabeth Fritzl, daughter of Austrian sex monster Josef. Closer to home, she cites the three not-so-wise money men - Eric Watson, Mark Hotchin and Mark Bryers - as top of her to-get list.
"I'm not particularly financially minded but I think there's a whole lot of people who would like to see an honest interview with them. It's those interviews when people are really prepared to open up that work for us, where no questions are off limits. "There's so many people that we could have on our show," she reflects. "But it's no good unless they open up."
20/20 is on TV2, Thursdays at 9.30pm. Former host Miriama Kamo has move to host Sunday, which returns to TV One February 27. Rival current affairs show 60 Minutes is also back this week on TV3, Wednesday at 7.30pm.
- Herald On Sunday / View