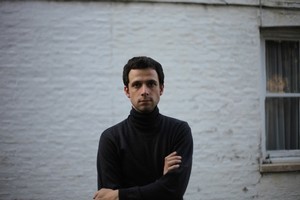 As one of the biggest film festivals in the world draws to a close this weekend, and weary correspondents vow not to watch any arty movies for at least a year, the first prizes have been awarded.
On Friday evening in Berlin, New Zealand director Sam Peacocke won the prize for best short film in the Generation 14 Plus section for his 20-minute-long story Manurewa. The curators of the Generation section said they watched more than 1000 films from around the world to make up the programme this year and Peacocke's was one of only 14 short films selected.
In a statement, the jury, which included New Zealand director Taika Cohen, said of Manurewa that "in a very short time this film synthesises and skilfully compresses independent story lines and characters, merging them together into a single irrevocable, ever-changing moment. Our winning film is not only about perpetrators and victims, but also about human beings."
When the Herald spoke to Peacocke earlier in the week, the Auckland-based movie maker said he hoped that one day he might get to screen his own feature at the festival, which has attracted 300,000 viewers this year, making it the largest public attendance at a film festival anywhere. And congratulations Mr Peacocke, with awards like this, that seems well within reach.
Crazy Frenchman Drives Diane Kruger to Screams
Although the thriller Unknown featuring German star Diane Kruger and Liam Neeson - who appears to be becoming a bit of an action star at the ripe old age of 58 - has already opened in New Zealand, it had its first European airing in Berlin on Friday evening. The film was almost entirely shot in Berlin so that probably makes sense.
At a press conference afterwards Kruger, who appears to have one of the prettiest, most symmetrical faces you have ever seen, confessed that she did a few of the stunts herself. Although she would not have minded if a perfectly capable stunt double had taken her place she said she felt like she had to give it a try. "It was part of who Gina [her character] is. It felt like it was important that the audience believed that. And I wanted to make sure I believed that I could do it too."
Kruger and the movie's director Jaume Collet-Serra also discussed some of the driving action at the press conference. Kruger said that the special stunt cars they used, had had steering wheels on the roof of the car so the actors could sit inside and pretend they were driving, when in fact a stunt driver was in charge of the vehicle. "So we're in the car," Kruger explains, "except there's some crazy person on the roof driving it. All those spins - they really happened."
"There was no green screen," Collet-Sera added. "It was just a crazy French guy on the roof."
Kruger: "Yeah, literally. Some of those screams were not acted!"
"And when the car came to a stop the faces of Liam and Diane looked as though they had just been on the amazing [funfair] ride in the world," Collet-Sera added, mischievously.
The Dancing Documentarian
When someone says "documentary", you don't automatically think "synchronised dance routine with the children from a down-and-out family in southern California," do you? Well, the film Bombay Beach might make you think again.
According to director Alma Har'el, it all started with a music video. She had been working with Zach Condon from US band Beirut for about four years, mainly making music videos for him. While with the band at the Coachella music festival in Palm Springs, the collaborators ended up at the near-deserted town of Bombay Beach. The town lies on the edge of a large saline lake in the middle of the California desert and a friend had taken Har'el there because he thought she would enjoy the fact that it was "surreal and desolate." He was right.
"It just seemed like one of those places that could have been before everything, or after everything," Har'el told her enthralled audience in Berlin after a screening of her film, as she tried to describe the weird post-apocalyptic feel of the place. And right then and there, Har'el and Condon ended up making another Beirut video, for the song Concubine (you can see it on YouTube) that featured some of the kids who would also eventually play a role in the documentary.
Fascinated by the slowly dying town and its odd residents, Har'el then moved there for four months and, as she puts it, "just kind of hung out. First of all they [the inhabitants] thought I was crazy, then they thought I was bored, then they thought "she doesn't know what she's doing" and "why is this taking so long"," Har'el laughingly told the Berlin viewers. "And then we became good friends."
The result is a seriously wunderbar documentary, shot over the space of a year, that takes a relatively intimate look at the lives of the folks that live in Bombay Beach and that also has the prime movers involved in some pretty interesting sunset choreography. As Har'el says, "I'd been interested in combining dance with documentary for some time." As odd as all that may sound, it's a fine time for an audience - with a fantastic soundtrack too: the music is by Zach Condon with a bit of Bob Dylan thrown in for good measure.
Taste the Waste
The Berlinale is a multi-cultural experience and by that, we don't just mean that many nationalities are involved. The festival includes all sorts of activities, from talks on the joy of independent cinema to political debates and workshops for young film makers from around the world to films matched up with wine and food. The latter is called the Culinary Kino (Kino means cinema in German) section and this year top chefs from around the nation served up dishes inspired by movies about sushi, Argentinean wine, soybeans and the biographical film about renowned British food writer Nigel Slater's childhood, Toast. How it works: The audience first watches the film, then taste buds inflamed, eats the food.
And one of the most intriguing of the 2011 series was the session entitled Taste the Waste. Every year the organisers of the Culinary Kino section have included something a little more political. For example, last year they screened the Dutch documentary Rainbow Warriors of Waiheke Island, which looked at the sinking of the Greenpeace protest boat the Rainbow Warrior, while Wam Kat, who was once the cook aboard the boat, made the audience a meal.
This year's edition featured Taste the Waste, a documentary by German film maker Valentin Thurn which looks at just how much food we throw away. And it's a lot. In the documentary Thurn and his crew travel the world looking at both the problem and a number of solutions. For example, supermarkets almost everywhere will throw out whole trays of yoghurt, days before the expiry date, simply because the packaging is dirty. They'll chuck out whole bags of fruit and vegetables just because one article has a little mould. And farmers complain they are forced to leave good vegetables lying on the ground simply because they don't fit into preconceived ideas of colour or size - even though there's nothing actually wrong with them.
A number of solutions to this problem are presented in the doco, from the Slow Food movement to dumpster diving (or the "freegan" movement) to community gardens and charities that "rescue" the food thrown out by supermarkets and redistribute it. The documentary comes up with some shocking statistics, including the fact that we throw about half of all food that is produced out and that our waste is indirectly responsible for a lot of world hunger and a fair amount of environmental damage. During an interview Thurn says that the easiest thing that anyone can do is to change their behaviour. Don't buy so much, he advises. Or maybe buy a little, but more often. Think about your shopping. And ask questions of your supermarket.
To prove how good supposedly bad food can taste, the Culinary Kino section invited leading German chef Michael Hoffmann, who owns the Michelin-starred restaurant Margaux and who is also a keen gardener, to prepare foods donated by the Berliner Tafel, a local food-distribution charity. Although Hoffmann didn't know exactly which ingredients might turn up he still managed to concoct a tasty lunch of pasta and vegetables that he named "Glücksspiralen mit Sugo aus Zufallsgemüse" - which basically means "lucky spirals with a tomato sauce made from random vegetables." It was, by all accounts, as delicious and fulfilling as the documentary's message.
Lessons in Many Languages
Those who remember Gabriel Garcia Bernal's steamy star turn in 2001's Y Tu Mama Tambien, may end up a little disappointed in this film. After all, he doesn't get his kit off nor join in any threesomes. Still, there's plenty of reason to watch Spanish-made feature, Tambien la Lluvia (Even The Rain). In it, Bernal plays a young director who has travelled to Bolivia with his crew and producer to make a historical epic about two Catholic monks who condemned the colonial treatment of the indigenous Indians of South America. At the same time as Bernal and his crew are filming though, they find themselves becoming involved in local "water wars", during which the locals were protesting the privatisation of their water supply (these protests really did occur in 2000). And what starts off as a sort of action-drama with a bunch of hot, bearded Spanish guys having a laugh, ends up in serious political overtones with lots of hand wringing over personal and political integrity.
Complete with terrorist threats, hostage taking, riots in the ghetto, mistaken identity, a murderer, lots of hip hop and a family drama, French feature Dernier Etage Gauche Gauche, was by far one of the most entertaining films at the festival. The film - the name translated means "top floor, left" - all starts with a hard ass bailiff heading into a housing estate to claim some property in lieu of debts. But when they run into a young Algerian homie who didn't get a government subsidy for his hip hop record, the creditors get more than they bargained for. Way, way more. At first you think it's going to be an action movie with a political message. Then you're hoping for a family drama, maybe a father-son reconciliation flick. Then it's like, huh, is this a comedy? Or a thriller?
The bard - William Shakespeare - was well known for the twists and turns of his plots. At the beginning of one of his popular plays, a state of confusion often meant that you wouldn't know whether things were going to end happily (a comedy) or horribly (a tragedy). This feature - upbeat and hilarious by turns, then worrying, scary and poignant at other times - could easily be compared to one of Mr Shakespeare's shows.