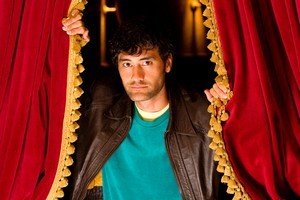 You can take the Boy out of New Zealand, but it seems all that Taika Waititi - on the cusp of big success Stateside - wants to do is come home.
The multi-talented film-maker has just completed a pilot for an MTV remake of hit UK comedy The Inbetweeners, and finds out in a month if it will be picked up for a full season.
Waititi will also appear in his first Hollywood film The Green Lantern, due for release later this year, and directs new TV3 comedy Super City, starring Madeleine Sami.
Plus, his smash hit Boy will finally get its general release in the United States this year, after making $9.3 million last year to become the highest grossing New Zealand film.
Speaking from his Los Angeles home, Waititi said he would "love to be living at home but right now there are more opportunities over here. At the moment I have these opportunities to live and play in other cities, but I'm always going to live at home."
For the next three months at least, Waititi will be in LA where he is working on scripts for film and TV projects.
Waititi has directed episodes of Flight of the Conchords, but Super City, which premiered on Friday, is his first full series.
Sione's Wedding star Sami plays all five lead characters - including a male Muslim taxi driver, a lesbian gym instructor and a homeless rogue.
Waititi described it as similar to popular "mocku-mentaries" The Office and Summer Heights High, but with real people.
"The homeless characters we got to shoot in the Auckland City Mission with real streeties. We cast those people as themselves. By the end of the episode you are totally engrossed in what the characters are doing."
Although Super City was about the diversity of the new Auckland, Waititi said the characters were universal. The Green Lantern, a big-budget remake of the DC Comics favourite, is Waititi's first acting foray into Hollywood blockbuster territory.
"It was my first experience of that sort of thing. I would do a blockbuster again, but it all depends on the project."