Kiwi crime queen Vanda Symon talks to Craig Sisterson about accidental heroines and playing with swords.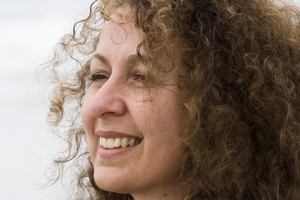 Vanda Symon fitted her writing career into her hectic maternal schedule. Photo / Supplied
In real life everything that happens to us has an effect on how we behave, so the same should hold true for literary characters, especially those who often populate the world of detective fiction, says Dunedin writer Vanda Symon.
Symon, who was a finalist for the inaugural Ngaio Marsh Award for Best Crime Fiction in November, has certainly seen her own headstrong heroine, Sam Shephard, evolve professionally - from sole-charge Mataura police officer to young Dunedin detective - and personally over the course of her acclaimed series.
"Right from the outset I wanted to have a character who wasn't static, and who was affected by the events that happen in each book," says Symon, whose fourth novel, Bound, was released last week.
In Bound, Shephard and her colleagues are investigating a brutal home invasion that left a dodgy businessman dead and his wife hospitalised - she nearly choked to death after being tied to a chair, gagged, and left to watch her husband's blood pool on the floor. When the evidence starts pointing to a couple of high-profile low-lifes, both prime suspects in an unsolved cop killing, many of Shephard's colleagues are ecstatic.
But she's not so sure, and decides to investigate further - much to their chagrin - while at the same time dealing with a dying father, ongoing family issues and the stresses of a relationship. "I love writing about Sam, doing mean and nasty things to her," laughs Symon. "She's great to hassle."
Talking to Symon, a former pharmacist and now "domestic goddess" and full-time writer, is in many ways like reading one of her novels - there's a real sense of fun, even when the subject matter might be serious, a southern sassiness amongst the dark deeds.
Unsurprisingly, Symon's protagonist likewise has plenty of personality. Detective Shephard is a heroine you want to follow - feisty, passionate, flawed. The latter is particularly important to Symon, who believes the best characters in crime fiction, such as Michael Connelly's Harry Bosch, aren't always right. "They make mistakes, they get themselves into the poo," she says. "And I wanted that, I wanted Sam to be human."
Another "lovely thing about writing fiction", she adds, is being able to create main characters who, although they may have something of the author in them, are also "people who are the things you're not".
While Shephard shares her creator's can-do attitude, the slightly younger, occasionally less-wise heroine is also a little blunter, a trait Symon enjoys writing.
"When you're a terribly polite person and you don't swear much, you can have a character who lets rip every now and then and does things you wouldn't do."
Surprisingly, given that the character of Shephard (along with well-drawn southern settings, snappy repartee, touches of humour, and visual storytelling) is a key part of what makes Symon's writing stand out, the stroppy heroine wasn't originally slated to be the star.
Symon says she originally envisaged a male detective hero when she started writing her 2007 début, Overkill, until a real-life realisation changed things.
"I can't even remember exactly what it was, but my husband did something completely daft, and I went, 'oh my God, I can't even understand my own husband, how could I get into the head of a male', so I changed it," she laughs. "And the moment I changed it to a female, Sam Shephard stepped up, fully-formed as a character, and it was like she attituded her way into my life."
Symon's life was already full. She was a busy young mother to two preschoolers, but decided it was time to kick-start her lifelong writing dream.
"Working in pharmacy you have to concentrate all day because, let's face it, if you make a mistake, you can kill someone," she says. "I was absolutely mentally shattered by the end of the night, so I didn't actually get the opportunity to write until I had children."
Not that it was easy. As many stay-at-home parents would understand, any fantasies of uninterrupted writing time quickly evaporated.
Symon began penning Overkill by snatching writing time in amongst a hectic maternal schedule. "You know, you're sitting at the dining table, wiping, feeding a child here, wandering over and playing Lego there ... having a discussion with your mother-in-law, making cups of tea for anyone who visits, all while writing a novel at the same time." The result, Overkill, took four-and-a-half years to write and have published.
Now her children are older and at school, Symon admits she has a more settled writing schedule, and treats crime writing as her "day job". She aims to write a novel every year, and is working on a "darker", standalone thriller set in Auckland, revolving around a brutal kidnapping, scheduled for release next year.
She also produces and hosts Write On, a monthly books show on Radio Toroa, is working towards a PhD in pharmacy (focusing on poisons used by Dame Ngaio Marsh in her best-selling crime novels), wanders Dunedin scoping "good places to hide dead bodies", and crosses swords with other members of her classic fencing club. She loves the strategy that combines with physical skill in fencing.
"There's also something terribly romantic about a sport that involves swords," she says, laughing. "I feel like d'Artagnan."
Dumas' famous character was a hot-headed, talented youth who evolves into a beloved hero. Sort of like Sam Shephard.
Bound (Penguin $30)