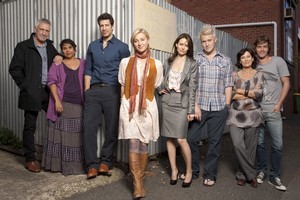 New Australian comedy-drama series Offspring has the eccentric outbursts of Scrubs, the family dynamic of Packed to the Rafters, and the social soul-searching of 30-something drama The Secret Life of Us all rolled into one.
Which makes for hilarious and often unique viewing, even if the sometimes over-the-top style and scripting takes a little getting used to.
Offspring revolves around the life of slightly neurotic and (mostly) likeable lead character Nina Proudman (played by actress Asher Keddie) and her family, friends and work colleagues at a busy Melbourne hospital where she works as an obstetrician.
Not only does she get lumped with many of her family's problems, she's also dealing with her deranged ex-husband (who happens to be an explosions expert) and, to complicate things further, dreamy new paediatrician Chris walks into her life.
Keddie, who is perhaps best known in New Zealand as police officer Liz Cruickshank in Underbelly: A Tale of Two Cities, says it's about time Australia made a good comedy-drama series.
"America does it really well, but I don't think we walk that fine line between drama and comedy the way I know we can. We're kooks. We all are. And I just think [Offspring] is about putting something on screen where we weren't apologising constantly, or making pretty. Families are shambolic and messy but they are also really funny."

LOWDOWN
What: Offspring
Where and when: Sunday, February 13 (movie-length pilot), TV One, 8.30pm (and then Sundays, 9.30pm onwards)
Who it's for: The younger, cooler crowd who secretly watch Packed to the Rafters and are partial to a bit of Scrubs
-TimeOut