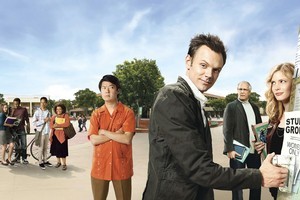 From the outside, Community looks like a modern version of The Breakfast Club set in a Colorado community college. The show is made up of archetypal sitcom characters whose eccentricities make for a quirky classroom where the left-of-field jokes fly. Its eclectic ensemble includes comedic bigwig Chevy Chase, as well as Ken Jeong (The Hangover), but the cast primarily consists of lesser-known actors, namely, Gillian Jacobs (The Good Wife), Danny Pudi (Gilmore Girls), and Yvette Nicole Brown (The Ugly Truth). The star pupil is Joel McHale, whom you may know as the acerbic host of cable television's The Soup.
McHale plays Jeff Winger, a suspended lawyer whose bogus licence was revoked after it was discovered he earned his degree in Colombia, South America, and not New York City's prestigious University of Columbia.
On the Hollywood set, the show is filming its second season in the US, and McHale takes a break from shooting. Pulling up a chair, he sighs dramatically, and says, straight-faced, "The great thing is that I'm earning so much more money than I did on the first season." Sipping water, he continues.
"Seriously, I can't believe my good fortune. To be a series regular on a show that I actually really love and respect is pretty great."
McHale's character is at the centre of most plot points, and his natural comedic chops are largely responsible for the show's success.
"I wasn't always funny. I started being funny in 1998. I think it was around March 2. Actually, I don't know if I've always been funny, but I think I've always been annoying."
Later that afternoon, Chevy Chase, in a jovial mood, sits down for a quick chat. One of the original alumni from Saturday Night Live, he also starred in such hits as the National Lampoon movies, as well as Caddyshack. Now 67, he has influenced such icons as Mike Myers, Will Ferrell and Tim Allen. He says of his return to television, "I would have never considered a sitcom, but Community really made me laugh out loud when I first read the script. Plus, I thought to myself, 'It's just a half-hour show. It should be easy'." He pauses. "Boy, was I wrong," he jokes. "It's a lot of work, but it's a great cast and the writing is good. And then of course, there's me, a movie star. I've been around so long that it certainly doesn't hurt to know a name that you've seen. I'm not really bragging, you know. I'm just saying that I'm sure it doesn't hurt."
In a smart and calculating move to attract a younger demographic, Ken Jeong whose appearance in The Hangover, which earned him an MTV Award for Best Villain, was cast in the role as Senor Chang, the unlikely Spanish language teacher.
Jeong says, "My father is a retired college professor of economics and his intellect is the genesis of my character." But apparently that's where the comparison ends.
"Senor Chang has some real self-hatred and playing him is definitely the most fun I've ever had as an actor," he says. It's a popular view that Jeong steals the scenes. "Well, Joel McHale calls me the pinch-hitter of the show. In terms of baseball, I'm the guy that comes off the bench if they need a laugh. I'm that guy coming in and just sprinkling instant laughs, and it's that element of the show that helps round out the whole thing."
Jeong is appreciative of the surprise gift The Hangover brought him.
"It was only because of the success of that movie that I was even considered for this role. I wasn't even in the pilot, but the role was conceived with me in mind just because of my role in The Hangover."
Executive produced and created by Dan Harmon whose work includes The Sarah Silverman Program, he has also collaborated with Jack Black and Drew Carey. Many of the writing team came from the underrated series, Arrested Development.
Jeong says, "The writers are really in the zone and they're perfect for television. There's a lot of subtle jokes and well thought-out lines."
McHale obviously appreciates clever writing as evidenced in his day job hosting The Soup, renowned for ridiculing low-level reality TV stars like those on Keeping Up With the Kardashians and Jersey Shore.
Says McHale, "Some people think I'm mean on The Soup, but I don't see it that way. I'm not going after people or being nasty. I'm just saying, 'Why is this person on television?'." So, what does this connoisseur of trash television admit to watching in his downtime?
"Well, there are very good reality shows out there. I mean, Dirty Jobs with Mike Rowe is a terrific show. Andrew Zimmern's Bizarre Foods, is great, Anthony Bourdain's No Reservations, I also enjoy. But once it gets into Big Brother territory, you have to be prepared to be skewered. People seem to want to be famous for the sake of being famous, which is a horrible development," he says. "But The Soup doesn't translate well everywhere. In Italy, they're like, 'What the hell is he talking about?' But in Australia or New Zealand, the shows we make fun of are on television there so it works."
The celebrated acid-tongued host says his verbal sting is nothing compared to Community's Jeff Winger. "Oh, he says stuff I would never say in my life - and I have to admit, it's really fun to say it."
LOWDOWN
What: Community
Where and when: Monday February 7, Four, 8pm
Who it's for: Fans of Arrested Development, The Office, The Soup
-TimeOut