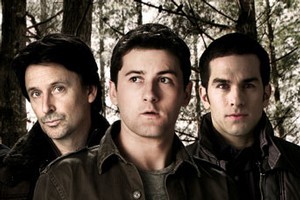 As far as icebreakers go, Emmet Skilton's introduction to television was brutal.
The first scene of his first big TV show, The Almighty Johnsons, involved him getting naked in a forest near Bethells Beach, with nothing but a sock to shield him from all the crew and the four jokers who were to play his older brothers.
"It was a sign of things to come. It was me getting to know the cast and crew and them getting to know me, and my sock. I didn't feel awkward or uncomfortable. But it was very cold. It was July.
"It was very intense," Skilton says. "It was a nine-and-a-half-minute scene that we filmed over two days. I'm naked for about seven minutes of it."
The scene marks a pivotal moment in the Johnsons' lives. On the eve of his 21st birthday, Skilton's character Axl is told by his three older brothers that he descends from a Norse god.
Now that he has come of age, his powers will be revealed, they say, to his sarcastic disbelief. It's a rather heavy premise for a simple guy who was more than happy to mark his passage into manhood with a very large yard glass.
At the same time, shivering against the cold damp of the wintry evening, Axl learns that Olaf, his dope-smoking cousin from the coast, is actually an oracle - "he knows s***" - who despite looking 30 years old is actually pushing 100. It's not until Axl is forced to stand naked holding a sword and is bludgeoned by a lightning bolt that the truth sinks in.
"It's an induction in a Kiwi way. It's not unbelievable, even though he finds out he is a god," Skilton explains.
On the same evening Axl learns that his eldest brother Mike, played by Tim Balme, has godlike powers in hunt and duel, derived from Ullr, the god of skill, which explains why he always wins board games. His smarmy brother Anders, played by Dean O'Gorman, has the gift of the gab because his powers derive from Bragi, god of poetry. And his morose brother Ty, Jared Turner, suits his work in refrigeration because, as the human incarnation of Hodor, god of winter and darkness, he lowers the temperature of any room he works in. Over millions of years, Norse god powers have become nullified to the point of near uselessness, but it seems that if Axl can fulfil Olaf's prophecy, gods like the Johnsons, will become all-powerful once again. Axl's quest is to find his perfect woman, Olaf says. The series follows him doing just that, through a process of trial and error.
Balme also helped write some of the episodes before being cast as a character and says the show's appeal lies in the fact that despite having superpowers, the characters are regular Kiwi guys who have the same issues as any other bloke.
After the success of South Pacific Pictures' more female-driven shows like Outrageous Fortune and Go Girls, Balme says it seemed the time was right for a new Kiwi drama with a male skew. The supernatural aspect to the show purely provides narrative.
But The Almighty Johnsons also just happens to coincide with other TV shows about regular people with superpowers and the film Thor, about gods from Scandinavia.
When asked if Norse gods might take over vampires as the latest craze, Balme says good ideas are often part of the collective consciousness. "Things got vampirical for a while there. It's cool to have something that the average man doesn't," Balme says, adding that when he canvassed his university-aged son's friends on what supernatural abilities they found most appealing, they opted for three out of the four powers possessed by the Johnson brothers.
The only superpower not on the list was the power to make everything cold. Turner admits his character Ty may have lucked out a little, as when his coldness extends to the people around him and gives girls cold feet, it seems less of a blessing than a curse.
"Ty's trying to create a normal life for himself, dating mortal women. Unfortunately, as his power is of cold, every woman who gets close to him starts to feel emotionally cold. So his relationships don't last that long," he explains.
Meanwhile Balme's character Mike has chosen not to reveal his power to his wife, a mortal, and part of his story arc deals with whether or not living a lie constitutes the ideal relationship.
Dean's character, Anders, on the other hand likes to go against his older brothers' orders and use his poetic turns of phrase to manipulate people into doing what he wants at all costs. He only wishes his powers were stronger.
And Olaf would love to have a long-term relationship, only a woman might get suspicious if she noticed he wasn't ageing at all.
"Olaf is hopelessly attracted to women, but because of the fact he doesn't really age, he can't stay with a woman for a very long period of time, because 40 years down the track he would look exactly the same," Ben Barrington says.
Olaf, is the least conventional of the brothers, but based on a quintessentially Kiwi character Barrington remembers from his childhood. "I based him on a combination of my parents' friends from when I was little. Their friends were really into that surfing carefree lifestyle of the 70s. I remember these parties with all these surfboards and cool old cars and so I looked at some old photos. Surfing culture from the 60s. I didn't grow up on a commune on the beach or anything but it was a period of my life that I remembered very, very fondly."
The show feels very Kiwi, but unlike Outrageous Fortune which was firmly set in the West and Go Girls which is very definitely on the North Shore, it deals with a broader cross-section of Kiwis, and so is less dependent on stereotypes.
Balme expects the show will appeal because, like writing duo Rachel Lang and James Griffin's other success stories, it gets to the heart of Kiwis.
"It's four brothers and a grandfather who want to get on with life. And if you forget the idea that there could be gods walking among us, you accept the idea that there could be goddesses as well. And essentially the quest driving the story is how do you find the right woman. Which is a universal male story anyway. Unless you're gay."
LOWDOWN
Who: Jared Turner, Tim Balme, Emmet Skilton, Dean O'Gorman
What: The Almighty Johnsons
When and where: Monday, February 7, TV3, 9.30pm
Who it's for: For fans of Outrageous Fortune, hot guys and mythology
-TimeOut