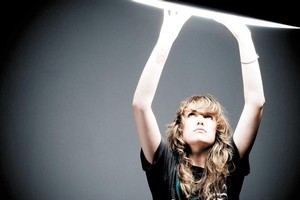 Pip Brown's stomach is tying in knots thinking about her upcoming performance at Laneway. It will be her first gig at home since the Big Day Out of 2010, after which she collapsed and took herself to her childhood home in Masterton to recuperate.
"I enjoyed the Big Day Out, it was the first time I had done it and I was very excited to be doing it. But after that I literally fell down and couldn't do anything," she recalls.
The previous year had been huge. Having steadily built a name for herself in Melbourne and London, the success of her self-titled debut album saw Ladyhawke's popularity explode in New Zealand.
She returned, after a year of intense touring, to perform at the 2009 New Zealand Music Awards. She may have been in what she describes as a constant state of surprise that year, but everything paled in comparison to that night at Vector Arena.
"I hadn't been back for a long time and when I was last there there was a bit of a buzz but my albums weren't selling, it was really hard to get it on the radio.
And I remember being quite disappointed, thinking my own home country doesn't like me.
"For the awards I was so nervous I got quite drunk out of pure nervousness. I felt like I real outsider. When I used to live here I was in a rock band and had heaps of mates, but coming back it was really scary. I wasn't expecting to win any awards. But that night made me think 'oh, maybe people do care'," she recalls.
She was overwhelmed. So she drank a lot, really quickly, and made her infamously short, boozed acceptance speeches. "I really, really regret getting that drunk," she laments.
Brown may have needed some Dutch courage to get her on stage that night, but she says that watching her audiences grow from a few dozen to thousands after the release of her album was a huge confidence boost: "It made me a happier performer. I was very hard on myself because I wasn't a very confident performer, but I think I needed to know that people genuinely enjoyed my music and wanted to see it performed live."
Brown is always exhausting her mind with pressure and criticism.
"I just don't want to disappoint anyone. I always over-think before I go on stage. I think 'what if my guitar stops working, what if my pedals don't work, what if I get electrocuted by a microphone?"'
She's also easily distracted, she says, trying desperately to ignore the landline ringing in the background. Anything can cause her mind to stray, so to keep her focused on the task her record company had set - to get an album out as soon as possible - she had to hide herself away in a small French village in Provence to record her second album with her producer Pascal Gabriel.
"Whenever I work with Pascal in London I'm terrible. I can't stay focused, my mind notices when there's lots of stuff happening around me. I have a tendency in London to wake up, and then something will distract me on TV so I'll start watching that, then I'll turn up late for studio and I'm still figuring out how I'm going to get back to the hotel. In France I stay in the room next to the studio, so all I have to do is wake up. And when I wake up I hear Pascal in the studio already."
Brown met Gabriel, who has worked with the likes of New Order and Kylie Minogue, when she had no record label and no management. But she did have a publishing company who suggested she meet him. "I just had home demos at that point, so I made up these CD things, and we sent one to him and he really liked it. I feel really lucky because he believed in me at a point when I needed somebody to. It's not like he needed the work. I was really lucky."
Brown is not sure how to describe the new album, which is due out later this year, but says it's closer to her roots as a musician than the previous one. She says it's darker, but it's fun.
"It's just more raw. I don't really know how to describe it. I don't want to say anything and then for it to be wrong. I don't want people to be expecting something and then for it to be different to what I described," she fumbles.
Her debut may have quickly gained traction when it was released in New Zealand but Brown describes it as a slow burner that didn't take off until she released her third single My Delirium and stated touring her arse off.
After taking the best part of a year off, save a recent tour of Australia for The Falls festival, it's a big thing to perform at Laneway at the end of the month. She has always associated the event with "cool" people.
"I'm a bit nervous about this, because as I said I had a year off and the set I prefer is more on the floor. It's a 45-50-minute set, and to me that's short. I always worry they are going to want longer, that's the thing that's plaguing my mind at the moment. I hope I'm in the afternoon. I just want to be playing in the afternoon basically," she says. Actually, she admits, she doesn't really count herself as much of a festival-goer. She did always go along to the Big Day Out as a young reveller, but struggles to think of her best memory.
"It's hard because there's always so many people so I just end up standing in a really air-conditioned area that doesn't have too many people around. I'm so lame I just basically go there and drink beer in the coolest spot I can possibly stand," she says.
LOWDOWN
Who: Pip Brown aka Ladyhawke
When and where: Laneway Festival, Aotea Square, Jan 31, 7.45pm
-TimeOut