Frontman Matt Berninger talks to Scott Kara about how his glum New York band The National couldn't be happier after breaking out of indie cult-dom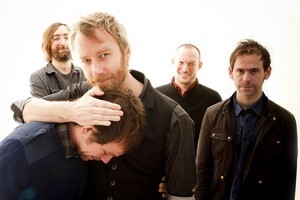 The day before Matt Berninger talked to TimeOut he met, chatted with, and played for United States President Barack Obama.
"We got asked to play at this rally and it turned out we were going to be in town the same day as the President was there, so we got up on stage and played and got to meet him afterwards," says Berninger, who's a calm and modest chap but still sounds as though he's on a little high.
"He was very relaxed, and he had his shirt sleeves rolled up, and he was charming, and real humble too. He said, 'oh you are the guys who get everyone fired up, and I just come in and ride your steam, man'. But we spent literally 30 seconds with him," he laughs.
"These surreal moments keep piling up and it definitely feels like a wave is happening and we're tumbling along through. It's awesome," he says.
That's the sort of level the National - who formed in Cincinnati, Ohio way back in 1999 and are now based in New York - have reached. Which is odd considering the dour and, at times, glum-sounding rock they create.
But there is also something affecting about the beautiful darkness of songs like Bloodbuzz Ohio and the moving-yet-maudlin Anyone's Ghost off High Violet, the band's fifth album, released mid-last year.
And, as Berninger points out, they are now playing to "more people than we ever expected".
The first of their three sold-out shows at Auckland's Powerstation next week sold out in 30 minutes.
The National's groundswell started slowly back in 2005 with their third album Alligator, the first record they released on British indie label Beggars Banquet and which Berninger credits with getting them heard on a wider level.
Also around that time the band - also made up of guitarist brothers Aaron and Bryce Dessner and rhythm section brothers Bryan and Scott Devendorf - started to figure out what they wanted to do, whereas 2001's self-titled debut was "just us trying to create anything that sounded like songs, period" and second album Sad Songs For Dirty Lovers was more experimental and challenging.
"On Alligator we were really starting to figure out our chemistry together. Before that, the records were us trying to find our identity."
Then came 2007's cool, droll rocker Boxer, which expanded that fan base even more, but High Violet has taken it to that not-having-to-worry-about-your-mortgage-type level.
"It's sort of reached a tipping point, where we were no longer underground cult favourites, which we were for many years, which was great, but I think with this new record we've just become bigger - not like Kings of Leon or Arcade Fire big," he laughs quietly. "But for a modest band like us it's more than we ever expected."
There is something about High Violet that also takes the National's music to a higher level. So what is it?
"I know that with this record we were trying to embrace the ugly sounding things, and the things that were not polished," he offers.
They did this by building their own recording studio in Aaron Dessner's garage, where they recorded everything they played, inspiring a more spontaneous, casual environment. Then they added in the lush and soaring orchestration including everything from saxophone and strings to indie-folkster Sufjan Stevens playing harmonium on Afraid of Everyone.
"We spent a lot more time and effort getting the high art and the low art to blend and complement each other - and I think this record does that really well. I think this record is a little more direct and immediate but it still has the long term pay-off, and the slow discovery of different things."
And for Berninger's part, he focused his passionate droning voice just as much on finding new melodies as he did on the words. He says his trademark lyrics - "I'm on a bloodbuzz, Yes I am" is a fitting example - don't don't come easily and he finds himself collecting a lot of material over time ("most of it's not very good") and then pieces it together.
The content can range from sentimental and autobiographical through to the absurd, like Lemon World, probably the fruitiest song off the album, a fantasy about two hot sisters in swimsuits with drugs, drink, and partying.
"That was sort of inspired by my wife and her sister who are both hilarious, so the details of that song are not true, but the kind of visceral feeling of it is."
He uses the word visceral a lot - and it's that quality that he likes in his music.
"For me, music is a search for whatever gets me excited. For me, it's blindingly flailing around, searching for excitement - and it's hard to find.
"It's a search for finding this visceral thrill that I got from listening to Nick Cave, REM or the Smiths. Or whatever it is that drove me crazy. And it's all about looking for that, and that's as much of a game plan as I ever have, really."
LOWDOWN
Who: The National
Where & when: Powerstation, January 12, 13, 14. Sold out
Latest album: High Violet, out now
Key albums: Alligator (2005); Boxer (2007)
-TimeOut