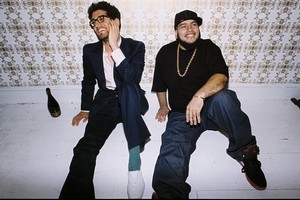 Patrick Gemayel, also known as Chromeo's P-Thugg, has heard some awful remixes of his songs, but says that's just part of the game.
"That's democracy. You don't always like what you hear, but it's like everything. There's good stuff to keep and bad stuff that should not have happened."
P-Thugg is flattered that budding DJs spend their down-time trying to make Chromeo songs they love even better and then blogging their remixes out to the world.
He and his high-school friend Dave-1, or David Macklovitch, the brother of celebrated DJ Alain Macklovitch, who goes by the name A-Trak, launched their electro-funk duo in 2001 and three years later their catchy dance-floor hit Needy Girl hit the world, largely through the internet.
As they released their frisky, sugary sophomore album Fancy Footwork in 2007, the band found themselves at the top of the most-wanted lists at Europe and America's biggest festivals.
These days they find themselves remixed by everyone from big names like CSS, Mstrkrft and Tiga, to amateurs.
P-Thugg says he loves the empowering nature of the internet and how it can diversify the music scene, as well as propel the fame of prolific artists.
"Everyone has access, so people who normally wouldn't have a chance to make their own mark can," he says.
Having made their mark with Fancy Footwork, Bonafide Lovin' and Tenderoni and the myriad remixes of these tracks, Chromeo released their third, studio-slicked album Business Casual in September this year and revealed a more daring side to their party pop personalities.
It features a collaboration with Vampire Weekend's frontman Ezra Koenig, I Could Be Wrong, which was written from scratch.
"We never really approach people with a set idea, just because we try to keep it as organic as possible," P-Thugg says of their collaborations with artists.
Usually both parties send audio files back and forth over the internet to ask for the other party's approval and suggestions for altering the chords or lyrics, though sometimes they hit the studio.
"It's never like a big decision, it's always like, friends, people who like the music and it just happens, it's never forced."
Another stand-out on Business Casual's listings is J'ai Claque La Porte, a nod to their French-speaking roots, having grown up in Canada's Montreal.
Minimalist and suave, it's P-Thugg's favourite song on the record as he says the language is so liberating.
"I am a bit more rowdy in French, I talk a bit more, just because it is my first language, I can explain a subtle mood in a way I can't in English or any other language."
He speaks five - French, English, Italian, Spanish and Arabic - and says he likes the way languages can help achieve a certain aesthetic, he says.
"For example, J'ai Claque La Porte takes the vibe of the late 70s French movies that we grew up with and making it fit our electro audiences," he says.
He's looking forward to seeing how the new, simpler tunes fly when he brings them to New Zealand for the opening night of New Year's Eve festival Rhythm and Vines before heading to Australia.
Having played the album live just four times before speaking to TimeOut, P-Thugg could safely say the album's single Night by Night should "go off" when toured.
Chromeo completes a heavily electro-influenced line-up, sitting alongside other electronic dance heavyweights Chase and Status, Carl Cox, Tinie Tempah and their good friends Justice, who are doing a DJ set.
"We have affinities with a lot of those guys. What we do is completely different from their music but it is complementary," P-Thugg says of the line-up.
He explains the close-knit, collaborative nature of the genre. "Everyone in the scene, we pretty much have the same fetish bands, and electro interest - ours is just more polished and more funk."
LOWDOWN
Who: P-Thugg of Canadian electrofunk duo Chromeo
Latest: Third album, Business Casual, released in September
When and where: Playing at New Year's Eve festival Rhythm and Vines on December 29
-TimeOut