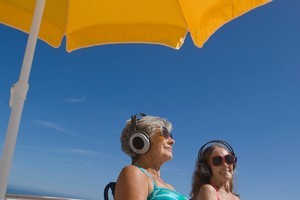 It's a little-known fact that volume is related to temperature.
Bring on the merest hint of summer sun and a few charmers, like those living across the road from me, throw all their windows open and give the neighbourhood the splendour of their trance collection. I find walking around the house in time to the bass beats makes whatever I'm doing seem epic and pointless at the same time.
Then there's whoever lives over the back fence and owns a single Bob Marley CD that gets played over and over and over whenever the sun bakes what's left of their brains.
Sitting in the middle and trying desperately to ignore this serenade is me, possibly kicking back to the granddad groove of Bert Kaempfert's Tropical Sunrise. When he's being drowned out by the incoming skank-doof combo, I would consider joining the party if only I could figure out whether I should wave my glow stick or smoke it.
So, I've decided there are two types of music: mine and everyone else's, and the sooner everyone else comes round to my way of thinking, the happier I'll be.
Until then a temporary antidote is at hand; Sharon Jones and the Dap Kings, a band that's solid gold guaranteed to put the hot and sweaty in, well, heat and sweat.
Saturday night promises to be summer on a slip, slap and slopped stick. Hopefully. And I say hopefully - with all due respect to the flammable Ms Jones - because their twin offering at whatever Womad festival they recently played, was oddly bipolar, with her second performance as blue as the first was raw.
Both went off like James Brown in a fitted frock but I'd bags raw with a side of nasty every time, thanks very much. It was like going from summer to winter in 24 hours.
Which raises a question: is music seasonal? Is it like, say, wine? Come the heat and I'm all about the sav. Once winter ruins everything it's pinot gris. What it isn't like is fashion. I don't care what season the shops say it is, I love polyester. Sadly, polyester hates all weather. So, fashion - mine, anyway - is seasonless and to be suffered.
Never mind that, I think I have an answer.
The best summer music comes from where the weather is summery. Think Jamaican ska, Ethiopian jazz, Afrobeat, latin boogaloo and southern-fried funk. Just typing those words sets off a back beat.
If you've got any doubts about my theory, try considering the reverse - music from cold countries. Treating carols like the banana in my fruit salad and pushing them aside, we've got Scandinavian black metal, Polish polkas and Scotland's Susan "the haggis" Boyle?
Summer tunes? To my neighbours maybe. Nowhere else.
How about music associated with the crappier parts of this fair land, like Wellington's barbecue reggae? Even as the name conjures a convivial summer evening, you just know everyone will be wearing boat shoes, the beer will be flat and there'll be a howling southerly.
Of course there's always exceptions to my rule. I get that your standard desert-born didgeridurge is clever and tricky and stuff, but so is macrame and I have no wish to watch or listen to anyone doing that either.
I'll toss Hawaiian ukelele noodlings on to the steaming pile while I'm at it. Along with every ukelele ever made, especially those played in Wellington.
The only thing that sounds better when played on a ukelele is hopscotch.
Now, who's with me?
-TimeOut