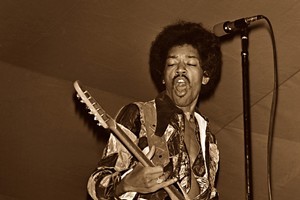 Graham Reid moves over and lets Jimi Hendrix take over, again.
Rating: 4/5
Verdict: Four discs of rare genius punctuated by some lesser moments
In 1964 the Isley Brothers were playing in Bermuda. Their backing band was out warming up the crowd when someone came into their dressing room and asked, "Who's that guy out there?". Ronnie Isley says they peeked out "and there was Jimmy, down on his knees biting his guitar and the crowd were just going crazy".
That Jimmy would, in less than three years, become Jimi Hendrix and his performances would amaze audiences as much as his guitar playing. But here was Jimmy, in the year of A Hard Day's Night, being a sexy, bad-boy entertainer. No wonder Little Richard, the Isleys and other jobbing bands couldn't contain him.
The years before Hendrix arrived in England in September 1966 have rarely been explored but the 4CD/DVD set West Coast Seattle Boy opens with an illuminating disc of pre-fame Jimi.
With the Isleys there is wicked rock'n'soul-playing on Testify, and his distinctively fluid sound across all of Move Over. He's here with Don Conway (who knew that Jimi was the guitarist on the R'n'B chart-topper Mercy, Mercy in 64?), Little Richard (a minor self-referencing piece Dancing All Around the World), the little-known soul belter Rosa Lee Brooks and others.
And almost everywhere that fiery, barely contained genius is trying to burst out. My Girl with the Icemen finds him exploring guitar sounds that would become May This Be Love and Little Wing.
And the next three discs - 41 previously unreleased songs or alternate recordings, seven live tracks among them - show how that fire burned phosphorescent and, away from the constraints of American R'n'B and soul, burst out into counterculture psychedelic blues, free-form rock and gentle ballads.
Early on however are Experience alternate takes not dissimilar to the released versions (Fire, Can You Hear Me, Love or Confusion), a limp treatment of Dylan's Tears of Rage, and another version of Mr Bad Luck which appeared on the recent Valleys of Neptune (and became the more political Someone's House is Burning Down).
Things pick up with intimate versions of 1983 and Long Hot Summer Night, explorations of the blues (My Friend), a beautifully fragile Angel, the trippy seven-minute New Rising Sun, some exciting working drawings (Messenger, Untitled Basic Track) and studio jams (and a couple of duffers), play-loud live material.
The collection closes with the acoustic, reflective Suddenly November Morning. It's like hearing Marley's Redemption Song at the end of Uprising.
The excellent 90-minute DVD bio-doco by Bob Smeaton (Beatles Anthology) has Jimi interviews, some thrilling live performances, previously unseen footage and photos, and Jimi's words delivered by Bootsy Collins.
In a world awash with Hendrix, West Coast Seattle Boy might seem an indulgence and a marketing exercise. And to some extent it is both. There's a single CD version (no pre-fame tracks) with the Smeaton doco, but it is paltry compared to the impressive overview of the box.
That first disc is revelatory, then it's a journey through genius - sometimes genius on autopilot - with a man whose guitar was an extension of himself.
-TimeOut