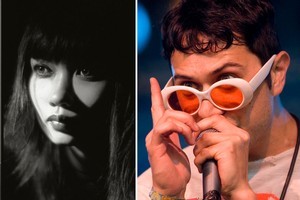 You might say Bic Runga and The Mint Chicks' Kody Nielson have very different performing styles.
Punk-pop terrorist Nielson is known to writhe about the stage, while folk-pop princess Runga is a little more poised.
But they will share the stage at the 2011 Big Day Out, where they will launch their collaborative project Kody & Bic to the masses.
Nielson has been producing Runga's next album for the past few months, and says the idea for this double act was born out of that relationship.
So far, the Kody & Bic catalogue comprises songs written by Nielson, as Runga has been busy writing her own album.
He describes the project as more orchestral than anything he has written before, but with no orchestra.
"It's still pretty rock 'n' roll but it's not your usual four-piece punk band," he says.
Perhaps it's best to keep your ears open for the first Kody & Bic track Darkness All Around Us.
Also part of the new announcement are Australian headline-grabbing pop artist SIA, who released her fifth album We Are Born this year, dance floor favourites Silent Disco, returning for the fourth time, and Ohio trio The Greenhornes, whose rhythm section has been on loan of late to Jack White's Raconteurs.
Completing the local bill are Bang Bang Eche who are home from their European tour, The Phoenix Foundation, Knives at Noon, Luger Boa, The Unfaithful Ways, Three Houses Down, Tommy Ill, Grayson Gilmour, Aural Trash, Surf City, Home Brew, Family Cactus and DJ Harry The Bastard.
Win a Big Day Out double pass and CD from every artist that has one here.
-TimeOut