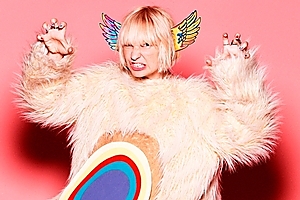 Rating: 3/5
Verdict: Stronger pulse but less heart
On her fifth album, Australian headline-grabber Sia (full name Sia Fuller) is grabbing her listeners by their toes and forcing them to dance. Fast.
She's as known for her big vocals as for dating an androgynous-looking musician, and Sia doesn't stop projecting her sultry voice this time around, nor shocking listeners with a change in personality.
This is primarily an accessible dance-pop album - and is a wide step away from her sultry career highlights like Soon We'll Be Found and Don't Bring Me Down.
The party pulse that runs through nearly all the tracks might alienate some of her early fans but it has the likes of Diplo excited (he's already remixed Clap Your Hands) and is something that should help her get down with the teens. Actually that's already happening, as her song My Love is a pivotal feature of this year's Twilight movie Eclipse's soundtrack.
But that one's a soaring, romantic heart-wrencher. You won't find any of that on this album.
I'm In Here will provide a lofty fix, and for those who yearn for a Sia without the electro, a bonus piano vocal version has been tacked on to the end of the album.
Despite the pipe-cleaners and bubble-gum pink of its cover and children's school-yard voices in the opener, never fear as this album is not all primary colours and highlighter pens. It has brains behind its catchy beats, and behind the synths, Sia still sings.