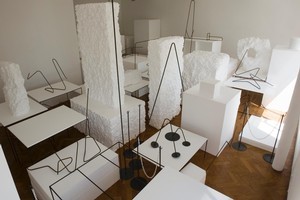 This week continues the spate of installations and collections. The most ambitious, at the Sue Crockford Gallery, is the work of the revolutionary turned academic Peter Robinson under the title Modern Standards. It fills the gallery in such a way that it is deliberately difficult to get in among the works, adding a whiff of privacy and secrecy to the general idea of a mass of possibilities. The sparkling virginal whiteness of it all reinforces this feeling.
Robinson began as a committed political painter but this work is more sculptural in the manner that previously won him a Walters Prize.
The medium is polystyrene, easily cut and shaped. Big chunks of this material are roughly hewn into shapes suggesting statuary of the modern abstract kind - many of them are pierced - in the same way that a rough-hewn block of marble can suggest a statue within it. As such they are impressive.
The rough-cut forms are contrasted with other blocks that are severely geometrical. Some are open blocks which have other forms tucked in them. Some appear solid. Some rough joins detract a little from their geometric perfection.
In contrast to all this whiteness there are free-standing compositions of steel reinforcing rods bent and twisted into lively shapes and tightened here and there by tall precise verticals that give strength to the whole huge composition.
These save the piece from being just a heterogeneous collection of ideas and, along with the energy of the cutting of the polystyrene, save it from being just an abstract academic demonstration of variants on shape. There are only a couple of days left to see it but it is worth the effort.
At the Two Rooms Gallery, an unusual collection hovers somewhere between art and museum archive: Living Halls by Fiona Jack. She would claim the project as her entire work of art yet most of the material, of wide standards of achievement, is painting by other hands. The installation is a combination of paintings, drawings, honour boards, documents, a database, photos and audio recordings, all concerned with war memorial halls. There are hundreds of them throughout New Zealand.
The major part of the show that fills the main gallery is a series of paintings of more than 50 halls painted by local artists invited by Jack to depict their community hall. The variety of halls is amazing and the variety of approaches to the painting task is equally remarkable. There are one or two superb watercolours, some rather moody paintings that show the halls lit at night, and some that have the charm of naivety. But the principal appeal is the sheer number of them. The fascinating phenomenon of the memorial hall is supplemented by a series of honour boards listing the titles of the halls arranged region by region and including some no longer in existence. These are done by the artist herself.
All these halls received a subsidy, and when Jack investigated her project she found in Wellington the rough drawings and architectural plans that people submitted to gain the subsidy to add to their own fund-raising. The artist has made copies of these archival drawings and added them to written archives that list more than 400 halls.
There is a lot of talk about "heartlands" and "grass roots" but seldom has there been a show that goes so tellingly into an aspect of life in New Zealand.
Upstairs at Two Rooms is a record of another sort. Mark Adams, famous for his photographs of ritual tattooing, returns to Polynesia with a small exhibition of photographs of important historic sites. He uses a very large format camera and the prints are notable for remarkable detail and subtlety of tone.
Most striking of all is the photograph of the London Missionary Society church in Samoa where in 1905 a lava flow surrounded the church, then smashed in through the doors. The remains are unmistakably a church. It is fascinating to see how the rampant tropic growth is still held back by the stalwart walls and the brutal lava carrying the marks where the corrugated iron of the roof fell on the hot surface.
There is equal presence in a photograph taken at Hikiau Heiau in Hawaii which shows where Captain James Cook was killed. Peaceful though the scene is, the atmosphere is still portentous.
Adams' photographs are self-consciously beautiful. But the photographs by Allan McDonald in the show Something/Nothing at the Anna Miles Gallery are self-consciously ordinary in subject if not in technique. The title suggests he might be making something out of nothing because this collection is part of his recording of derelict buildings, op-shops, second-hand dealers and book exchanges. The appeal lies in the photographer's eye for detail: how the veranda of a derelict shop is now propped by a steel pole, while a lovely cast iron capital is all that remains of its original support.
He notices the way the proprietors tend to put the things they don't want to sell high on the wall.
These pictures have the appeal of the seedy picturesque but when they show tapestries of windmills, fishing rods, mugs and stacks of old books they evoke something that is desperately nostalgic in the face of Trade Me.
Up-to-date merchandising is startlingly evoked by the highly individual pencil drawings of Ruth Cleland at the Gus Fisher Gallery. She is an obsessive photo-realist and the subject of her exacting eye and technique are shopping malls. She does perspective drawings of their spaces and highly accurate drawings of particular details, then overlays the views with a tight grid drawn by hand so accurately that only close observation can perceive minute variations.
Such attention to making the hand-made look mechanical is rare in New Zealand and Cleland makes the paradox fascinating.
Six Obstructions by Simon Esling is in the small gallery. He is an artist with a clear line of development. Initially he did careful pencil drawings that combined unexpectedly tanks, bones and houses. Then he painted these things in detailed surreal compositions. Six of his paintings are in this show but there is a problem in matching the detailed work with a broader background.
The problem has been triumphantly overcome in six free-standing sculptures. Here a tiny tank thrusting through a wall somehow suggests a political situation. A bone resting on a tank that holds up a tiny, exquisite model of a house suggests how we build on the past. Both the machine and the building, despite their toy-like quality, take on a sense of force. Most good sculpture gains by being magnified in size. These intriguing works make the miniature potent.
At the galleries
What: Modern Standards, by Peter Robinson
Where and when: Sue Crockford Gallery, 2 Queen St, to Nov 8
TJ says: A rambling, impenetrable mountain range of white stiffened by lines of structural steel, all suggesting potential sculpture.
What: Living Halls, by Fiona Jack; Lava, by Mark Adams
Where and when: Two Rooms, 16 Putiki St, Newton, to Nov 13
TJ says: Fiona Jack has assembled a remarkable exhibition about the nation's war memorial halls and Mark Adams' photographs of historic sites in Polynesia have both superb print quality and great atmosphere.
What: Something/Nothing, by Allan McDonald
Where and when: Anna Miles Gallery, 4J Century Arcade, to Nov 20
TJ says: An accurate eye and a touching sense of the passing of the second-hand shop and book exchange make these photographs memorable.
What: Mall, by Ruth Cleland; Attempts at Imperfection, by Simon Esling
Where and when: Gus Fisher Gallery, 74 Shortland St, to Nov 27
TJ says: Traditional exact drawing and modern subjects add up to strong images by Ruth Cleland; Simon Esling's surreal sculptures make miniature detail powerful. Seldom has there been a show that goes so tellingly into an aspect of life in New Zealand.
Check out your local galleries