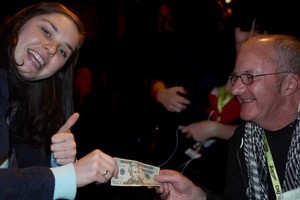 The CMJ music marathon has wrapped for another year and the ten New Zealand bands that attended are taking stock of the festival and its effectiveness in gaining international attention.
The media attention from New Zealand can make CMJ seem like a glamorous event, but it's a tough gig. The annual music marathon in New York City is less a marathon, more a series of short, exhausting sprints.
1200 bands gather from around the world to shop their wares to a tricky crowd made up of cynical New Yorkers, the discerning college radio industry, and whatever motley crew of friends a band can manage to assemble.
Almost every band is allotted a "showcase", which sounds fancy but is in fact a short set sandwiched between other bands they may or may not sound like, in a venue they're unlikely to have played before. The turnaround time between sets is tight; there's no time for a sound-check unless the band is the lucky first.
Speaking of sound, it's highly unlikely that the sound engineer will have an intimate understanding of the band's needs, meaning that the first few songs of the set will be a test for both engineer and audience. What audience? Bands should be prepared to play to five people, since punters are spoiled for choice.
And if a band hasn't organised decent accommodation, they could be fronting up to their showcase on very little sleep, on top of the jetlag that hits New Zealanders particularly hard since they have to travel the farthest.
Add $4,000 in flights and expenses for each band member, which is something the plethora of Brooklyn bands at this year's CMJ didn't have to worry about.
With all of these factors going against a band, plus the internet's growing role in discovering new music, and the reduced presence this year of marquee indie labels such as Subpop, Matador and Merge Records, there are questions about CMJ's relevance.
Case in point: Kanye West was the talk of CMJ, even though his surprise appearance was actually at a rival event, Pitchfork's #Offline party. (Read about the Pitchfork-CMJ rivalry here).
And yet, the 30-year-old festival continues to run like clockwork and is capable of creating new business for bands.
Curiously, one of New Zealand's best success stories this year is a duo that wasn't officially on the CMJ bill. In fact, Christchurch's Cairo Knife Fight almost didn't make it to New York.
"We applied for CMJ, didn't get that. Didn't get the Outward Sound grant, so we just decided we were gonna go," says the band's manager, Barry Blackler.
He explains that Cairo Knife Fight managed to "blag" their way onto the bill by securing a gig at a key venue, The Bowery Electric, before CMJ had booked the place. By the time the festival came knocking at The Bowery Electric's door to place an official showcase there, Cairo Knife Fight came with the slot.
More blagging followed. The morning after their Bowery Electric show Blackler and his band - Anika Moa's regular drummer Nick Gaffaney and Aaron Tokona, formerly of Weta - headed over to the CMJ registration desk on the off-chance that there were festival passes waiting for them.
There weren't, but a passing member of the CMJ staff recognised the band's name because their Bowery Electric show was being talked about "all over town". That scored them their passes and swag bags.
All of this happened independently of the official New Zealand party and its associated marketing and free booze, which were put on by NZ On Air and the NZ Music Commission.
In fact, Cairo Knife Fight's showcase gig took place at the same time as the official New Zealand party. While Lawrence Arabia, Street Chant, Ruby Frost, Kids of 88, Zowie and Electric Wire Hustle played to a packed room of 700, Cairo Knife Fight opened to 20 people. And yet, 20 people can be enough.
"Everyone who our manager wanted to be there showed up, and they all had a universally great response," says Nick Gaffaney. "That was all we came to do, and we've done it."
Blackler now has an email inbox full of enquiries to deal with.
"Halfway through the first song, I had four agents wanting them. Mushroom Publishing was blown away completely. Avril Lavigne's engineer wanted to make their record. And that was halfway through Big Face! So we walked away with exactly what we wanted."
Nick Gaffaney is philosophical about the challenges of an event like CMJ.
He says the trick is to know exactly what you're there for, and to have "low expectations" so that you can't be too disappointed.
Asked for three tips for other Kiwi bands thinking about attending CMJ or similar festivals in future, he says "Number one: just do it. That's real hard. Number two: make sure you've got somewhere to stay that isn't terrible. And number three: that would be the first one again. Just do it."
Other tips picked up over the week of CMJ that might come in handy for Kiwi bands:
- Sort your schedule out as much as you can before you get there. Find labels and bands that you like and connect with them before you land.
- Don't think that you're going to land a major record deal - they're mythical around these parts. Look for a booking agent, tour manager or a publisher instead. Make friends with bands that might take you on as an opening act.
- Your showcase is not the most important date of the week. Focus on meeting other bands, playing in front of new audiences and scoring slots at one of the many day-parties. This year Street Chant played four other shows before their official showcase.
- Line up good accommodation. If you're well-rested then you'll play well, and when you're not playing you can get out and see as much as you can, knowing a good sleep awaits you at the end of the day.
- CMJ's Editor-in-Chief (and New Zealand music fan) Rev. Moose likes Tim-Tams and L&P.
- Relax and enjoy it. You don't have any control over it, apart from the songs you play. You can't control the sound. You can't control who turns up. You just have to hope for the best.
-Additional reporting Sean O'Brien