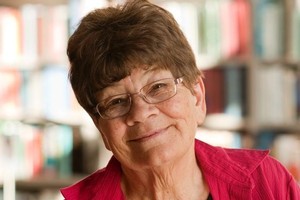 Joy Cowley is a much-loved children's author who recently published her memoir Navigation (Penguin, $45).
The books I love most are ...
Annie Dillard's Pilgrim at Tinker Creek and Michael Chabon's Wonder Boys. These two make comment about eclectic delight in reading, the first a Pulitzer Prize-winning connection with nature, written by a young woman recovering from serious illness; the second, a wonderfully wicked tale of human foibles. Both are written in language so well-crafted that a reader can visit them many times.
The book I'm reading right now is ...
Storyteller, Donald Sturrock's biography of Roald Dahl, a fascinating story of a brilliant man who invented extraordinary stories, much of the technology in his environment and also parts of his own life. I knew Roald Dahl in the 1970s when Roald bought the film rights to my first novel. When I stayed with him in Great Missenden, I thought that Roald was the first person I'd met who absolutely defies any kind of psychological definition.
The book I want to read next is ...
Leo Tolstoy's War and Peace. I've never read it but have had it on a wish list for 40 years. This summer I'm making space for it.
The book that changed me is ...
All books have some effect, and with some books the effect is strong enough to become change. I can think of a number of books that have opened doors for me: the poetic works of Keats and T S Eliot; Gerald Durrell's The Bafut Beagles; Henri Troyat's biography Tolstoy; The Cloud of Unknowing an old book on contemplation by an anonymous author; Janet Frame's books - especially Scented Gardens for the Blind. Two significant books have been The Gospel of St John and Khalil Gibran's The Prophet. I guess all those choices indicate my age.
The book I wish I'd never read is ...
My own book The Mandrake Root published in the 1970s. It's awfully bleak and it has my name on it!