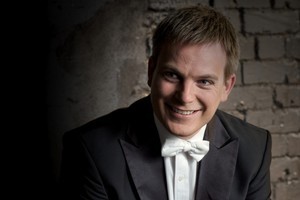 After 10 years, Vesa-Matti Leppanen still enjoys being concertmaster of the New Zealand Symphony Orchestra.
Looking over the season that is almost over, he pauses before singling out personal highlights but one is definitely pianist Freddy Kempf ("fantastic again") along with the mid-winter Mahler Fifth Symphony with Pietari Inkinen.
Still not forgotten is last year's visit from Pinchas Zukerman.
"He's a bit of a hero when it comes to violin playing. Being young and playing fast has become the thing these days and Zukerman never plays fast," Leppanen adds.
Next week Leppanen returns to us, heading the NZSO Soloists in a selection of chamber-scale works by composers ranging from Telemann to fellow Finn Aulis Sallinen.
"We haven't done this sort of thing since Donald Armstrong's Chamber Orchestra.
"It's healthy for us because we are more responsible for the end result; everyone has to be more pro-active and more responsible.
"And there are style issues. We are going to play Baroque music and I get the blame if it sucks."
The work in question is Telemann's Burlesque de Don Quixotte and he is concerned not to exaggerate the humorous moments like "the sighs when Don Quixotte is screaming about his love".
There are laughs too in Sallinen's Some Aspects of Peltoniemi Hintrik's Funeral March, despite its somewhat cumbersome title.
"There is some darkness here," Leppanen says, "but Sallinen also does variations on the funeral march that ... make a joke of it. And it's so well written and more effective in this orchestral arrangement than in the original string quartet version."
It is not difficult to detect a certain Scandinavian core to the programme. As well as the Sallinen, a short Sibelius Impromptu opens the evening and Norway is represented by Grieg's Two Norwegian Melodies.
"All the Scandinavian countries have a lot of violin music," he explains. "Simple melodies, very much like Irish music."
Auckland audiences have become accustomed to Leppanen's eloquent violin solos in various NZSO performances, but earlier this year Wellington had the privilege of hearing him as soloist in the Sibelius Concerto.
Reviewer Ian Dando was impressed by the way the Finn "integrated spidery lines with the tensely rhapsodic orchestral opening in the style of a concertante player, then changed to a full concerto soloist with the strongly projected warmth needed for the second movement's slow song and ebullient dance finale".
High praise indeed, but the soloist on this tour, joining her string colleagues, is the orchestra's principal flautist, Bridget Douglas, playing Arthur Foote's Night Song.
Leppanen is a fan of the American composer's work, finding it "very dreamy when I first heard it. I thought it was British music."
Performance
What: NZSO Soloists
Where and when: Auckland Town Hall, Friday at 7.30pm; Hamilton, Founder's Theatre, Saturday 2 October at 7.30pm