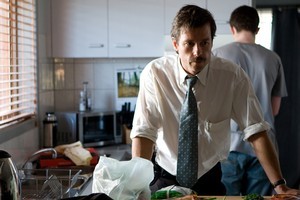 Animal Kingdom arrives at at time when even audiences on this side of the Tasman might be suffering Aussie underworld fatigue in our entertainment diet. Crikey even that Chopper guy's on tour here again.
So it's going to take something pretty remarkable to shake a seen-it-all-before feeling, knowing that this film centres on a Melbourne family of criminals who are facing a war with equally crooked cops, and is loosely based on real events.
Fortunately, Animal Kingdom is just that - an unforgettable, chilling, bleakly funny, taut, twisting, claustrophobic, gripping drama. It's one with superb performances from some faces both familiar and new.
It takes a very dim view of the Cody clan and the family business of robbery, drug dealing and the occasional high profile murder.
But if there's no glamour attached to these crims, they're still utterly believable specimens of various levels of sociopathy, while their pack dynamic rings all too true to the film's Darwinian title.
First-time feature director Michod may have spent a few years in the writing of this, but the result feels like much of that time has been spent paring back any excess.
His characters don't have the gift of the gab most modern film felons seem to possess. Though Mendelsohn's Pope has an uneasy charm as part of his psychopathic skill set, and matriarch Janine (Weaver) might be quick with a cup of tea but she's arguably the scariest of the entire Cody mob.
It all begins with teenage grandson/nephew Josh (Frecheville) coming to stay at grandma's after the overdose death of his mother.
After a major crime implicates the entire family, he's soon being singled out as the family's weak spot by honest cop Detective Leckie (Pearce).
That puts Josh - and his relatively normal middle-class girlfriend - in danger from all sides. How he fights the law - and his family's law of the jungle - makes Animal Kingdom a deep, dark psychological thriller and a contender for best film of the year.
Stars: 5/5
Verdict: Guilty of being the best Aussie gangland movie ever.
Cast: James Frecheville, Ben Mendelsohn, Joel Edgerton, Guy Pearce, Luke Ford, Jacki Weaver, Sullivan Stapleton, James Frecheville
Director: David Michod
Rating: R16, violence, offensive language and drug use
Running time: 112 mins
- TimeOut