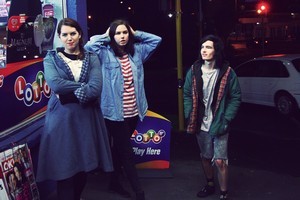 A few hours before they tear a hole in Artisan Guns' Silver Scroll-nominated celebrated single Autumn, Emily Littler and Alex Brown from local pop-punk band Street Chant sit down for a green tea and a soy flat white.
Billie Rogers the bassist couldn't make it as she was at work - just because they themselves are award nominees now, it doesn't mean they can miraculously pay the bills.
It would be fair to say Street Chant were a little jittery about playing to a room full of people-who-really-do-matter at the Silver Scrolls Awards.
"It's definitely the first time we have played to people sitting at tables. Eating," Littler said.
The past month has been a string of firsts. Their first album. Their first major award nomination. Their first interviews on national radio.
Sometimes they worry their hard-core followers, or real fans, as Littler refers to them, will think they have sold out. She says that's a conflict indie bands have to deal with in New Zealand - fans love them when they are small and undiscovered, topping the bNet charts, but turn their backs when the wider public takes an interest.
It's stupid, she scoffs. They are still broke. They just pulled an all-nighter to complete a music video on next to no money. They are still stealing hummus and crackers from other bands' riders.
"We [are a band] because we love it. We don't do it because we want to do New Zealand Music Month or be famous. We like playing. It's hard because now we are becoming a little bit more well-known people are saying we should stop playing so much, because then it is more of a thing when you do play."
Street Chant has been gigging since 2007. Littler and Rogers met on the K Rd circuit, started jamming, and formed their band Mean Street with Mikey Sperring of the Drab Doo-riffs on drums.
Brown, who hails from a farm just out of Matamata and had been playing with the DHDFDs since he moved to Auckland, replaced Sperring at the end of 2008 and the band changed their name to Street Chant to recognise they new ensemble. Their debut album Means is a wave to their past.
Littler figures they have done the hard yards as a band. Some nights they played to no one, others the crowds turned into writhing monsters.
Then in March this year, they were hand-picked by Jack White to open for the Dead Weather. "That was just pretty mental. Massive shows. We were just little kids next to them," Littler says.
They learned a lot from that tour. Mostly, that they didn't ever want to be like the Dead Weather, who seemed to have had the excitement of playing live shows sucked out of them. Brown recalls that after gigs, the band would run off stage and dive into the van that was waiting for them and drive away.
"It was like an office job for them," he says.
"It taught us the value of enjoying what you do," Littler adds.
A few weeks before the Dead Weather they toured with the 3Ds and The Datsuns, which they say was also an amazing experience. But one of the most memorable shows they have played recently was their album release at the end of August.
Instead of playing in their usual haunt, Whammy on K Rd, they held a gig at Margaritas on Elliot St, better known as a match-making bar for international students than housing loud, raucous bands. "It was risky," Brown says, "but thankfully people turned up."
Littler says they wanted the album release to be something special - after all, the album was an enormous achievement. Did they have any idea how difficult the recording process would be? "No way. Originally I wanted to get it out last October," Littler laughs.
She thought they could go into the studio one day and lay down the tracks and then be out of there in a day or two. Not so. They hadn't heard a recording of themselves before.
"I think I thought I was more tuneful than I was," Littler recalls.
"We were used to playing on sound systems that were not very good. I used to sing aggressively and loudly so I could hear myself." But after a bit of voice training - thanks to YouTube - and some instruction in the importance of tempo, the band created an album they are fiercely proud of.
The next step is Melbourne. "Billie and I have lived in Auckland all our lives, we want to check out somewhere new, somewhere that has a better public transport system," Littler says. And after that they hope to be signed by an international label, like their good friends Surf City who are also signed to Arch Hill.
Being nominated for the inaugural Critics' Choice prize at the New Zealand Music Awards alongside The Naked and Famous, who won a Silver Scroll for single Young Blood, and Home Brew, who Littler considers to be NZ's next big thing, is bewildering and daunting, but it makes their parents very proud.
They just hope their devotees can accept they are still the same - walking around unrecognised, and more skint than they have ever been.
"And we are still stealing everyone's riders," Brown adds.
LOWDOWN
Who: Street Chant. Emily Littler of guitar/vocals, Billie Rogers on bass/vocals and Alex Brown on drums
Latest: Debut album Means, out now.
-TimeOut