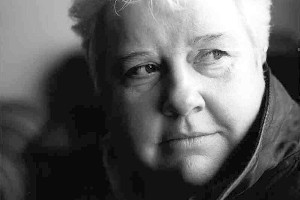 Val McDermid was lying by a river in the sunshine near her old college at Oxford University watching a wedding party arrive when she had a really good idea for a murder.
McDermid is the author of the gritty crime novels on which the TV drama series Wire In The Blood is based. As she watched the happy family of the bride gathering, a thought occurred. What if the groom was dead by the end of the day?
"It seemed like a really fun place to start a book," explains McDermid, in Auckland to promote her latest thriller. "Still it took me a long time to work out how to tell the story. For 12 years the idea has been kicking around in the back of my brain."
The result of all that rumination is Trick Of The Dark ($38.99, Little Brown) a twisty-turny thriller about a disgraced clinical psychologist, Charlie Flint, who gets caught up in solving the murder of a bridegroom, and its link with charismatic lesbian Jay Macallan Stewart.
This is McDermid's 24th novel and probably her most "lesbian" book to date, although she's managed to cross the gay/straight barriers with her fiction ever since the 1987 release of her debut Report For Murder, which starred lesbian freelance journalist Lindsay Gordon.
"I've always had lesbian characters in my books but they're part of the wider picture of the world," says McDermid.
"After all, I don't live in a ghetto. I don't only have lesbian friends or do things in a particularly lesbian way. I'm writing about a world people recognise whether they're gay or straight and that's what's carried my books over to that wider audience.
"And I don't sit down to make any sort of statement because I think when you do that you start writing really bad books."
Nonetheless, McDermid is proud to tell me Report For Murder was the first book with a lesbian heroine published in Russia and that young gay women today still tell her how much they love the Lindsay Gordon stories.
A big, straight-talking Scottish women in her mid-50s, for years McDermid combined writing fiction with a full-time job as a news journalist for a Sunday paper in the UK. "I used to write on Monday afternoons because I had the day off ... It was productive because all week I'd be thinking about what I was going to do the next Monday, planning scenes and dialogue in my head so when I actually sat down I'd work quite intensely. I wrote my first four books on Monday afternoons."
Her years in journalism proved valuable because they gave McDermid entry to all sorts of situations.
"You parachute into people's lives when something bad has happened and see them pushed to their limit, at their best and worst," she explains. "That gave me access to a vast database of characters and environments that were all stored in my head. It was hugely helpful."
She feels very strongly, however, about basing her fiction closely around true-life crimes. "I feel queasy about that. There are elements of people's lives that can be cannibalised but I don't think grief is one of them.
"Sudden, violent death is a terrible thing to have as part of your life and you don't need people like me tramping all over it."
Instead, McDermid finds her inspiration in odd little things that happen - like that idyllic afternoon on the Oxford riverbank. "I draw on my own experience or knowledge but there's nobody in there who's based on one individual," she explains.
The screen adaptations of her books have all been award-winners and McDermid says that's no accident. "I've said 'no' a lot," she explains.
"When I quit newspapers I said never again was I going to work with people I didn't like or trust and I've pretty much stuck to that. I'd rather walk away from a deal than do the wrong deal."
These days, the author divides her time between the Northumberland beachside home she shares with her wife Kelly Smith and a place in Manchester she keeps to be close to the 9-year-old son she had with a former girlfriend.
To produce a book a year she has to "buckle down and go hell-for-leather", working long hours and breaking only to watch whatever boxed set of DVDs she's chosen to help get her through the whole process. "For years it was The West Wing. That got me through six or seven books. I need something with a strong narrative thread to relax me."
McDermid has no idea whether Trick Of The Dark will turn into a series like the Tony Hill stories on which Wire In The Blood is based. "I never intended it to but who knows," she says.
"It's what knocks on the door of your head. After all I never meant the Tony Hill books to be a series and now I'm about to write the seventh one."