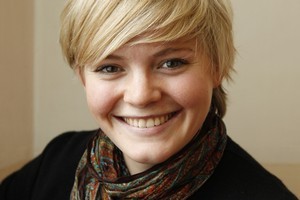 This week, Australians and New Zealanders unite to poke fun at all those brave people who decide to get up on stage and give fame a shot.
Of course these talent shows have the potential to help old single Scottish women win the hearts of men around the world, and help a kid from humble roots earn himself a music award nomination in just a year.
But we all know the reason we will watch The X Factor tonight is because ridiculing the contestants will bring us great pleasure. Watching and ridiculing talent show contestants is simply how modern households unite. It's a chance for us to elevate our egos by imagining how much better we would be if we had that opportunity.
That's also why many people watch the Emmy Awards - to ridicule the outfits, the hair-dos and the speeches and speculate how much cash went into so-and-so's bust or steam-pressed complexion. Again, we elevate our egos by imagining how much better we would be if we had that opportunity.
Well, let's be honest, most of us won't be invited to walk the red carpet at the Emmys.
However, in these modern times, every year, we are given the opportunity to find fame and fabulousness on a smaller scale, through reality shows. Televised talent auditions, coming to a town near you.
Unfortunately, many of the ambitious folk who turn up to these events, poor souls, have not been through enough karaoke mockery to give them a realistic indication of how their singing will be received. As a result, even the most gracious, loving of folk have no choice but to laugh. Out loud.
I am most grateful for the honest feedback I received after I let loose to Like A Virgin during a karaoke session on a boat somewhere off the coast of Vietnam while on holiday last week, because if I was ever to turn up to a televised talent audition at a location near me, I would probably have picked that song. Or Heart of Glass which is in a similar octave range.
Anyway, I became that girl on the generic karaoke girl-walking-along-a-pier-into-the-wind video clip. I hit (or missed) my final note and air kissed my crowd. Of six. And then I turned to request my next number (probably Blondie). That was when the guy operating the thing told me karaoke was over. It was 10pm. Then he physically removed the machine from the deck and locked it away in his bedroom, lest I try to rig it up again. Harsh, but at least I got the message. I would forever be a reality show critic, not a participant. Man, I felt like a goober.
Well, the deflation I have felt since that incident lifted when I saw the results of the Emmy Awards on Monday.
Just look at the list. Who got the vote for best supporting actor? Eric Stonestreet, Modern Family - for playing a goober. Best supporting actress? Jane Lynch, Glee - for playing a character who is, unquestionably, a goober. Her brilliant Madge tribute rivalled mine.
Big Bang Theory's Jim Parsons took out best lead in a comedy. Again, uber goober. His character's IQ is 187. And Edie Falco for Nurse Jackie. Yup, a loveable goober.
Lead in a Drama Series, Bryan Cranston in Breaking Bad. For those who don't know, he plays an awkward chemistry teacher trying to make money manufacturing P. Now, he could very well be the definition of goober.
Sure, Mad Men, The Closer and The Good Wife add an air of seriousness but still, I feel highly encouraged. This, according to my analysis of the Emmys, is the year of the goober. Let all the people who have ever been ridiculed - whether in front of the cameras or not, rejoice. The Emmys have spoken. You are outstanding. And for the record, my pick for best-dressed? Kevin McHale from Glee. Goober glamour at its finest.
- TimeOut