Playing a pair struggling with long distance love wasn't too much of a stretch for on-off couple Drew Barrymore and Justin Long, writes Michele Manelis.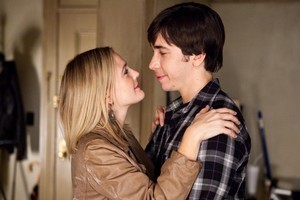 Drew Barrymore and her occasional off-screen boyfriend Justin Long (Accepted, Drag Me To Hell), re-team in Going The Distance, an edgy rom-com about the trials and tribulations of a long distance relationship. The pair most recently starred together in the 2009 hit ensemble He's Just Not That Into You, where they met on the set and embarked on a relationship. Since then, the globe-trotting actors have enjoyed and endured the idiosyncrasies of long distance romance, reflected in their new movie.
At the Four Seasons Hotel in Beverly Hills, Barrymore and Long are sitting next to each other conducting interviews to promote the movie. Their camaraderie is clearly genuine, and they seem to enjoy being in each other's company.
But not all couples - especially the on-off variety, enjoy working together, especially when the material is of a personal nature and requires onscreen intimacy.
Barrymore used her own life experience to bring a reality to the role. "I've been in long distance relationships all my life," Barrymore says, or rather, declares.
"For this movie, it was definitely a benefit that we knew each other so well and have gone through the struggles and the confusion of this type of relationship. We knew we could bring an honesty to the story."
Adds Long, "The laughter was genuine and we understand the dynamics of this scenario." He pauses, breaking into laughter. "It wasn't an effort to look at Drew in those scenes and feel completely vulnerable and abandoned. It was not a stretch for me at all."
Barrymore is regarded as one of Hollywood's biggest players as a producer with her company, Flower Films (He's Just Not That Into You, the Charlie's Angels movies, The Perfect Catch); and she earned a Golden Globe for Best Actress in a Mini Series for her heartbreaking portrayal of "Little Edie" Bouvier in Grey Gardens. Going the Distance will hopefully mark her return to comedic leading lady.
Directed by documentarian Nanette Burstein (American Teen), there's an authenticity brought to this raunchy, R-rated flick in terms of sexually honest dialogue. The script is peppered with many pop culture references including methods of communication like texting, tweeting, skype and blackberry which gives the movie a current feel. But Barrymore claims she is an old-fashioned gal at heart. "I do love a carrier pigeon," she jokes. "No, seriously, I'm a big letter writer. I like a typewriter, paper, and a pen. I don't like texting or skyping. There's no other form where you can express yourself better than in letters," she says. "I don't want to sound like a hater of technology. I feel like I'm the anomaly and I realise I'm not the norm."
Always charming, Barrymore at 35 has retained the same childlike quality we were first enamoured by in 1982's ET: The Extra Terrestrial. But make no mistake, behind her bohemian, ditzy persona is a tough businesswoman. She has recently added "director" to her multi-hyphenated career since she made her debut last year with the roller derby coming-of-age movie, Whip It.
"I love directing. I've wanted to do it since I was about five years old and it was something I felt compelled to do and something I've been in training for my whole life. I look forward to the experience again because I love to do something that scares me," she says. Clearly, directing is not a new desire for Barrymore. She handed her godfather, Steven Spielberg, a script she wrote when she was six years old.
In Going the Distance, Barrymore plays a journalist. Given her experience of 30-plus years as a celebrity, she is a veteran when it comes to being the subject matter of an interview, and jumped at the chance of sitting on the other side of the microphone. "I didn't need to do any research. I've spent my entire life with journalists so I feel like I understand them. I used to fantasise about being a travel writer and now I fantasise about being a food writer," she laments. "I don't want newspapers to die. I don't want it to be all internet and blogging."
Putting some thought into the world of journalism, she says, "If I were doing an interview, I'd ask questions like they do in Vanity Fair's Proust questionnaire where it's far more revealing about the person than the typical, 'why did you want to do this movie?' type of question."
Accepting the challenge, we continue: What is your favourite virtue?
"A lack of self-consciousness."
Favourite quality in men?
"Humour."
In a woman?
"Lack of neurotic bullshit."
What do you appreciate the most in your friends?
"The ability to be there quick when they know I need them."
Your main fault?
"That I am not as strong in my life in some areas as I am in others.
Your idea of happiness?
" Knowing."
Your idea of misery?
"Inconsistency."
Barrymore is candid about her life - to a point. She will admit to having some experience in the art of phone sex, like she does in the movie, and says, "Yes, I've done it in real life but I've only done it once." But when asked if she is currently in a relationship with Long, she looks at him, and laughs, enjoying the cat-and-mouse game of the celebrity interview.
"We never talk about when we're together and when we're not. It never ever will be addressed. Mystery is sexy." As far as "going the distance" in her romantic life, she says of marriage, "Now that I'm in my 30s, I don't believe in fairytale endings anymore. Now I'm happy if I'm having a good day."
LOWDOWN
Who: Drew Barrymore (and Justin Long)
What: Romantic comedy Going the Distance
When: Opens at cinemas on September 2
- TimeOut