A quick word with the food critic, writer and permanently cravat-ed verbose judge on MasterChef Australia.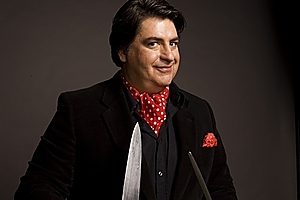 Where are you?
I'm sitting at my manager's desk. It's really exciting, she's left me here alone - it was her fatal mistake.
And are you wearing a cravat today?
I'm wearing more of a scarf today. I went to the podiatrist the other day because I had a corn - my first corn ever. My reward for having the corn removed was to go to the two op shops next door and one had an old-lady brown and black print scarf in really cheap velour. I'm wearing it with a hand-made suit in a Prince Charles check with a natty brown and black colouring and an accenting check of fuchsia. I'm also wearing brown boots and a white shirt, and a little pink hankie in my pocket to bring out the fuchsia in the suit, so I'm feeling dapper.
It sounds very chai with strawberry.
It is. I think I probably look more like raspberry coulis. It's more like a scoop of coffee icecream, a scoop of bitter chocolate and then a drizzle of cream and raspberry coulis.
Has your stint on MasterChef opened your eyes to anything new - any pairings of flavours for example?
Yeah, I think they are better cooks this time around and so we have seen some really interesting dishes that have made me, George [Calombaris] and Gary [Mehigan] look at each other and say "that sounds disgusting but gee it works really well". We got a really broad selection of ethnic backgrounds. That means we get an amazing selection of dishes that range from country cookery to things from all corners of the globe. It makes something like lamb really interesting because you see it in all different styles, from modern, to classic to French to Southeast Asian, to Indian. It makes it harder to judge but it certainly makes it more exciting to eat.
Do you ever wish you were competing on MasterChef?
There have been times. There have been times we have suggested it would be quite fun to see whether the three of us could take on 12 of them and beat them. But it is really important that the show is not about us, it's about the contestants. We are already there, we are already in the promised land, and our job is to help them build a ladder to come and join us. Shows are mostly about winning the title, but in this show, last season, 15 out of 20 people are now working in food. So they achieved their dream.
Can you explain why MasterChef, of all the reality shows, continues to rate so highly here in New Zealand, no matter where it is made?
I think there's something universal about food. Food is very emotional. Food is there at every major point in your life - funerals, birthdays, weddings, christenings - and underpins everything so it has a very powerful place. It's a great way of signifying who we are.
And what about Australian food then?
I think Australia has a very fresh, crisp way of cooking. You are starting to get people who don't think of this part of the word as an eating and cooking wasteland. We have had a large number of big-name chefs come over and leave excited by what they have seen. I think it's a big ask to suggest that we are ever-going to be a stand-alone food destination - people will come for the beaches, the kangaroos, the sport, and then they will enjoy the food and wine - but we might well be a stand-alone wine destination.
Do you do the cooking at home?
I tend to cook for my wife and my wife tends to cook for the kids.
What's your special dish?
I would probably make hand-made pasta and maybe kind of a primavera so peas, broad beans, maybe a little bit of crunchy fennel with some shallots, some ricotta, with a little bit of white wine, probably a salad of some form - a crispy, crunchy one maybe, or a celery one. Or I'm quite enjoying making pizza at the moment. I just love playing with flavours, and I'm constantly trying new things.
Have you ever eaten hangi?
I have had muttonbird. No, never again. A scrawny chicken that thought it was a fish. Cabbage palm I did quite like. I'll tell you what I had last time - a cheese roll mixed with packet onion soup. I love looking at different things but honestly the hangi, no I haven't. I will try one next time I'm over.
What's the worst food fad of the decade in your opinion?
I would have said raspberry vinegar but I think it's come back. Probably truffle oil at the moment. I just think it's not particularly nice. The singular worst is the fad for eating whale. That's something that could shrivel up and die I think.
And the best?
At the moment, there's a big thing for chicken wings and sweet corn. I don't know why but they are two of the coolest ingredients around Australia at the moment. The big trendy thing around the world is dashi - a light Japanese broth with really big flavours.
So many words - have you ever found something that was too good for words?
Oh lots. I have a friend who has a great theory, he says you know you're eating a good dish when you give a grunt. And together we have this theory which is the four-grunt dish, a dish so good you grunt four times.
Is that what you are on the hunt for this series?
Well, I am also looking for a dish that will make my left leg rise up behind me involuntarily when I'm tasting it. I'm also looking for a dish that will make me tap the table with two fingers, it's so good, and I'm also looking for one that will get my eyes rolling back into my head, and a dish that will make me want to crawl into a quiet corner and be alone with it.
LOWDOWN
Who: Matt Preston
What: Returns to judge the second series of MasterChef Australia
When and where: Monday July 19, 5pm on TV One