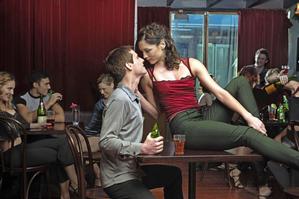 Abigail Boyle, in a surprise appearance on Auckland's opening night, which is usually played by the "A" cast with its leading stars, is absolutely, lusciously, dangerously Carmen.
She just so looks the part - long of limb and statuesquely sexy - and makes the absolute most of her physical attributes with a perfect theatrical sensibility.
Choreographer Didy Veldman's Carmen is set in the backstreets of contemporary Rio de Janiero, with a cast of low-life smugglers, muggers, gunmen and their molls. So the leading lady is for the most part barefoot and clad in skimpy jeans.
Boyle garnishes this very ordinary costuming with the ultimate in insouciant swagger, defiant epaulement, an arrogant joie de vivre. She fights and flirts and flees like an alley cat. She stares down her fate with the boldest and most believable of eyes.
The men have a hard time living up to her. Poor Jose (Christopher Hinton-Lewis) is silly putty in her hands though their bedroom scene is pretty riveting; the pompous Chief of Police (Paul Mathews) is kissed, conned and quickly dispatched; the bros might make a sly pass - then sensibly defer. Only Escamillo (Jaered Glavin) in rock star guise can really match her pulling power, though that relationship too is firmly on Carmen's terms.
There are some problems when famous stories are reset in modern times and climes. A decade on and the "modern" is not so much retro as passe.
Cellphones and sunnies in the boys' gangland spectacular suffer this fate, tending to give their choreography the colour of cliché. And the opening scene has always seemed a bit slow and buffoonish.
The girls fare better. Clytie Campbell's Frasquita and Lucy Balfour's Mercedes emerge as strong characters in their own right, and Katie Hurst-Saxon, as Michaela, is the sweetest counterfoil.
But top marks go to the whole of this cast for fine dancing and especially their dramatic flair. The famous story unfolds with convincing passion and clarity.
And the ultimate tragedy of the tale is not undermined in the least by the lightness of touch, a quick cameo here and there of comic delight.
Who else spotted Balfour's quick little spit as she polishes the hapless police chief's blood from the bar room floor?