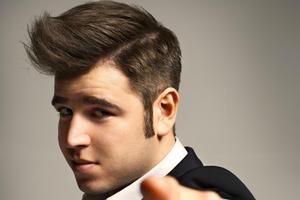 For a guy who's a soul-singing hurricane on record, Eli "Paperboy" Reed sure is a laid-back sort of fella to talk to.
It's hard to work out whether it's humility, shyness, or if he's being intentionally remote. Or maybe it's because he uses up all his energy on stage to let rip with James Brown-style freak-outs like Explosion, a hissing and spitting screamer which finishes his latest album Come and Get It.
And Reed not only sounds the part, with that shark fin quiff and penchant for flashy suits, he looks the part too. But, he insists on the phone from his home in New York, he's a pretty normal guy and there's no sordid modern soul lifestyle that he lives his life by.
"When I'm on the road I'm on the road and when I'm not on the road I'll be at home and you won't see me out partying. I'll be resting or whatever, because [being on the road] takes a lot out of you."
With his mix of sweet and hot-blooded soul, about love, longing, and even a little lust ("You went from schoolyard teasing, to all night pleasing," he sings on Name Calling), he's made quite a name for himself over the last five years.
Reed concedes he had no grand plan to take his music to the world, and it was a simple case of playing more and more shows until interest started coming in from overseas.
"I thought, 'Oh, this is interesting'. I was just going on my instinct to see what would happen and I wasn't really sure how well it would turn out. And we're still on our way up."
Reed grew up in Brookline, near Boston, and his father was a music critic and record collector which meant young Eli had hundreds of records at his disposal.
"Growing up in that kind of environment had an amazing affect on me without me even realising it. I honestly didn't really think about it because I just pulled down what I wanted to and listened to it. I guess I took it for granted."
He was drawn to singers and players like Ray Charles and Sam Cooke because of the "emotional quality" to their songs.
"As a teenager, going through high school romances or whatever, that kind of music was relevant to me," he remembers.
He played harmonica, an instrument given to him by his dad, and guitar at school. But it was towards the end of high school-at a special Martin Luther King Day school assembly-when he revealed his powerful and unique hoot and howl voice to an astounded audience.
"But I never thought of myself as a singer," he insists, "it was just something that developed, you know? I was a guitar player, and a musician. I wanted to be able to write and play and not just stand out front and sing you know."
After graduating from school, and still only 18, he moved to renowned blues capital Clarksdale, Mississippi, and started playing shows five nights a week, learning off veteran blues players, and honing his skills.
Clarksdale was a tough town to make an impact, especially for a fresh-faced white boy. Not that he's ever let being a white boy worry him.
"I don't understand why music has to be put into a racial context," he says sternly, "and the funny thing is it's always white people saying that."
Over the last 10 years he says he's played in black churches-including a Sunday residency at the church of former R&B singer Mitty Collier-and blues clubs "and never once has anybody said, 'You're pretty good for a white boy'."
It was also in Clarksdale that he picked up his nickname, Paperboy. "I used to wear this hat, my grandfather's hat, a newspaper hat. All the musicians in Clarksdale had a nickname, they gave me that one and it stuck," he explains.
After Chicago he returned to Boston where he set about recording and releasing his first two albums, Sings "Walkin' and Talkin' (For My Baby)" and Other Smash Hits, in 2005, and the excellent, and at times wild, Roll With You, in 2008.
He was going along quite nicely with those first two, independently released albums, but for Come And Get It major record label Capitol came calling.
"It was a fairly expensive record to make and I had an opportunity to get a record company who was willing to finance a record like this," he offers nonchalantly.
His band, a tight and thrilling bunch of players, don't come cheaply he reckons and they are an essential part of what makes his music so good.
"They're able to take the shells that I bring in and just develop the parts, especially the bass player and drums and the rhythm section.
"They put their own stamp on things because they are not soul musicians as such so they can avoid those sort of [soul] cliches so to speak."
On Come and Get It he was going for the "lavish yet tough" soul sound of the 60s and early 70s, which is something much of the modern day soul and R&B doesn't have. It's just plain soppy, and Reed comes from the point of view of making something explosive yet tender.
"To be able portray different emotions sonically is what makes that music [from the 60s and 70s], and any music for that matter, enduring, and I was hoping to tap into some of those different feelings and to certainly avoid being one-dimensional.
"And while the songs are mostly love songs I think despite that there are so many ways to talk about love and the range of emotions can be very, very wide."
And for that you need not look any further than the cranking and passionate chorus of the title track - or for something off the hook, head straight to last track Explosion.
"I was always intending to make a more lush and orchestrated record and my songwriting has developed - it's gotten better and is more identifiable as my own. I feel like it's a pretty natural progression, because I didn't try to force anything, but I do think it is a different record from the last one and it's better."
LOWDOWN
Who: Eli "Paperboy" Reed
What: Hot-blooded and sweet soul music
New album: Come And Get It, out now
Past albums: Sings "Walkin' and Talkin' (For My Baby)" and Other Smash Hits (2005); Roll With You (2008)