Why have the SATC gang swapped New York for the Middle East in their latest caper - and won't the locals disapprove? Michele Manelis reports.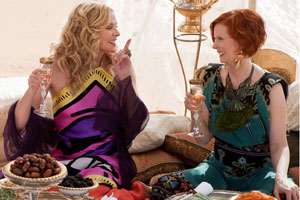 The feverishly anticipated sequel to the 2008 blockbuster (which earned US$401 million at the box office), will thrill Sex and the City fans on this two-plus hour escapist jaunt as the stylish quartet of Manhattan fashionistas land in Abu Dhabi for a "girls-only" vacation.
Not merely a frivolous romp through the Sahara Desert dressed in fabulous/ridiculous outfits, the four archetypical women, now in their 40s/50s, representing very different lifestyles, reflect on some of life's important milestones: marriage, motherhood and menopause. The dialogue is snappy, the one-liners funnier than its predecessor, and cameos from Penelope Cruz, Liza Minnelli, and Miley Cyrus add to the spectacle.
The principal actors - Sarah Jessica Parker, Kim Cattrall, Cynthia Nixon, Kristin Davis, and Chris Noth, along with creator/director Michael Patrick King, have assembled at the high-end department store in Manhattan, Bergdorf Goodman (where some of the scenes were shot), on the fashionably iconic 5th Avenue.
The press conference is set up in the shoe department and the actors sit amid the latest Manolo Blahniks and Christian Louboutins, the relevance, of course, is due to the movie's heroine Carrie Bradshaw's shoe obsession. Outside, paparazzi and fans await to get a glimpse of their idols.
One of the themes of SATC2 is a social commentary on defying ageism and sexism. Sarah Jessica Parker, 45, says of the movie's universal appeal, "There are endless stories to tell about women. When I'm reading a book or watching a movie I don't think about a woman's age. I don't care whether she's 60 or 16. Women's stories are just as interesting as men's who have dominated and been the point of focus since the beginning of time. For me, it's plain and simple: is it good writing?"
Michael Patrick King, creator-writer-director has always had a knack of tapping into the zeitgeist on controversial and taboo subject matters. He uses Cattrall's character, the sexually liberated Samantha, as the platform to prove the validity of a woman's sexuality and allure over the age of 50.
Says Cattrall "I come from the Jane Fonda generation. When I was in my early 20s, she started the workout and diet tapes, so there was a lot of information my mother never had. And so, 30, 40 and 50 look a lot different than they did a generation or two ago. But other than face value, I want to live a long and healthy life so I look after myself."
The movie also says that menopause and sexuality are not mutually exclusive.
Cattrall, who has been married three times and is currently single, jokes, "There wasn't even a name for it years ago. It was just referred to as 'the change'." Time has been good to Cattrall and she looks much younger than her 53 years. She says with a smile, "I didn't have to do any research about the issue of menopause."
Set in Abu Dhabi but shot in Morocco, King explains the reasons of setting up the premise to the backdrop of an extreme opulence while the world faces a financially strapped economy.
"It's not the same world as it was financially when I shot the first movie in 2008. So I thought, like in the Great Depression, what did people do? What did people need? And I thought, 'Extravagance!' And with the PR machine being what it is, and Dubai being referred to as 'the new Middle East,' I wanted to do it there or Abu Dhabi."
Due to the sexual nature of the movie, King explains why the shoot was moved from Abu Dhabi to Morocco.
He pauses. "Well, as it turns out, the idea of sex and these liberated women, especially Samantha, being filmed there was a little too progressive for them. After I wrote the script and had been there many times, it was like we went on a date with the Middle East. And they decided we shouldn't go on another date." He laughs.
"So, we went to Morocco, mainly Marrakesh, and we filmed on the sand dunes where they filmed Lawrence of Arabia. It was fabulous."
The stereotypical portrayal of oppressed Arabic women might be a little offensive. Cattrall doesn't agree.
"I don't think we're being critical. This is not a political movie. I feel that we are talking about women, and there is a woman underneath a burqa. She has a heart that beats, and we expose that. We are also talking about a culture that is completely different than our culture but I didn't see it as any kind of negativity."
Says Parker, "The adult theme of the movie is about tradition. Travelling to the Middle East allows the characters to see tradition through a new and non-judgmental lens. It addresses political and sexual politics and it's a wonderful backdrop for what we're trying to say."
Cynthia Nixon, 44, who certainly bucked tradition in her own life when she left her partner of five years, the father of her two children, to live with another woman, says, "The movie addresses choices for women. And isn't that what the feminist movement is about? One of the things I'm proudest of is that we're a feminist show and that means you don't have to have a career, and you don't have to be married, either. Through these four women, we see a whole range of what's available out there and what direction you might take your life in."
The phenomenon of Sex And The City wouldn't hold up if it were only due to the frothy banter between the women, or the eye-popping fashions.
Explains King: "The reason that Sex And The City became present in people's minds all those years ago is because it provided a voice that needed to be heard. At that time, the single girl was viewed as a leper, an outsider. It was any woman who wasn't married in her 30s when society told them they should be. Anyone who has ever been an outsider, whether it be from sexual orientation, gender, race, anything, these four girls have moved through the world trying to claim themselves," he says.
"And it's an evolution, still. The reason we've gone from a TV show to a movie is because we've been daring and we've allowed people to change. It's a story about looking for love, but of course, mostly looking for a love of yourself in this great society. In any great story you need a villain and I think ours is still society.
"Society tells you to be a certain way and the individual always pushes through that bag and punches their way out. That's what these women do beautifully."
LOWDOWN
What: Sex and the City 2, the sequel to the hit movie spin-off of the television series
When & where: Opening at cinemas on June 2