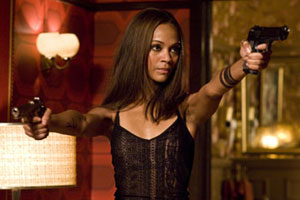 The Losers, yet another graphic novel adapted to the big screen, is full of machismo, countless explosions, and blokey, tough-guy humour doled out by men (not super heroes) who seem to withstand all manner of extreme physical attack.
Based on the Vertigo comics series by Andy Diggle and the artist Jock, The Losers is about an elite US special forces unit, led by actors Jeffrey Dean Morgan (Watchman, Grey's Anatomy) and Idris Elba (Obsessed, Takers, The Wire), who find themselves double crossed on a mission in Bolivia.
Left for dead, now it's payback time. And the team, who call themselves The Losers (though some have referred to them as The B-Team) are free to take revenge on the powerful drug lord and ex-CIA agent (Jason Patric) who set them up in this scenario.
The testosterone-fuelled cast also includes Chris Evans (Fantastic Four), Columbus Short (Cadillac Records), and Spanish newcomer, Oscar Jaenada.
Coincidentally, the big screen version of 80s TV series The A-Team will be following The Losers into theatres soon, but Morgan scoffs at the comparison. "We never went in thinking about The A-Team at all. We'll let them think about us."
The Losers, directed by Sylvain White (Stomp The Yard), is reminiscent of old school action fare such as Die Hard and Lethal Weapon.
White says the comic books themselves drew him to the project.
"I instantly saw that it was an interesting combination of hard action with a fun collection of characters. It's that fun element which sets it apart from other comic books."
Says Elba, "It's a popcorn movie. It has that feelgood factor that takes you back to films we've known that encompassed action and charismatic characters like the Lethal Weapons, and the Die Hards. The stunts were larger-than-life, and the characters were, too.
"I wasn't aware of the graphic novels but I did my research and I thought this would be a great idea for a film," he says.
The standout, larger-than-life character is definitely Patric's maniacal, over- the-top villain, whose performance is probably closest to his character in the comic strip.
Says White, "We were winking at the archetypical villains but at the same time he's got this eccentricity and we want to be a little bit scared of him."
Some may view this casting choice as somewhat dubious, but he defends the decision.
"I wanted to cast someone who hadn't played a villain before. We didn't want to go with the usual list of suspects who play the bad guy."
The movie was shot mainly in Puerto Rico. Says White, "We shot it in 50 days, the budget was really low (rumours have it at around $36 million); we had no second unit which is unheard of in an action film. But although I'm the new young director without a lot of power, because it's a Joel Silver production I was able to get the stunt people from Avatar and The Dark Knight, so I had great technicians around me which helped me in delivering the vision."
The eye candy quotient is served up by Zoe Saldana, who is, of course, a mysterious woman with her own agenda that the team meet in a bar. And, naturally, she is not what she appears.
Carving a certain niche for herself in Hollywood in iconic roles like Uhura in Star Trek, Neytiri in Avatar and now Aisha in The Losers, Saldana says playing a female warrior is something that appeals to her.
"Hollywood has made a living out of portraying women to be damsels in distress and making us look like we're incompetent, when in reality, in today's society women are doing everything. I'm from Queens. I'm not from that era of only baking cookies. I grew up in the 80s where women were the caretakers and they were also the soldiers," she says.
"I like holding the gun. I like participating in the saving of the day. I think it's really sexy."
Speaking of sex appeal, Morgan's status has risen with the female demographic of late.
On hearing that White referred to him as a "man's man" and compared him to George Clooney, he says modestly, "Well, I don't know about that. I think people were looking at my bike (a Harley Davidson). But I have to say that people I've known for 30 years are suddenly treating me differently.
"I think that's the most disconcerting part of having success."
Both Morgan and Elba are burgeoning movie stars yet established TV actors from their respective shows, Grey's Anatomy and The Wire.
Although The Wire ended in 2004, it still retains major cult status around the world.
"It was four or five years ago for me and it didn't reach the audiences as The Sopranos or Six Feet Under did, but it was celebrated critically. It's weird because it really raised my status in England and I notice it every time I go home," Elba says.
Morgan adds, "I found it on DVD. I watched two episodes and that was it. I didn't leave my house for three days."
Elba and Morgan have good chemistry onscreen and have a genuine camaraderie in person.
"I loved getting to beat up Jeff, I have to say," says Elba, laughing. "We didn't know each other before The Losers [though] I knew Jeff's work. When we met we just got on immediately."
Like George Clooney, one of the first successful TV stars to transition to movie stardom, Morgan recalls his time when he was entering people's living rooms on a regular basis on Grey's Anatomy.
"People identify you as your character when you're on TV. People feel like they know you and you're much more approachable than you are when you're in movies. I noticed when I did Watchmen, people were like, 'Ahh ... I'm not going to touch that guy right now'."
Elba adds, "And look at us now. We're big losers!" he laughs.
"Yeah, real big losers," Morgan says with a smile.
LOWDOWN
What: The Losers
When and where: At cinemas from today